Topside, this is Green Diver
Dawn Kernagis // July 13, 2016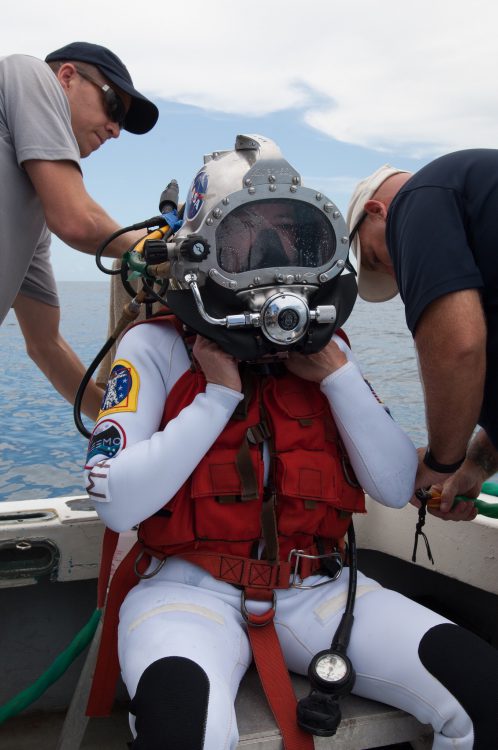 As mentioned in the previous post, a major part of our crew training week has been learning how to dive the Kirby Morgan Stainless Steel 37, which is a helmet used for surface supplied diving. With this helmet, we have a continuous air supply in addition to communication capabilities through a connected diving umbilical hose that runs back to the dive boat (when we are living in Aquarius, the umbilicals will run back to the habitat). These umbilicals are different colors (green, red, and yellow), and we use these colors to denote which diver we are speaking to on comms. For example, when 'Green Diver' is talking to the topside crew, we say 'Topside, this is Green Diver…' and proceed with what we want to relay back to the surface.
The reason we are training on the hard hat diving system – we will be using this equipment when we perform our simulated 'spacewalks', otherwise known as extravehicular activity (EVA), during the mission.
The Kirby Morgan Stainless 37 helmet weighs 32 lbs. Each diver has a dive tender to help them put the helmet and other gear on as they prepare to dive. I won't lie – it's a pretty heavy helmet! However, once your head is inside of the helmet, the ability to communicate freely between your buddy and the topside crew is awesome! There are a number of safety checks that we run through as part of the pre-dive preparation, all of which ensure the system is working properly. For the past two days (training week days 3 an 4), we've been running through the equipment, safety checks, communication procedures, and emergency drills to ensure we are ready to dive this system comfortably.
Day 3 encompassed safety drills and familiarization with the hard hat diving system itself. Dropping down onto the bottom, I let out a 'Woohoo!' over the communication system when I saw our incredible diving supervisor and instructor, Roger Garcia, on the bottom. It is such a unique feeling to have a bubble of air surrounding your head while you are underwater, allowing you to talk and breathe freely. We went through a number of drills and practiced swimming and walking on the bottom with the system – I could already tell I was going to be very happy using the helmet system!
Today, Day 4, was the day the entire crew trekked back out onto the Aquarius dive site to perform our 'deep' Superlite checkout dives to 65 feet. We took turns in teams of 2, with the teams on the surface supporting the team on the bottom by helping each other suit up and tending the diving umbilicals – all of which require situational awareness, teamwork, and a little bit of sweat! Speaking with astronauts Megan and Reid, the teamwork and situational awareness required is very similar to what goes on in space prior to a space EVA.
Reid and Matthias went first, followed by Megan and Marc, then Noel and I rounded out the diving day. After hearing all of the excitement from the first two teams, Noel and I dropped onto the habitat and gave each other an ecstatic fist bump. We then proceeded down to the NASA deck of the habitat to remove our fins, which allowed us to walk along the bottom as we will during the NEEMO mission. After hiking around what will soon be our underwater backyard, we checked out the underwater navigation system that we will be using during the mission. To wrap it up, we requested permission from topside to do a happy dance, which they confirmed and we performed amongst ourselves 🙂
Although neither of us wanted to leave, we knew we had a decompression obligation – which will be a different story when we perform EVA's during saturation. For the time being, however, we knew we had a time limit to our dive and made our way back to the surface as directed by the doing supervisor. Hands down, diving the Superlite around Aquarius was one of the most incredible dives I have experienced so far!
In addition to our Superlite training over the past two days, we have been working with the research teams to continue learning about the studies that we will be conducting throughout the mission. The European Space Agency's Nutritional Assessment tool will be utilized to track our food intake and nutritional status throughout the mission. They are testing a new approach to nutrition tracking that will ultimately optimize astronaut food intake and health. Our crew member Noel Dutoit (Naval Postgraduate School), who is also a NEEMO 21 researcher, demonstrated his underwater xLBV300 ROV that we will be operating from the habitat in concert with the EVA divers for mission science objectives. We also reviewed the  marine science projects that we will be conducting through Florida International University, which we will continue to receive hands-on training for over the next several days.
The entire crew and research teams are getting more excited each day for the mission to commence! More to follow as we wrap up crew training and prepare for Splash Down on July 18th!
For more NEEMO 21 updates, you can follow https://twitter.com/dawn_kernagis