Mission Day 3: It Takes a Village
Dawn Kernagis // July 23, 2016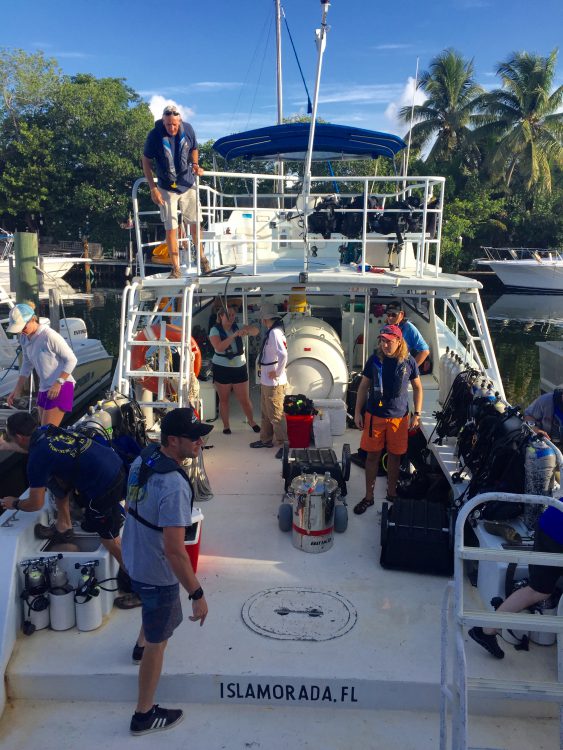 For each of the 6 crew members, there are around a dozen or so research and support team members – at a minimum – that make a mission like NEEMO move forward successfully and productively. With so many operational objectives embedded into the 16 days underwater, there are multiple moving parts, pieces, and personnel who ensure it is done smoothly and as efficiently as possible.
Tying together all of the planning and execution of the mission objectives with the crew's living and working schedule is no easy feat! Thankfully, we have the Playbook team to manage the mission plan and schedule…
Featured NEEMO 21 Team of the Day: Playbook
(NASA Ames Research Center)
For this mission, our plan execution tool is Playbook, which is developed by NASA Ames Research Center and specifically designed for use by crew to support mission operations. It is mobile, web-based, and designed to be flexible enough to work on a tablet device or in a traditional web browser. Used as the primary mission operations tool, Playbook allows controllers and crew to see the mission plan and schedule changes in real-time or through fully simulated time-delay.  New features under evaluation include one that makes it very easy for the crew to collaboratively self-schedule flexible tasks, create new tasks, add groups of tasks to the timeline and keep the ground informed as they do so.
Playbook has a number of objectives related to crew self-scheduling we will be looking at, and crew feedback will continue to make this tool even more capable.  In addition, the team has added in more functionality to the Mission Log, a text, photo, and video communication tool for crew and mission control to communicate with one another. This feature has been enhanced this year with the ability to send priority messages, which are messages that are highly visible and must be explicitly acknowledged, ensuring mission control or the crew that the high priority messages they sent were seen, received, and understood. There is also a new feature giving the ability to search all messages in real time, to allow mission control and the crew to easily refer back to past messages or to see all messages in a related thread.
Playbook previously flew on ISS as an objective of the IRISS mission of Andreas Mogensen in Sept., 2015.  It will also be flying again during Increment 50 as a task list objective for Peggy Whitson! The team of Ivy Deliz, Jessica Marquez, Steve Hillenius, Bob Kanefsky and Jimin Zheng is working hard to keep us all on track, efficient, and sane for each and every objective-packed day – thank you, Playbook team!
For the saturation crew, Marc and Megan conducted their first EVA, which included building the world's deepest coral tree nursery at ~90 FSW! They rocked their EVA objectives and then made their way back to the habitat for a link up with the History of Diving Museum, homemade cookies (courtesy of Megan's thoughtful planning), and completion of additional in-habitat objectives. Along with Matthias, Reid was in the habitat today to run the intravehicular (IV) communication with the EVA team and conduct additional studies, such as testing the MED 2.0 exercise device.
Matthias also had an exciting day as he became the first to collect a sample and sequence DNA from that sample using the miniPCR system, which all of the crew members will have a chance to test over the next two weeks! More details to follow on these individual objectives in future blog updates, so stay tuned!
As I was writing this update, I received word from Marc and Reid that they conducted their first night dive out of the habitat. Both of them said it was the best dive ever 🙂