Mission Day 6: Home is Where the Heart Is
Dawn Kernagis // July 27, 2016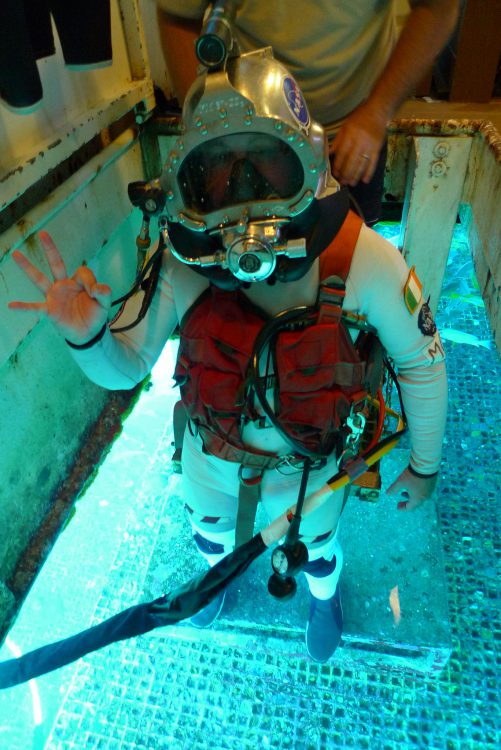 To launch the Mission Day 6 update, Commander Reid Wiseman sent us his perspective from beneath the waves:

"Today kicked off our Mars analog which meant a 15 minute delay was synthetically added to all of our communications between the aquanauts and mission control. Building off protocols utilized in NEEMO20 last year, we were able to execute true scientific coral exploration and sample gathering with unexpected efficiency. It was a great validation of proposed techniques. Here's the recap:

Last night, we received tasking from our science team that they wanted us to focus on two coral reefs for our excursion today- one considered a shallow reef at 55-60 feet and the other a deep reef at 85-90 feet. Due to the long delay in communication and to test some new scheduling tools, the science team only gave us general areas to explore and let us build the entire plan. Outside the habitat wearing the Kirby Morgan dive helmets we had myself and Matthias for a four hour excursion. Inside the habitat, running the entire plan via radio communication, was Megan with Marc assisting. Megan also had a text messaging system with synthetic time delay to both mission control and the science team. This text system called 'Playbook' was crucial to our success.

At both locations we were looking specifically for Orbicella and Agaricia. Needless to say, Matthias and I studied quite a bit last night so we could find the targeted species today. As I left the habitat, I had quite a fright when I literally stumbled across a Southern Stingray buried in the sand on the sea floor. Watching that ray unmask and fly off was absolutely gorgeous."
"At the shallow reef, Matthias and I placed temporary markers and used helmet cameras to highlight areas of suspected Agaricia and Orbicella. Agaricia was easy to find…Orbicella, not so much. Our imagery and tagging was tracked by Megan INSIDE beamed to the science team for their analysis. After about 45 minutes at the shallow reef, Matthias and I headed deeper to explore the 90 foot reef. We did this mainly to give the science team time to analyze our shallow reef imagery and confirm which coral they wanted sampled. Since we had a 30 minute round-trip comm delay, they had to work fast. And they did.

As Matthias and I approached the deep reef, we experienced one of the weirdest sensations of my life – instantly the current picked up four to five times its strength and dropped roughly 20 degrees. We went from warm to shivering in minutes. Pieces of sea floor plant life were littered throughout the water column and floating by. Even the water looked different, almost appeared rippled or spotty. It was clear a storm or some other phenomena was rolling through. Once we adjusted to our new climate, we got to quick work identifying the plentiful Agaricia. Orbicella at that depth was sparse, but we did find two nice looking samples. Matthias also found a beautiful Moray Eel peeking out of the reef. Due to the time delay, we didn't sample at the deep reef. Tonight, the science team will evaluate our imagery and direct Megan and Marc what to sample when they go out tomorrow morning."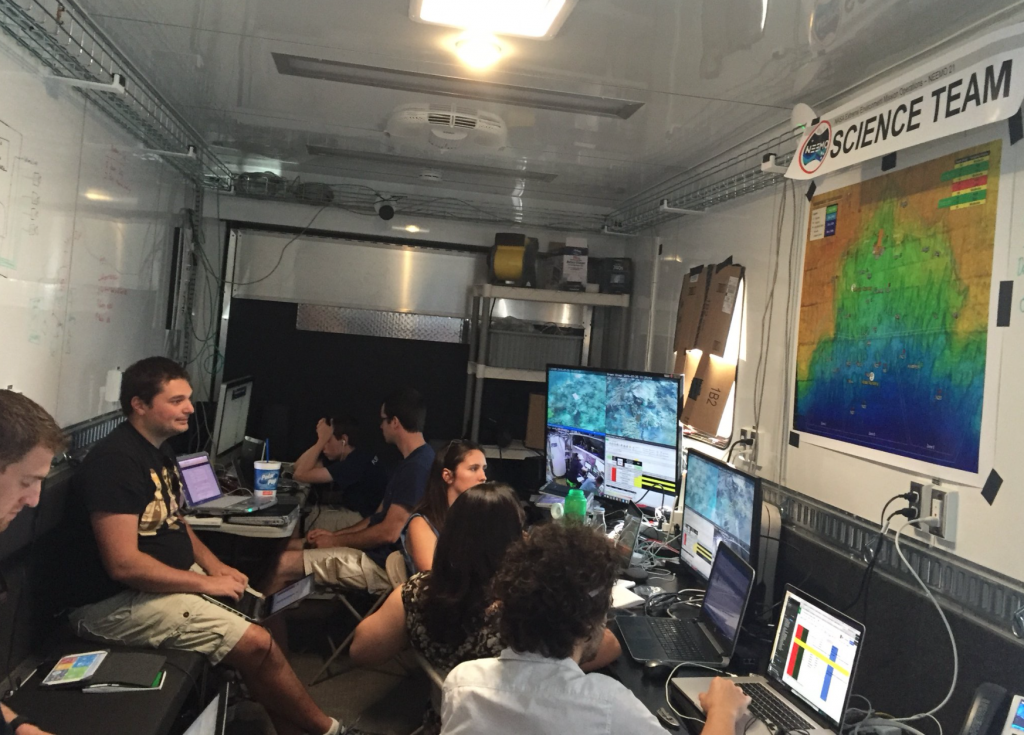 FIU Images Marine Science Team monitoring the coral exploration and sampling by the crew on EVA
"After an hour deep, we headed back to the shallow reef and saw a good sized Nurse Shark on the journey. The science team had plenty of work for us and relayed their tasking via Playbook to Megan. As we set up shop at the shallow reef, Megan was happy to report that we had found three Orbicellas, four Agaricia, and three other corals that were not correctly identified. Hey, seven out of ten… I'll take that! The scientists directed Megan to have us perform drill samples of the three Orbicella and diagonal cuts of the Agaricia. That process took us about an hour and was easier than expected. It never feels good drilling into coral but we have permits to take no more than 10% of a colony to study its health and genetic diversity at various depths.

Upon completion of the shallow reef sampling, Matthias and I packed up and returned to the habitat. Everyone was motivated and excited at the efficiency and success of our first full day of Mars analog. It went great. Learning abound, but overall it was far better than expected. After doffing the helmets, Marc handed Matthias and I warm mugs of Barry's Irish tea and it was exactly what the doctor ordered."
Above the waves, the topside support teams continue to work around the clock (literally!) to ensure the safety and efficiency of the mission. Our Featured NEEMO 21 Team of the Day are the men and women from Aquarius Reef Base, our home for the duration of the mission, who make these missions possible year-round for a variety of expeditionary, scientific, and operational test teams.
Featured NEEMO 21 Team of the Day: The Aquarius Reef Base (ARB) Crew
The ARB crew make the mission run, plain and simple. Crew and staff training, boat operations and dive equipment maintenance, and everything that has to do with the habitat operations is in the hands of the very experienced, very knowledgeable, very hard-working ARB staff.
Program Director Tom Potts and Operations Director Roger Garcia run the overall show, with decades of combined Navy and NOAA diving experience between the two of them. Along those same lines of extensive military and scientific diving experience, Science Manager Otto Rutten, and Operations Managers Mark "Otter" Hulsbeck and Hank Stark make daily operational decisions while also doing field-based work as boat captains, diving supervisors, and habitat technicians. Otter has actually spent well over 200 days in saturation in the Aquarius habitat – each member of the ARB leadership are dedicated to the missions that come through Aquarius, literally living and breathing their work!
Sean Moore is also a habitat technician and Dive Specialist, with a Navy diving background as a Rescue Swimmer. He and Hank are the habitat technicians living with the crew and keeping us safe and sound during NEEMO 21! Tom Horn is the Research Programs Specialist and is also a Dive Specialist, with a background in technical and cave diving (and an East Carolina Alumni, which was sparred fun jabs since I am an North Carolina State alum!) Ivana Sanchez is also a Dive Specialist, with a background in environmental science, and Liz McNamee is FIU's Assistant Dive Officer and Boating Safety Officer. On a daily basis, we see Tom, Ivana, and Liz working incredibly hard on the boats and around the base! Promoting responsible stewardship and teaching sustainable use of the natural environment, Aileen Soto is Director of Education and Outreach for ARB.
Not only do the ARB staff dedicate themselves to what they do and do it all exceptionally well, but they are all fantastic people to be around. To just sit and hear their stories from diving and other past pursuits is enough to fill a series of books! I know I can speak for the other crew members (and entire NEEMO team) when I say we are grateful for their professionalism and tough work ethic that makes our days safe, efficient, and a lot of fun!
For more details on the ARB staff and their impressive backgrounds and list of accomplishments: https://aquarius.fiu.edu/contacts/