DARPA Robotics Challenge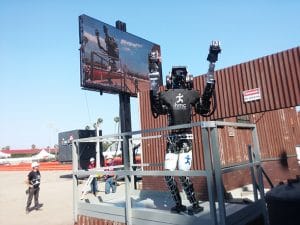 DARPA, a government agency known for innovative advances in technology, sponsored the Robotics Challenge to promote critical improvements in robotics technology for disaster relief operations—especially where severe risks make human action too risky, or time constraints are critical. For example, an accident at a nuclear power plant that involves high levels of radiation might prove too dangerous for humans, but requires quick response.
While DARPA required that the emergency response robots "must be compatible with human operators, environments and tools," it did not require humanoid form. But the IHMC focus on humanoid robots is rooted in a simple concept:  Because the robots will be working in environments built for humans, a human-like robot is best-suited to the challenges involved.
A robot responding to a typical disaster scenario is likely to face rubble and other obstacles, unsettled ground, closed or stuck doors and windows, ladders and other challenges. Humanoid robots that can navigate human-scale environments and use human-type tools will have an advantage. Obviously, sending robots into dangerous situations obviates risk to humans.
Moreover, teaming them with human partners in a system that optimizes their complementary strengths can enhance their performance. For instance, a human at a remote monitoring post, surveying the scene through the robot's "eyes," might be called on to make rapid judgments a robot is poor at, such as quickly determining the best path through a debris field. The robot, equipped with precise scanning tools, can quickly provide precise measurements of distance or size in situations where humans could only make rough estimates.
The challenges addressed during the DRC  were truly "DARPA Hard" – extremely high in technical risk, but equally high in operational payoff. As a result, this project addressed several unsolved problems in collaborative design of human-machine interfaces, humanoid balance and walking algorithms, humanoid motion planning in complex 3D environments, and combined humanoid mobility and human-machine team manipulation.
IHMC Robotics came in first place at the Virtual Robotics Challenge, second place at the DARPA Robotics Challenge Trials in Homestead, Florida, and second place at the DARPA Robotics Challenge Finals in Pomona, California.
Virtual Robotics Challenge Data
Videos of our VRC runs are found here.
Images and descriptions of our runs are found here.
For any other developers/researchers interested, you can find the Gazebo logs for our official VRC runs here.
Research Projects:
Past Projects:
IHMC Research Team:
Jerry Pratt, Research Scientist, IHMC Team Leader
Matt Johnson, Research Scientist, IHMC Team Leader
Peter Neuhaus, Research Scientist
Sylvain Bertrand, Research Associate
Duncan Calvert, Research Associate
John Carff, Research Associate
Tomas de Boer, Research Associate
Daniel Duran, Research Associate
Nicolas Eyssette, Research Associate
Twan Koolen, Research Associate
Brooke Layton, Project Coordinator
Nathan Mertins, Research Associate
Will Rifenburgh, Research Associate
Brandon Shrewsbury, Research Associate
Jesper Smith, Research Associate
Doug Stephen, Research Associate
Tingfan Wu, Research Associate
Peter Abeles
Sami Alshiekh
Luca Colasanto
Matthijs Damen
Jeff van Egmond
Johannes Englsberger
Davide Faconti
Peter Fankhauser
Luca Fiorio
Marshall Floyd
Alex Graber-Tilton
Maarten Griffieon
Khai-Long Ho Hoang
Igor Kalkov
Pushyami Kaveti
Justin Kirschbaum
Jordan Lack
Alex Lesman
Nolan Manor
Tobias Meier
Eric Morphis
Samantha Kobus Munoz
Brett Rowberry
Wessel Straatman
Gray Thomas
Riewert van Doesburgh