Matt Johnson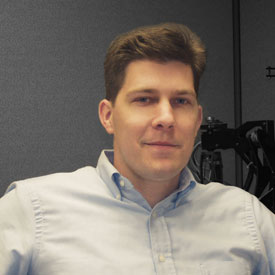 Expanded Links
Research Scientist
Matt Johnson has been a researcher with IHMC since 2002. Matt is passionate about making robotic systems more flexible, resilient and effective through human-machine teamwork. In support of this, he is interested in robot control theory, human-centered computing, human factors, and interface design. Currently Matt is involved in several projects:
National Robotics Initiative: Toward Humanoid Avatar for Co-exploration of Hazardous Environments

As cool as it sounds…getting humanoid robots to do cool stuff.
We are looking forward to partnering with NASA's humanoid robot based on Robonaut in the next phase.

The DARPA Robotics Challenge (DRC)

The DRC is an international humanoid robotics competition. IHMC did very well in the first phase (see results). We will be using an Atlas robot for Phase 2 and 3.

AFRL Micro-Air Vehicles

Matt is the PI on this project which is focused on enabling UAVs to operate in complex environments via human-machine teamwork.

NASA rotorcraft noise minimization

Matt is the PI on this project which is focused on using planning techniques to find reduced noise trajectories for rotorcraft.
Previous projects include:
OZ flight display
DARPA Augmented Cognition project
NASA Human-Robot Teamwork
DARPA Learning Locomotion.
Applying semantic technologies to support information gathering and sharing

Matt has a PhD in Computer Science, a M.S. in Computer Science and a B.S. in Aerospace Engineering. Matt retired from the Navy after 20 years of service as a Naval Aviator flying both fixed wing aircraft and helicopters. When not working on robots for IHMC he enjoys playing soccer.

For more details visit Matt's website.