//
Jan 1, 2019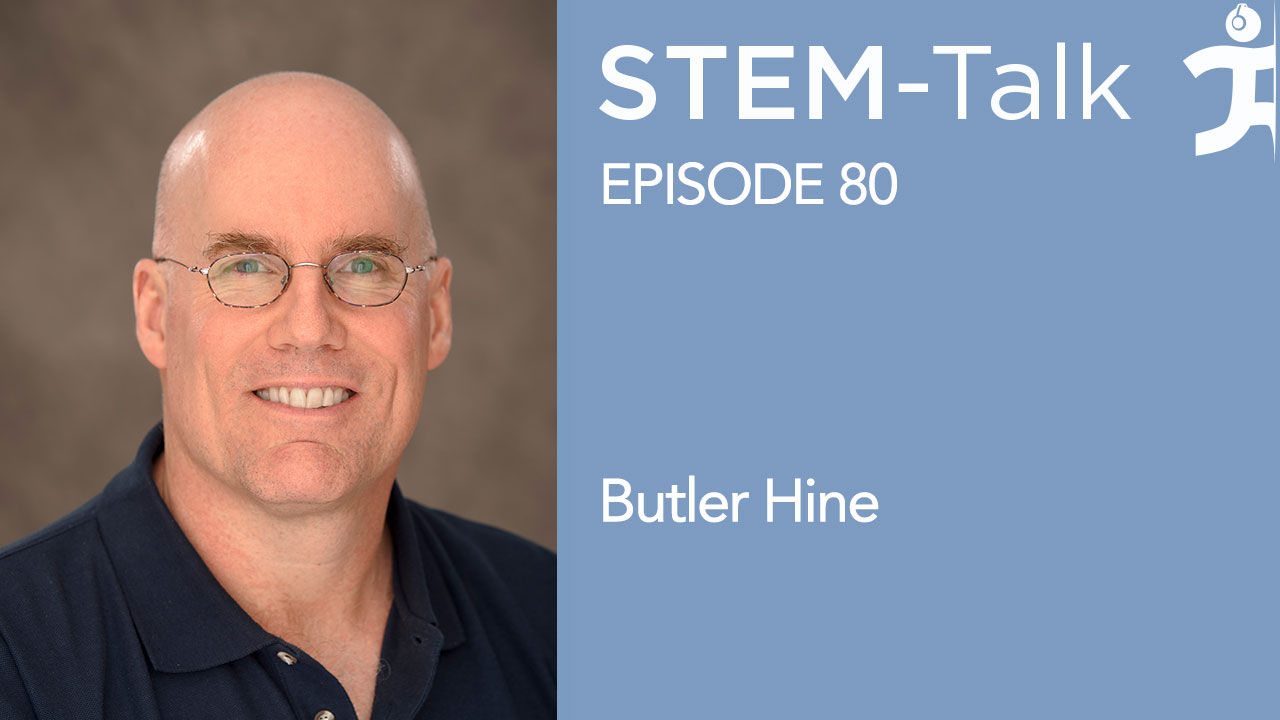 Our guest today is Dr. Butler Hine, the Flight Project Manager and Chief Technologist for Engineering at the NASA Ames Research Center in Mountain View, California. Butler is also a senior research scientist and a colleague of Ken and Dawn at IHMC.
Butler is currently the project manager for NASA's Arcus mission, which is an X-ray observatory that has a possible launch date of 2023. The mission will include a high-resolution X-ray grating spectrometer that will study the hot gas that is the dominant component of the normal matter in the Universe, much of which has not yet been directly seen.
In today's interview, we discuss:
[00:03:57] How Butler became interested in astronomy and started building telescopes as a youth.
[00:08:37] How Butler wound up managing the robotics lab at NASA.
[00:11:55] The challenges of trying to change the thinking of the science community about ways to adapt technology to science.
[00:17:34] Artificial intelligence and data mining.
[00:26:59] The Lunar Atmosphere and Dust Environment Explorer mission, also known as LADEE.
[00:30:07] The concept of modularity in spacecraft design.
[00:41:58] The scientific goals of NASA's Arcus mission, which Butler is currently managing.
[00:45:58 The complexity of developing a robotic platform for space or lunar exploration
[00:51:24] The future of robotic space exploration.
Show notes:

[00:02:27] Butler begins the interview talking about moving around a lot as a youth because of his father's career in the Army. [00:03:17] Butler talks about growing up as "classic nerd," and the influence that the Apollo Moon landings had him. [00:03:57] Butler describes how he became interested in astronomy in junior high school started building telescopes. [00:05:49] Dawn asks what the difference is between science and science implementation, something Butler became interested in during graduate school. [00:06:40] Butler discusses going to NASA Ames Research Center for his post-doc work. [00:08:37] Butler talks about how he wound up managing the robotics lab at NASA. [00:09:29] During his time with the robotics lab, Butler worked on performing field-science investigations through remote mobile platforms in an attempt to approximate what a scientist does in the field. Ken asks what the primary challenges were in this work. [00:11:55] Butler describes the difficulty of trying to change the thinking of the science community about ways to adapt technology to science, such as getting people to buy into the usefulness of remote planetary rovers. [00:15:20] Butler talks about virtual-reality techniques for presenting complex information that he and his team at Ames developed, and how he left NASA to create a company to apply those techniques to other areas. [00:17:34] Dawn asks about a program Butler pushed for in the mid-to-late '90s that focused on artificial intelligence and data mining. [00:20:11] Dawn asks about Butler's days at NASA that overlapped with Ken's time at the agency. [00:21:14] Ken asks how Butler become interested in developing low-cost, high-performance spacecraft designs. [00:26:59] Butler talks about becoming the project manager for the Lunar Atmosphere and Dust Environment Explorer mission, otherwise known as LADEE. [00:30:07] Ken asks if Butler thinks that the concept of modularity in spacecraft design is something that will be embraced in future missions. [00:32:16] Dawn asks what the scientific objectives of the LADEE mission were. [00:35:38] Butler talks about how LADEE was not only a science mission, but it also showcased several new technologies. [00:37:35] Butler discusses the trajectory of LADEE from launch to its impact into the backside of the moon. [00:41:58] Butler talks about the scientific goals of NASA's Arcus mission, which he is currently managing. [00:44:30] Ken asks about the new technologies that are driving the Arcus mission. [00:45:58] Dawn asks about the complexity of developing a robotic platform for space or lunar exploration and what the makeup of Butler's team at NASA Ames looks like for these missions. [00:48:30] Butler gives advice for young people interested in a science career and perhaps one day working at NASA. [00:51:24] Dawn asks what Butler sees as the exciting next steps in robotic space exploration. [00:54:45] Ken ends the interview asking Butler what he does with his free time.

Links: