//
Oct 9, 2018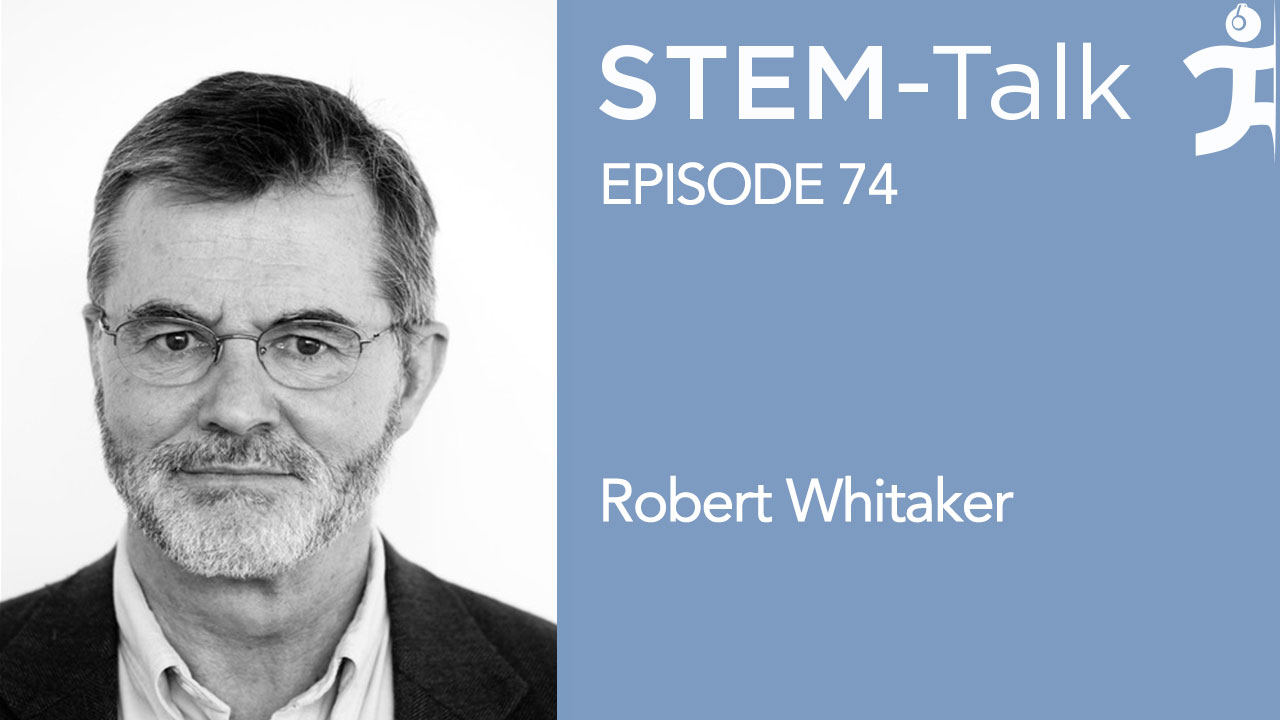 Today's guest is a science journalist and author who has written extensively about the pharmaceutical industry. Robert Whitaker is also the founder of Mad in America, a nonprofit organization that focuses on getting people to rethink psychiatric care in the United States.
As you will learn in today's episode, one in six Americans takes a psychiatric drug. More than 130,000 children under the age of five are taking addictive anti-anxiety drugs prescribed by doctors.
Whitaker has spent most of his career focused on changing the current drug-based paradigm of psychiatric care in the U.S. He has written three books about the pharmaceutical industry and the psychiatric profession. He has looked at how drugs used for depression, bipolar disorder and schizophrenia are causing a spike in America's disability numbers. He also has investigated the history of medications prescribed for these disorders, how they are marketed, and why they've grown in popularity.
Discover magazine named Whitaker's first book, "Mad in America," one of the best science books of 2002. His second book, "Anatomy of an Epidemic," won the 2010 Investigative Reporters and Editors book award for best investigative journalism. His third book, "Psychiatry Under the Influence," is a textbook used in university classrooms around the country.
In today's interview, we discuss:
[00:11:08] When Robert first became disillusioned with the pharmaceutical industry
[00:16:53] How Robert's investigation into schizophrenia in the U.S. led him to write his first book,  "Mad In America."
[00:26:58] Why the U.S. has seen such a sharp increase in the number of disabled, mentally ill people since the advent of psychotropic medications.
[00:45:10] How many drugs may have efficacy in clinical trials over the short term, but overwhelming evidence shows over the long term many medications actually increase a person's risk of becoming chronically ill and functionally impaired.
[01:00:43] Robert's investigation into the FDA's review of studies that looked at Prozac
[01:03:38] Antidepressants and their side effects.
[01:08:40] How concerns over ADHD have led to an alarming percentage of children, especially boys, being drugged for exhibiting what once considered normal or at least acceptable behavior.
And much more.
Show notes:

 [00:02:24] Robert talks about growing up in Denver and taking family vacations around the country.

[00:03:48] Robert explains how in high school he was so convinced he was going to attend Stanford University that he didn't bother to apply to another college. [00:05:48] Dawn mentions that Robert graduated with a degree in English literature and after college decided he wanted to lead a life of adventure. Dawn asks him where that career path took him. [00:07:11] Robert talks about abandoning his dream of becoming a novelist and taking a job at a small newspaper in upstate New York. [00:08:51] Dawn points out that Robert eventually went to work for a newspaper in Albany, N.Y., where he became a medical writer. She asks him about the year he spent as a Knight Science Journalism fellow at MIT. [00:09:50] Ken asks Robert about moving to Boston and becoming director of publications at Harvard Medical School. [00:11:08] Robert talks about co-founding CenterWatch, a publishing company focused on the business of clinical drug trials. He describes how he became disillusioned with the pharmaceutical industry because it seemed to him that clinical trials had become so commercialized that they were corrupting the testing of new drugs. [00:13:44] Ken mentions that during this period, Robert came upon information about abuses of psychiatric patients in research settings. Ken asks Robert to share how he took this information and went to the Boston Globe to propose a newspaper series. [00:16:53] Dawn describes how the work Robert did for this series in the Boston Globe led him to information that schizophrenics in the U.S. were faring worse than patients in the world's poorest countries. Dawn asks Robert to talk about how this information led him to write his first book, "Mad In America." [00:19:42] After "Mad In America," Robert became convinced that much of the information medical professionals were sharing with the mainstream press was out of sync with the science. Robert describes a scene in the movie "A Beautiful Mind" that he says illustrates this sort of misinformation. [00:21:43] Ken asks Robert about the criticism he received after the publication of "Mad In America." [00:23:30] Dawn mentions that even though Robert had decided not to write another book about psychiatry, he started looking at disability numbers and became curious as to why there was an extraordinary rise in the number of people in the U.S. going on disability. Dawns asks Robert about the book that came about because of that curiosity, "Anatomy of an Epidemic." [00:26:58] Ken points out that the book investigates why the U.S. has seen such a sharp increase in the number of disabled, mentally ill people since the advent of psychotropic medications.  Ken asks Robert about the mix of causes that has led to this increase. [00:35:00] Ken says that it seems that psychiatry's expanded diagnostic boundaries have meant that many more people are deemed mentally ill. Ken points out that almost anyone can identify themselves in the voluminous "Diagnostic and Statistical Manual of Mental Disorders," which runs something like 950 pages and describes more than 300 maladies.  Ken asks Robert if just being human is enough for people to identify themselves somewhere in the book. [00:43:33] Ken asks Robert about the financial disincentives to go off disability and return to work. [00:45:10] Dawn asks Robert to talk about how drugs may have efficacy in clinical trials over the short term, but there is overwhelming evidence that over the long term these medications actually increase a person's risk of becoming chronically ill and functionally impaired. [00:52:29] Ken asks Robert about the textbook he co-wrote, "Psychiatry Under the Influence," which takes a deep dive into the behavior of the American Psychiatric Association. [00:57:57] Dawn asks Robert about the clinical trials for alprazolam, which Upjohn eventually marketed as Xanax. She asks Robert about the problems the drug created that never seemed to make it into the mainstream media. [01:00:43] Dawn asks Robert about his investigation into the FDA's review of studies that looked at Prozac. [01:02:15] Ken mentions that after Prozac, Pfizer created sertraline, which is sold as Zoloft. Ken asks Robert to talk about how Zoloft failed to produce a better result than a placebo in four of the six trials that Pfizer submitted to the FDA. [01:03:38] Dawn asks Robert to talk about antidepressants and their side effects. [01:05:56] Ken points out that Robert has often commented that if you pour antidepressants into a society the way we do in the U.S.,

that

you can expect an increase in violence and homicides. Ken asks Robert to expand on this. [01:08:40] Ken says it seems we have an epidemic of ADHD and that an alarming percentage of children, especially boys, seem to be drugged for exhibiting what was once considered normal or at least acceptable behavior.  There have always been kids who were rowdy, says Ken, boys who couldn't sit still, goofed off or displayed other less than ideal behaviors. But, Ken adds, we did not drug them, and the vast majority turned out just fine.  Ken asks Robert if he has looked into this. [01:12:08] Dawn wraps up the interview by asking Robert if he has finally followed his agent's advice to not write another book about psychiatry, or if he is working on another one.

Links:

"Psychiatry Under the Influence"