//
Sep 25, 2018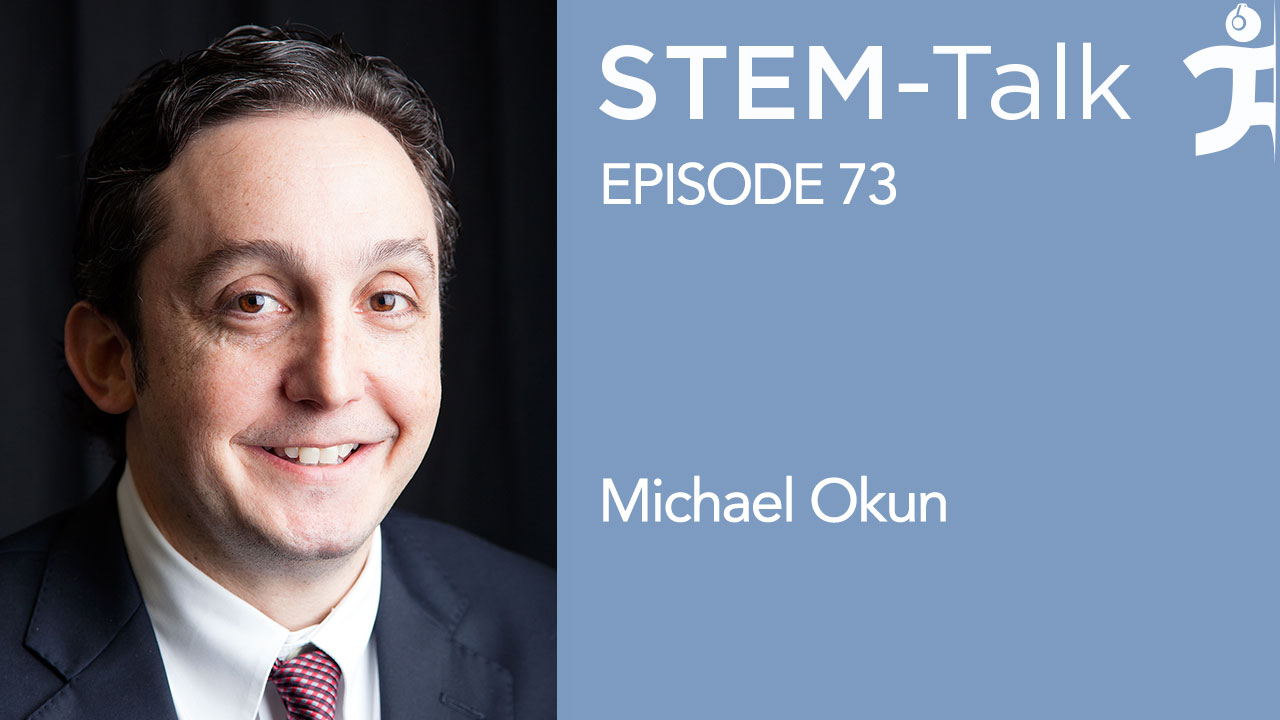 Nearly 60,000 Americans are diagnosed with Parkinson's disease every year in the U.S. The disease is an incredibly complex disorder that affects more than 10 million people worldwide.
Our guest today is Dr. Michael Okun, who is considered the world's foremost authority on the treatment of Parkinson's.He is the Adelaide Lackner Professor and Chair of Neurology at the University of Florida Health College of Medicine as well as the co-director of the university's Fixel Center for Neurological Diseases. The center is known for its interdisciplinary faculty that provides a one-stop, patient-centered clinical research experience that attracts patients from around the world.
Since 2006, Michael has been the National Medical Director for the Parkinson's Foundation and works very closely with a wide range of organizations such as the Michael J. Fox Foundation. The American Society for Experimental Nuerotherapeutics recently awarded Michael the 2018 Presidential Award.  In 2015, he was recognized during a White House ceremony by the Obama administration as a "Champion for Parkinson's Disease."
Michael also is an accomplished writer with more than 400 peer-reviewed articles and even a book of poetry.
In today's episode, we discuss:
[00:17:56]What Parkinson's disease is and the wide range of symptoms that can arise as a result of the disease.
[00:29:19] How Parkinson's disease is diagnosed since there is no specific test that can diagnose the disease.
[00:32:11] The common risk factors associated with neurodegenerative disease.
[00:38:20] The actor Alan Alda's recent announcement that he has been living with Parkinson's for more than a year.
[00:41:04] A UCSF study that looked at the prevalence of Parkinson's among veterans who had experienced traumatic brain injury.
[00:46:32] Treatments that are available for Parkinson's.
[00:55:57] The cognitive, behavioral and mood effects of deep-brain stimulation.
[01:17:11] The potential use of brain prosthetics or orthotics in patients with neurological disease.
[01:29:26] Whether Parkinson's therapy is moving toward local, systemic or a combination of the therapies.
[01:31:48] The relationship between metabolism and nutrition and the progression of Parkinson's disease.
And much more. 
Show notes:

[00:02:53] Michael begins the interview taking about growing up in West Palm Beach, Florida, and his love of baseball and collecting baseball cards. [00:03:39] After high school, Michael decided to attend Florida State University and focus on a liberal arts education. Dawn asks Michael if it's safe to assume he wasn't thinking about medical school when he started college. [00:04:53] Dawn asks Michael how a history major ultimately decides to become an MD. [00:06:18] Ken asks Michael to elaborate on a funny story about how he ended up going to the University of Florida for medical school. [00:10:10] Michael talks about how went to med school thinking he wanted to be a black-back family practitioner, but became so interested in neurology that he changed his mind. [00:13:06] Ken mentions that during Michael's time at Florida, he became fascinated by what was going on in the brain of people who had tremors. Ken asks Michael if that is what led him to focus on Parkinson's disease during his postdoc at Emory? [00:17:56] Even though most people are familiar with images of people like Michael J. Fox and Mohammed Ali who have tremors, most people aren't aware that Parkinson's has a wide range of symptoms, which makes it an incredibly complex disease. Michael gives an overview of Parkinson's and the various symptoms that can arise as result of the disease. [00:22:29] Since Parkinson's is such a remarkably complex and multi-system disease, Ken asks Michael how he integrates the different clinical disciplines that are required to treat someone with Parkinson's. [00:29:19] Ken mentions that there is no specific test to diagnose Parkinson's, and asks Michael if the disease is primarily diagnosed by symptoms. [00:32:11] Dawn mentions that when people are diagnosed with Parkinson's, it means they don't have Alzheimer's or ALS. However, neurodegenerative diseases often have common risk factors such as type 2 diabetes or environmental exposures or trauma, as well as a neuroinflammatory or oxidative stress component. Ken asks what makes these diseases different beyond the specific areas of brain anatomy that they affect, and why might somebody with a given set of risk factors get one rather than the other? [00:38:20] Dawn mentions that more than a million people in the U.S. have Parkinson's, including actor Alan Alda, who announced in July that he has been living with the disease for more than a year. In announcing he had the disease, Alda stressed that he has been living a full and happy life. As the national medical director for the Parkinson's Foundation, Michael often stresses that people with Parkinson's can lead happy and healthy lives, and Dawn asks Michael to talk about that. [00:41:04] Ken mentions a UCSF study in the online issue of Neurologythat looked at the prevalence of Parkinson's among veterans who had experienced a traumatic brain injury. The study found that these veterans faced a 56 percent increased risk for Parkinson's. Ken asks Michael to talk about the study and its implications behind a military population. [00:44:35] With a growing understanding of repeat TBI and CTE, Dawn talks about how we are learning that there is a link between brain injury and neurodegenerative pathology. She asks Michael if we have any idea as to why there is a link between TBI and neurodegeneration? [00:46:32] Michael gives an overview of the treatments that are available to treat Parkinson's. [00:52:39] Dawn asks Michael to talk about the current state of biomarkers for tracking the progression of Parkinson's and tracking the response to a disease-modifying intervention. [00:55:57] Dawn points out that Michael has had a prolific career as a researcher exploring non-motor basil ganglia brain functions. He also has helped pioneer studies exploring the cognitive, behavioral and mood effects of deep brain stimulation. She asks Michael to give listeners an overview of deep brain stimulation, also known as DBS. [01:00:35] Ken asks Michael to talk about the primary mechanism of action of DBS. [01:05:09] Michael discusses DBS's dark past and how the intervention's reputation has recently rebounded. [01:10:53] Dawns asks what kind of patient is a good candidate for DBS. [01:12:42] Michael talks about autonomic nervous system symptoms in Parkinson's disease. [01:14:40] Dawn wonders about other forms of non-invasive nervous system stimulation and asks if approaches such as transcutaneous vagal nerve stimulation have shown an impact on Parkinson's disease or Parkinson's symptoms. [01:17:11] Ken points out that researchers at IHMC often work toward development of AI software systems intended as cognitive orthotics aimed at amplifying and extending human cognition. He asks Michael about the potential use of brain prosthetics or orthotics in patients with neurological diseases and what opportunities Michael sees to better understand the brain and brain networks. Ken also asks about the ethical challenges involved in such technology and who should be operated on. [1:20:32] Dawn mentions that one arm of research for Parkinson's treatment is developing vaccines or other approaches to aid in the removal of alpha-synuclein protein aggregation. Similar approaches have so far failed with the analogous approach to beta-amyloid in Alzheimer's disease, where the amyloid burden also doesn't directly correlate with disease progression or severity. Dawn asks if there is evidence that this might be a more successful approach in Parkinson's. [01:25:07] Ken brings up that stem cells are often mentioned in the context of Parkinson's and asks Michael about the prospects. [01:28:08] Dawns asks about editing certain genes in situ with a CRISPR-Cas9. [01:29:26] Ken points out that PINK1 is involved with the ubiquitin pathway, and that LRRK2 is involved with the immune response. Ken asks if a systemic approach to treatment is more promising than a local treatment. He also asks if Parkinson's disease therapy is moving toward local or systemic treatment or a combination of the therapies. [01:31:48] Dawn asks if there are known relationships between metabolism and nutrition and the progression of Parkinson's disease or its symptoms. [01:33:21] Dawn talks about how the Obama administration recognized Michael during a White House ceremony in 2015 and how earlier this year the American Society for Experimental Neurotherapeutics honored Michael with its Presidential Award. Dawn asks Michael to share what that was like. [01:34:40] Dawn ends the interview by asking Michael about his passion for writing. She points out that Michael received a scholarship for creative writing in school and that today he has more than 400 peer-reviewed articles and has also written a book of poetry. Dawn asks Michael to talk about the role that writing has played in his life.

Links

Michael's UF Department of Neurology faculty page

IHMC talk on "Parkinson's Disease: The Latest Advances in Treatment and Research."

IHMC talk on "Parkinson's Treatment: 10 Secrets to a Happier Life"

UF's Movement Disorders and Neurorestoration Program

"Parkinson's Treatment: 10 Secrets to a Happier Life"

"10 Breakthrough Therapies for Parkinson's Disease"

"Ask the Doctor About Parkinson's Disease"