//
Jan 30, 2018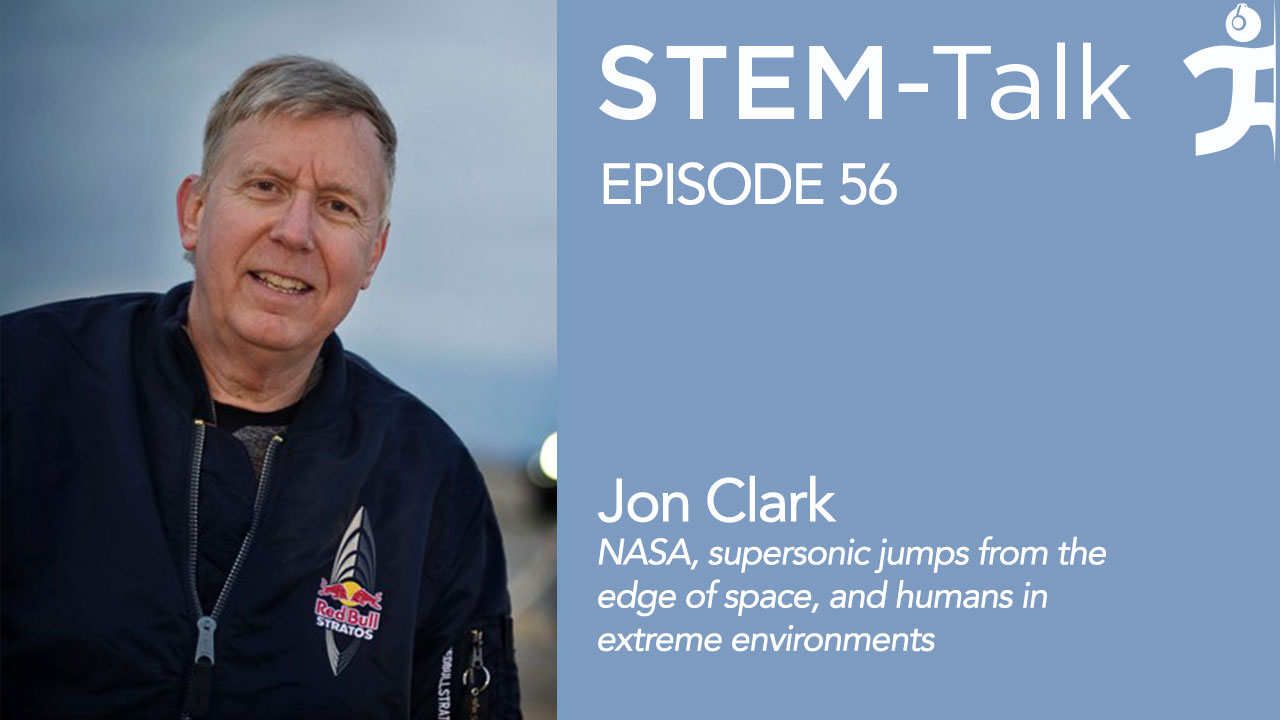 Today's episode is the second of a two-part interview with IHMC Senior Scientist Dr. Jonathan Clark, a six-time Space Shuttle crew surgeon who has served in numerous roles for both NASA and the Navy.
Part one of our interview, episode 55, ended with Jon talking about the tragic death of his wife, astronaut Laurel Clark. She died along with six fellow crew members in the Space Shuttle Columbia disaster in 2003. February marks the 15th anniversary of the disaster. Today's episode picks up with Jon talking about becoming part of a NASA team that investigated the Columbia disaster.
Ken and Dawn also talk to Jon about the extensive research he has been doing on the neurologic effects of extreme environments, and also about the instrumental work he has been doing in developing new protocols to benefit future aviators and astronauts.
Jon received his Bachelor of Science from Texas A&M University, and medical degree from the Uniformed Services University of the Health Sciences in Bethesda, Maryland. He is board certified in neurology and aerospace medicine. Jon headed the Spatial Orientation Systems Department at the Naval Aerospace Medical Research Laboratory in Pensacola. He also held other top positions in the Navy and qualified as a Naval flight officer, Naval flight surgeon, Navy diver and Special Forces freefall parachutist.
Jon's service as a Space Shuttle crew surgeon was part of an eight-year tenure at NASA, where he was also chief of the Medical Operations Branch and an FAA senior aviation medical examiner for the NASA Johnson Space Center Flight Medicine Clinic. He additionally served as a Department of Defense Space Shuttle Support flight surgeon covering two shuttle missions.
In addition to his new role as a senior research scientist at IHMC, Jon is an associate professor of Neurology and Space Medicine at Baylor College of Medicine and teaches operation space medicine at Baylor's Center for Space Medicine. He also is the space medicine advisor for the National Space Biomedical Research Institute, and is a clinical assistant professor at the University of Texas Medical Branch in Galveston where he teaches at the Aerospace Medicine Residency.
Links:
Jon Clark's NASA bio:
https://www.nasa.gov/offices/nesc/academy/Clark-Jonathan-Bio.html
Jon Clark You Tube Channel:
https://www.youtube.com/playlist?list=PLZLZ5yKgXJR0L1xZzhdTY_dUzo5ZLILxS
Jon Clark Red Bull Stratos page:
http://www.redbullstratos.com/the-team/jonathan-clark/index.html
Part one of Jon Clark STEM-Talk interview:
https://www.ihmc.us/stemtalk/episode-55/
Show Notes:
4:07: Ken comments that Jon was part of the NASA team that studied every detail of the Columbia disaster. When the team's report came out, Jon said, "You have to find ways to turn badness into goodness. You have to. It's the only way you get through this." Ken then asks Jon to talk about some of the lessons NASA learned.
7:27: Dawn says that on October 14, 2012, Jon was part of a team that successfully accomplished the highest stratospheric free fall jump from 128,100 feet. Dawn asks Jon how he became involved in this record-breaking jump.
9:37: Dawn asks Jon what his support team looked like for the jump.
11:15: Ken asks Jon what kind of preparation he and the team went through for the jump, and how long the preparatory period was.
12:46: Dawn asks Jon what the medical concerns for the jump were.
16:54 Dawn comments that when Jon discusses the medical team, he talks a lot about continuous physiological monitoring in the research world. She then asks Jon what kind of monitoring he was doing before, during, and after the jump.
22:58: Dawn asks Jon to discuss research he has done around neurological issues, specifically when it comes to space exposure.
23:31: Ken comments that intermittent artificial gravity has been discussed over the years, as a way to potentially mitigate some of the medical risk factors associated with long duration space missions. Ken then asks Jon how this may be accomplished in space and what we know about the effects of intermittent gravity.
30:30: Dawn says that NASA recently released a report describing an increased incidence of white matter hyper intensities in astronauts. She then asks Jon why we are seeing these lesions now and not in earlier crew.
34:01: Dawn comments that the DOD communities are also interested in the issue of white matter hyper intensities. Dawn then says that she and Jon are on a NASA Translational Research Institute project that is looking at the effect of simulated microgravity on brain lymphatic outflow. She then asks Jon to talk more about this study.
38:24: Dawn says that trying to perform effective aeromedical research with either aviators or astronauts can be difficult due to a fear of participating in studies whose findings might affect their flight status. She then asks Jon how he addresses these concerns.
41:02: Ken says that Jon has been extensively involved in previous investigations focused on physiological episodes in the aviation community. He then asks Jon to discuss what is meant by the term physiological episode and to give a few examples.
46:09: Dawn asks Jon what he sees as some of the most exciting areas of research for extreme environmental medicine in human performance.
48:42: Ken comments that Jon was instrumental in having EEG recordings removed from the standard flight physical. Ken asks Jon what led to his concerns on this measurement.
51:15: Dawn says that Jon has done research with hyperbaric oxygen and that right now we are seeing a push to bring hyperbaric oxygen therapy in as treatment for things like traumatic brain injury and PTSD. She then asks Jon what his thoughts are on this.
56:00: Dawn says that Jon has been extensively involved in suit testing for NASA and other commercial entities. She then asks what this testing involves and what the future space suits will look like.
1:00: 19:Ken says that there was a meeting at IHMC years ago where NASA displayed each of the generations of NASA space suits.
1:03:41: Dawn asks Jon to expand on his comments about how to get a deliverable from research.
1:05:05: Dawn says that William Fife was a key mentor of Jon's and that now Jon works with William's daughter. Dawn asks Jon to discuss the time he spends mentoring young students and what advice he has for them.
1:08:03: Ken says that NASA has been formulating plans for a crew tended cislunar space station concept, known as the Deep Space Gateway. This station could be used as a staging ground for robotic and human lunar surface missions as well as eventual travel to Mars. Ken then asks Jon to talk more about the Deep Space Gateway.
1:11:41: Dawn asks Jon to discuss his recent sailing expedition off the California coast.
1:15:27: Ken mentions that Jon participated in the National Outdoor Leadership School executive expedition that went into the Wind River Range of Wyoming.  Ken points out the Roger Smith, who was featured on episode 51 of STEM-Talk, and his wife Margaret Creel were longtime instructors at NOLS, and asks Jon for his thoughts about NOLS and the work it does.
1:19:20: Ken and Dawn thank Jon for joining them.