//
Jan 16, 2018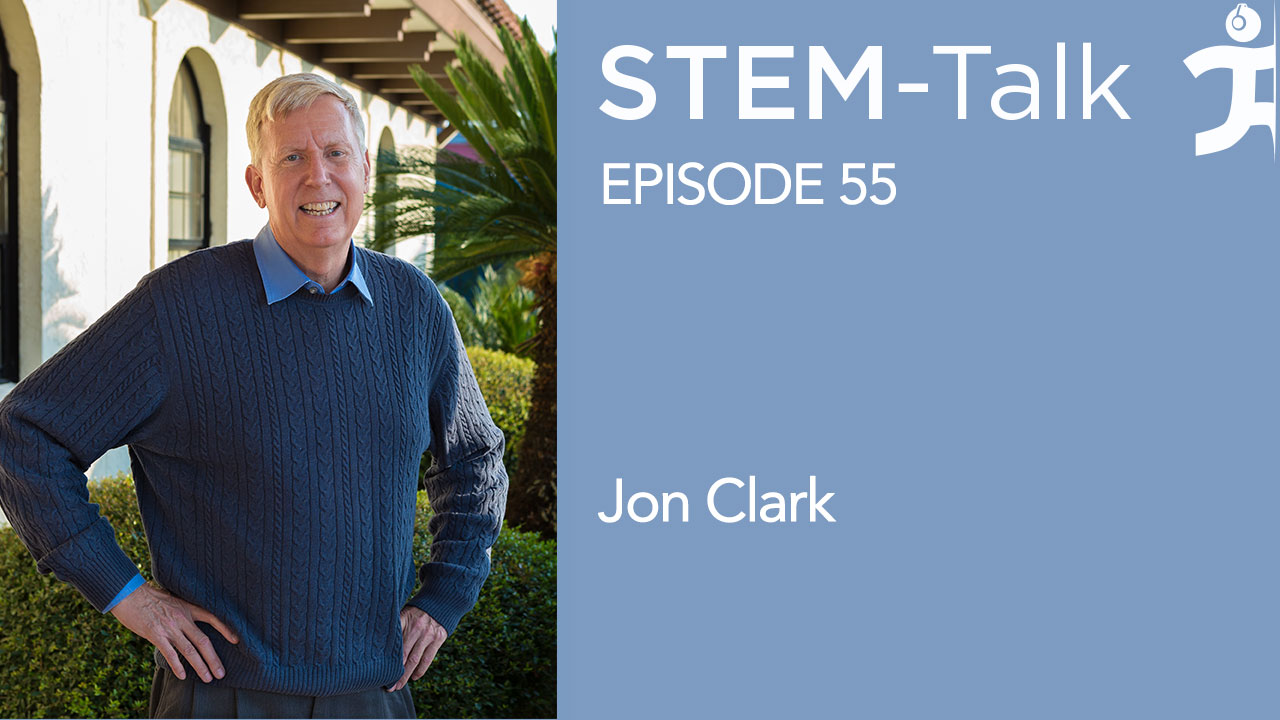 Today's episode is the first of two-part interview with IHMC Senior Scientist Dr. Jonathan Clark, a six-time Space Shuttle crew surgeon who has served in numerous roles for both NASA and the Navy.
In a wide-ranging conversation with Ken and Dawn, Jon talks about his 26-year career in the Navy, his extensive research on the neurologic effects of extreme environments on humans, and the tragic death of his wife, astronaut Laurel Clark, who died along with six fellow crew members in the Space Shuttle Columbia disaster in 2003.
Jon received his Bachelor of Science from Texas A&M University, and medical degree from the Uniformed Services University of the Health Sciences in Bethesda, Maryland. He is board certified in neurology and aerospace medicine. Jon headed the Spatial Orientation Systems Department at the Naval Aerospace Medical Research Laboratory in Pensacola. He also held other top positions in the Navy and qualified as a Naval flight officer, Naval flight surgeon, Navy diver and Special Forces freefall parachutist.
Jon's service as a Space Shuttle crew surgeon was part of an eight-year tenure at NASA, where he was also chief of the Medical Operations Branch and an FAA senior aviation medical examiner for the NASA Johnson Space Center Flight Medicine Clinic. He additionally served as a Department of Defense Space Shuttle Support flight surgeon covering two shuttle missions.
In addition to his new role as a senior research scientist at IHMC, Jon is an associate professor of Neurology and Space Medicine at Baylor College of Medicine and teaches operation space medicine at Baylor's Center for Space Medicine. He also is the space medicine advisor for the National Space Biomedical Research Institute, and is a clinical assistant professor at the University of Texas Medical Branch in Galveston where he teaches at the Aerospace Medicine Residency.
Links:
Jon Clark's NASA bio: https://www.nasa.gov/offices/nesc/academy/Clark-Jonathan-Bio.html
Jon Clark's YouTube channel:
Show Notes:
4:32: Ken and Dawn welcome Jon to the show.
4:47: Dawn comments that Jon was the son of an army officer, and as a result, he grew up all over the world. Dawn then asks Jon what it was like to move so frequently to different army bases as a youth.
5:24: Dawn says that Jon is known as a fairly frugal person and asks him to tell the story of a piece of burnt toast in Germany that contributed to his frugality.
6:39: Ken asks Jon to share the story of how he learned how to fly planes in Germany as a teen-ager.
9:43: Dawn comments that Jon had aquariums in his bedroom as a child. She then asks Jon what drew him to marine biology.
13:53: Dawn asks why Jon chose Texas A&M for college after leaving Germany.
15:36: Jon talks about how he was accepted into medical school during his senior year of college, and how he was disappointed that the Navy sent him to flight school instead.
18:46: Ken says that after flight school, Jon ended up going to medical school after all. Ken asks Jon to talk about what happened.
20:09: Dawn asks Jon what it was like transitioning from being an officer in the Navy to a student in medical school.
21:24: Dawn comments that Jon was three years into his neurosurgery residency when his plans shifted. She asks Jon what happened.
24:52: Dawn says that Jon spent 26 years on active duty with the Navy, qualifying as a Naval Flight Officer, Naval Flight Surgeon, Navy Diver, U.S. Army Parachutist, and Special Forces Military Free Fall Parachutist. She asks Jon if it is fair to say that he has an appetite to try new things.
26:35: Ken comments that he and Jon met in Bruce Dunn's lab at the University of West Florida in the late 1980s while Jon was in Pensacola working at the Naval Aerospace Medical Institute. Ken says that he recalls Jon working with Bruce on electrophysiology studies. Ken then asks Jon how he and Bruce met.
30:36: Ken says that Jon met his wife, Laurel, while he was in the Navy Dive School in Panama City.
35:34: STEM-TALK BLURB
36:00: Dawn asks Jon to share his experiences with the Marines in Desert Storm.
38:44 Dawn comments that Jon ended up back in Pensacola in the mid-1990s as the department head of the Naval Aerospace Medical Research Laboratory. During this time, Jon looked into the low-frequency active sonar, which was injuring both marine life and divers. Dawn then asks Jon to discuss this project.
41:14: Dawn asks Jon to discuss the Bug Springs project.
44:32: Ken comments that in 1996, Laurel was selected as a NASA astronaut, and she moved to Houston to begin astronaut candidate training. During this time, Jon was still in the Navy. Ken then asks Jon how he ended up working at NASA in Houston.
50:07: Ken asks Jon to discuss the transition at NASA.
53:02: Dawn asks Jon what his responsibilities were as a NASA flight surgeon.
55:00: Ken comments that it must have been an extremely tough experience when Laurel was aboard the space shuttle Columbia, that disintegrated upon reentering Earth in 2003.
1:00:40: Dawn comments that Jon's son Ian asked why his mother did not bail out during the accident. Ian also told Jon that he was going to become a scientist and invent a time machine in order to go back in time and warn everyone. This was when Jon realized he had to focus the rest of his career on making it safe for those following in Laurel's footsteps.
1:02:00: Part one of the interview ends.