//
Apr 25, 2017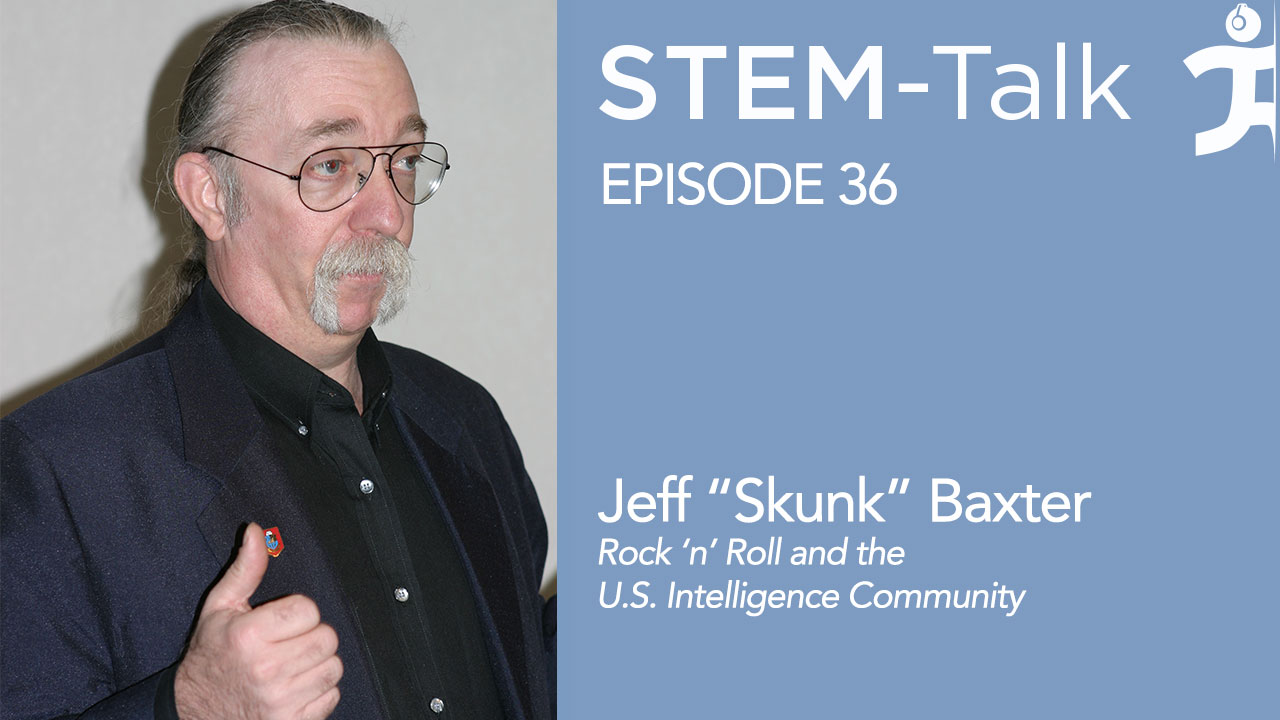 In a rare departure from interviews with scientists and engineers, STEM-Talk Host Dawn Kernagis and IHMC Director Ken Ford interview Jeffrey "Skunk" Baxter about his life as a musician and founding member of Steely Dan, and how he went on to become a defense consultant on the Senate Armed Services Committee.
The two fields seem completely different, but Baxter explains the similarities between them and talks about how improvising in jazz is a skill that can carry over into defense analytics and tactics.
Baxter's bio includes playing with a number of well-known bands, such as Steely Dan and The Doobie Brothers. As a studio musician for 35 years, Baxter recorded with Donna Summer, Dolly Parton, Ringo Starr and Rod Stewart. He was a record producer for Carl Wilson, the Beach Boys and Stray Cats. He also composed music for movies and television.
He has achieved a certain renown in Washington as an advisor and consultant for multiple agencies and defense technology companies. He chaired a Congressional Advisory Board on missile defense and was a senior fellow at the Potomac Institute.
Baxter also holds a unique affiliation with IHMC as "senior thinker and raconteur." He and Ken go way back—to Ken's own days in the rock 'n' roll business, which the two discuss in the interview.
Baxter's IHMC bio is available at https://www.ihmc.us/groups/jbaxter/. More information on him is at https://en.wikipedia.org/wiki/Jeff_Baxter or https://www.facebook.com/skunkbaxter/.
In 2009, Baxter gave an IHMC lecture entitled "The Revolution in Intelligence." https://www.youtube.com/watch?v=1GRkCyvIz70
2:12: Dawn reads a five-star iTunes review.
3:04: Dawn reads Baxter's bio and introduces Jeff and Ken.
4:38: Baxter talks about musicians who influenced him growing up, from Beethoven and Chopin to Thelonious Monk and Ella Fitzgerald.
5:05: Baxter was five years old when his mother gave him a great gift: "She taught me to read."
6:04: Baxter read a lot of military history because of his father, who spent five years in active duty and 20 years in the reserves.
7:00: Baxter describes his beginnings as a musician.
8:00: His love of the complexity and improvisational nature of jazz helped prepare him for work in the intelligence community.
10:25: Ken asks Baxter to talk about his days in the '70s as a founding member of Steely Dan.
11:15: Baxter shares his insights about studio recordings.
12:27: Baxter notes that a long time ago Ken was very involved in rock 'n' roll as an agent who booked and managed bands.
15:30: Baxter talks about Steely Dan and the unsung hero of the band, Roger Nichols, who was the engineer.
17:30: Baxter describes his transition from Steely Dan to The Doobie Brothers.
21:11: Ken comments that the evolution of The Doobie Brothers was remarkable. He asks Baxter about bringing Mike McDonald to the band.
23:20: Dawn asks about Baxter's transition from full-time rock musician to advisor on missile defense.
23:30: Baxter quips: "A radar is just an electric guitar on steroids."
25:35: Writing a paper on converting the Aegis system to do theater missile defense on a mobile platform led Baxter to a position as a missile defense consultant on the Senate Armed Services Committee.
26:28: Baxter describes D.C. as "a whole new world to me" filled with "unbelievably talented, smart patriotic men and women."
27:25: How Baxter used Beethoven, Bach, Jimmy Hendrix and Pink Floyd to teach radar at the National Geospatial Intelligence Agency.
28:50: Edward Teller, the Hungarian-American theoretical physicist, was also a concert pianist. Baxter talks about how he began to realize that more and more physicists he met were also musicians.
29:48: Dawn asks how Baxter was received by the defense community in D.C., given his rock band background.
31:33: Baxter talks about his first 'brutal" press conference on missile defense (not considered back then by the press as a worthy endeavor).
32:48: Ken adds, "It's important to be disliked by the right people."
33:00:  Baxter describes how the people in Washington that he worked with in government, industry, military and intelligence communities were talented and patriotic people and, for the most part, unsung.
33:43: Baxter sees a connection between creativity in music, which involves problem solving in a non-linear approach, and the way talented people in government work.
34:05: Commercial break.
34:47: Baxter describes how the organizational chart of a symphony orchestra looks frighteningly like the government's organizational chart.
37:00: The organization of a jazz quintet, however, is the opposite of an orchestra.
38:30: Baxter recalls a magazine article by William Nolte, who teaches intelligence at the University of Maryland, that made a case for teaching analysts to improvise the same way musicians do.
40:15: Baxter talks about how Pachelbel's Canon has the same chord pattern as "Let It Be Me" by the Everly Brothers, or "When a Man Loves a Woman" by Percy Sledge.
43:25: Dawn asks about war games and the role of improvisation in what might happen next.
43:45: Baxter says war games are table-top exercises where there is a blue team (good guys) and red team (bad guys), a white team (overseers of the game) and various other teams.
45:48: In terrorism, Baxter says, "the improvisational part is important because terrorists don't have the weapons, capabilities or resources, so they have to improvise."
47:00: Dawn asks about the transition from analog to digital recording in the music industry back in the 1980s, and how it parallels with the evolution of defense technology.
49:28: Dawn reminds Baxter about his 2009 IHMC lecture that addressed ways to improve the U.S. intelligence gathering.
51:43: Baxter says it's amazing how quickly the intelligence community has caught on to new technologies and leveraged them.
52:10: Ken notes this is in contrast to a time when Baxter once compared the name of the Steely Dan album "Pretzel Logic" to some aspects of the intelligence community.
52:30: Baxter describes how the electron is now the horse of the 21st century.
52:54: Dawn reminds Baxter that he once said the U.S. beat the Soviet Union because of our soft power (culture). Dawn asks if the U.S. can still play that card in places that are trained to reject U.S. culture.
53:11: Baxter recalls playing concerts in the Soviet Union where every song was illegal, yet thousands of people in the audience knew the lyrics, which is why he believes music is a way to bring people and entities together.
54:55: Baxter describes how missile defense as well as blue jeans, French fries and Elvis Presley helped bring down the Soviet Union.
55:42: Baxter explains how the British saved rock 'n' roll.
56:26: Baxter stresses the cultural influence of the U.S. and raves about Japanese rock bands. He also notes that Tito Puente won the Latin salsa competition several years in a row with an all-Japanese band.
58:22: Baxter has been working on a solo recording project for more than 15 years, which he says has been on his bucket list.
58:58: Baxter talks about doing jingles for Lays potato chips, Budweiser and Ford.
1:01:21: Ken mentions that Baxter scored the music for the popular animated TV show "King of the Hill."
1:002:06: Ken asks Baxter about a 1968 meeting with Richard "Paco" Zimmer, a legendary concert promoter and road manager.
1:05:32: Dawn thanks Jeff for being a guest on STEM-Talk.
1:06:31: Ken says "this interview was especially fun for me; and it stimulated a lot of great memories."
1:06:55: Dawn and Ken sign off.