Nov 22, 2016

//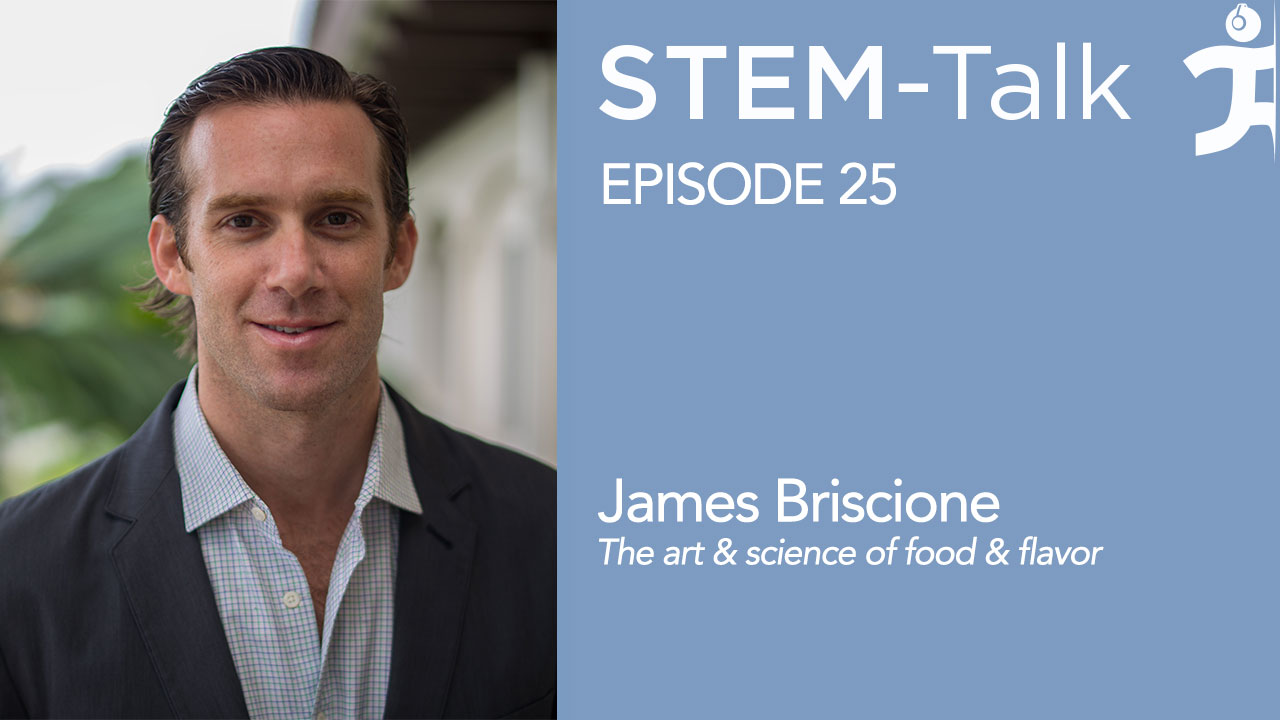 James Briscione's stellar cooking career began humbly: As a teenager, he washed dishes at a now defunct restaurant (named Jubilee) on Pensacola Beach. He quickly rose through the ranks, at age 24 becoming the chef de cuisine at the Highlands Bar and Grill in Birmingham, Alabama, which is considered one of the best restaurants in the South, and later the sous chef at the prestigious New York City restaurant Daniel.
Today Briscione, who lives in New York City, is a top-tier chef, author of three books on cooking, director of culinary development at the Institute of Culinary Education, and a three-time champion on the Food Network's cooking competition series Chopped. So what is he doing on STEM-Talk, you might ask? Briscione is also versed in the science of cooking and flavor. He partnered with IBM in creating the "Chef Watson" project. This computer-based program generates hundreds of novel flavor combinations based on the compatibility of chemical compounds in food.
In this episode, Briscione talks with IHMC Director Ken Ford and IHMC Chef Blake Rushing about the art and science of food, and Briscione's career as a chef. Briscione's three books include: "Just Married and Cooking" (with his wife Brooke Parkhurst): http://amzn.to/2eDIpJD; "Cognitive Cooking with Chef Watson"(http://amzn.to/2g04Kq0); and "The Great Cook: Essential Techniques and Inspired Flavors to Make Every Dish Better." (http://amzn.to/2elhlDr). He also has his own, new television show on the Food Network called "Cooking with Dad."
Briscione, his ideas on cooking and his own culinary creations have been featured in the New York Times, NPR, the New Yorker, Time Magazine and hundreds of other media outlets throughout the world. Briscione's recent talk at IHMC, entitled "Who teaches the cooks to cook?" can be viewed at https://www.ihmc.us/lectures/20160811/
Dive into this delicious interview—an entertaining and informative conversation between three foodies.
00:32: Ken introduces Blake Rushing as the guest co-host of this episode of STEM-Talk. Rushing is IHMC's chef, as well as the owner of Union Public House in Pensacola.
1:00: Ken introduces James Briscione as, "Working in the boundary spaces between the science of food, science and taste and even AI systems, such as Chef Watson."
1:49: Dawn reads 5-Star iTunes review from "Beautronical:" "I am continually enthralled by the variety and depth of ideas presented here. Also, it is rare that one finds great minds matched by great voices. Given the ketogenic bent of certain interviewers, perhaps mellifluous is the wrong term, but I'll use it nonetheless."
4:42: Ken introduces himself and Blake Rushing as hosts of the interview; and then welcomes James to the interview.
5:05: James says he remembers the food made by his Italian grandmother. Among them: chicken cacciatore (although the mushy carrots bugged him.) The "greatest mashed potatoes… Sunday red sauce; sausage and meatballs loaded down with pecorino cheese."
6:55: "True learning doesn't often happen until you're in the kitchen every day," Briscione tells his students. He didn't go to culinary school, but has been in the kitchen since he was 16.
8:15: At 16, he was a bus boy washing dishes for two restaurants: fine dining upstairs and casual beach dining downstairs.
9:33: As a teenager and at the beginning of college, Briscione thought, 'There's no way I am going to spend the rest of my life in a kitchen.' He was working on a degree in sports medicine in Birmingham, and worked summers at the restaurant [in Pensacola]. After his second summer, something clicked: he changed his course of study from sports medicine to nutrition.
11:00: James knocked on the back door of Bottega Cafe [in Birmingham] http://www.bottegarestaurant.com/cafe/ and said, 'I want to work here.' He got a job as pizza maker with a wood-fired oven. He remembers stretching the dough and putting the toppings on it, then handing it off to the next guy. "That and lugging firewood to store underneath giant hearth oven."
12:54: Briscione talks about working with Frank Stitt, owner and chef at the Highlands Bar and Grill in Birmingham http://www.highlandsbarandgrill.com , whom Briscione calls "a great leader." He fosters a great sense of family in all of his restaurants; his cooks go and work in the farms for harvesting veggies. Briscione attributes his success to the fact that, "I showed up everyday. I was there, and I was there early."
16:08: Briscione won on Chopped three times. "I always just try to do a little bit more than everybody else. I always want to out-hustle the other guy."
17:05: He recalls one Chopped experience: "It's insanely hot in that kitchen; four stoves; four ovens. No hoods pulling the heat away. It's a warehouse essentially. I was mincing an onion as fast as I could. You could hear the judges say, 'It seems like Chef James already has something'…I heard that; everyone else heard that. I at least gave the impression that I knew what I was doing. I never touched that onion."
19:30: Another theme of Briscione's career has been "being in the right place in the right time."
20:00: Ken discusses fat as a taste receptor, and one of many taste receptors that humans have. Our tongues have receptors for detecting fat; he asks Briscione if he considers fat a taste or an oral sensation, or both.
21:00: Briscione says that he thinks it's both.
21:36: "The tongue is a detector of nutrients and toxins. All of these different nutrients that are essential—I think we have receptors for all of those."
22:10: Ken remarks that people make a distinction between having a receptor and taste; sensitivity of the fat receptor is modulated by a protein called CD36. People vary in their ability to sense fat, and it's related to the level of that protein.
23:55: Ken adds that "The Physiology of Taste: Or Meditations on Transcendental Gastronomy," by Jean Anselme Brillat-Savarin, and translated by M.F.K. Fisher) (http://amzn.to/2f4QkQw) is among the greatest works on food…largely because of the emergence of the wonderful notion of flavor.
24:24: Briscione on taste: When you take a bite of cake, you start to identify it because you smell it. It hits your tongue, which loves the sugar. As you begin to chew, the volatile molecules make their way to the back of the throat and cheeks.
26:00: Commercial break: STEM-Talk is an educational service of the Florida Institute for Human and Machine Cognition, a not-for-profit research lab pioneering ground-breaking technologies aimed at leveraging human cognition, perception, locomotion and resilience.
27:00: Chef Watson sifts through data in a way that puts new flavors together. (https://www.ibmchefwatson.com/community)
27:48: Examples include salmon and licorice; pineapple and blue cheese.
29:00: Watson also understands different cultural ingredients.
30:22: Briscione talks about his favorites: gently cooked (sous vide) apples, surrounded by olive oil and fresh sage. Olives and cherries (a jam out of that—the best condiment for a cheese plate.)
31:50: "Mushrooms, strawberries and chicken didn't make sense. But it works really, really well…. This [Chef Watson] is a great thing: it shows the true collaboration between man and machine."
33:37: One of Briscione's favorite compounds: 4-methylpentanoic acid, which is found in pizza. "We have scientific proof that pizza is delicious."
35:02: A strawberry has 383 compounds that make up the smell of that strawberry; they may not be the ones we recognize right away. The body is still sensing all of those. A lot of matching happens.
35:40: Mesifurane is a key compound in strawberries; on its own, it smells like baked bread.
36:51:  Ken and James discuss Chef Watson as a kind of "cognitive orthotic" enabling increased creativity and efficiency in the kitchen.
37:10: "Creating recipes usually means sitting down with a stack of cookbooks; it's a long and complicated process, and I liken it to decision fatigue."
38:48: Chef Watson removes this burden by providing a list of ingredients that will work together, so that chefs can focus on the creative process of putting those ingredients together.
39:40: Briscione talks about using the Golden Ratio in cooking; just as in painting, there are those born with an intuitive understanding of the proportionality in the Golden Ratio, and those that learn it. "[Chef] Watson helps you get to that point: I can find hidden pattern in food that helps me be better at what I do."
40:40: Ken comments that the Golden Ratio is seen elsewhere, such as in mathematics, with the Fibonacci sequence.
41:56: "One of the strongest pairings is between olives and citrus: they have about 60 percent of compounds in common. Wherever olives grow, so do citrus fruits."
43:27: In Briscione's upcoming book, he features a lemon curd dessert with an extra olive oil (not butter) finish. The crumble top is a sort of streusel made with oil-cured olives, a bit of rosemary, brioche crumbs and sweetened almonds. "It's a beautiful savory-sweet interesting dessert."
44:37: "Computational creativity can break through the bias/blindness in the cultural underpinnings of cooking."
45:15: In the Watson method, "We're looking at ingredients with a complete blank slate." For example, in looking at a tomato, break free from the basil. "Erasing those pre-conceived notions was key to project."
47:30: More information on Chef Watson can be found at: www.ibmchefwatson.com.
48:40: Briscione talks about sous vide cooking: 'under vacuum' is the literal definition. It is very precise low-temperature cooking held at the exact degree of doneness that we want [whatever food] to be.
52:30: Ken talks about how when he was in the Navy, in the late 70s and 80, he invented a super crude version of sous vide. He vacuum-packed food in the same machine used for electronics. It was "seal-a-meal," but much better than the green mess-hall food.
54:10: Briscione says the next thing in cooking will be precision temperature control, such as Control Freak (an induction top) from PolyScience Culinary; Combi ovens; and CVap (Controlled Vapor Technology) ovens.
56:15: Briscione talks about hydrocolloids or gums: "People have had them in their kitchens for as long as they've lived." Examples include flour and corn starch, or anything that forms a gel in the presence of water. Xanthan gum is the gateway drug to hydrocolloids. Others are derived from seaweed.
1:00:00: Ken comments on the irony of the public perception that chemicals in food are a bad thing, when food is made up of chemical (compounds.) He shares a funny anecdote about walking in and out of popular restaurant in Atlanta that boasted of no chemicals in their food.
1:01:36: Ken asks Briscione what he eats, and he says, "So far, a muffin and coffee today." As for Briscione's favorite foods: "Any piece of the pig is going to make me really, really happy."
1:02:15: "I can eat a large watermelon by myself in minutes. Vegetables make me really happy."
1:03:00: A favorite recipe using modernist cooking techniques: Vegan ramen broth, with smoked tofu and dried Shitake mushrooms, ginger, garlic and scallions. With soy sauce and pork.
1:04:15: His own favorite restaurants: The NoMad in NYC: for their "wonderful vegetable entrees. They take a single ingredient and present it to you on the plate in three or four forms." He's also a fan of the Gramercy Tavern.
1:06:10: His favorite daddy-daughter date is Dominique Ansel's bakery in NYC.
1:07:00: When Briscione and his wife Brooke Pankhurst (also a Pensacola native) come home to the South, they enjoy good fried seafood such as fried mullet, snapper throats and mullet backbones — as offered at Chet's Seafood.
1:09:44: Commercial break: STEM-Talk is an educational service of the Florida Institute for Human and Machine Cognition, a not-for-profit research lab pioneering ground-breaking technologies aimed at leveraging human cognition, perception, locomotion and resilience.
1:10:25: Briscione talks about his first cookbook, "Just Married and Cooking" (http://amzn.to/2eDIpJD): "The thing I love about that book is that I can open to any page in that book, and point to a recipe, and tell you a story about the first time we cooked that." He characterizes the recipes as "everyday meals for ourselves."
1:11:43: Talking about his book, "The Great Cook," (http://amzn.to/2elhlDr) which came out last year: "It's really kind of all these great dishes that all cooks should know." It reads as if Briscione, a great cooking teacher, is sitting there at the kitchen counter and coaching them through dishes. Plus, it has really beautiful photography.
1:13:34: Also last year, the Chef Watson cookbook came out, "Cognitive Cooking with Chef Watson:" http://amzn.to/2g04Kq0. Briscione talks about one recipe: Spanish almond crescent, conceived as a pastry for a breakfast meeting. "I love Spanish food, and Spain. The almond is a seed for Watson to build the flavor pairings off of: saffron, black pepper, cocoa and coconut milk."
1:16:30: Ken and Briscione talk about their favorite places in Pensacola, including Joe Patti's fish market, and Chet's and Jerry's Drive-In.
1:17:28: Ken says: "When I have people in town, from NYC or San Francisco, food writers or chefs, I don't take them to our fine dining restaurants. I get an excellent wine and good wine glasses; and we have a whole feast at Chet's." Ken's favorites: marinated flounder or grouper.
1:19:20: Briscione talks about his new television show on the Food Network, "Cooking with Dad:" (http://www.foodnetwork.com/videos/dad-and-daughter-pasta-0251005.html). He describes it as: "What it looks like for a chef to cook at home with his kids…Or what's it's like to just put dinner on table every night. Or snack after tap class. Or Sunday morning brunch."
It includes Briscione and Brooke, their 7-year-old daughter Parker, and 14-month-old son.
1:21:31: Ken thanks Briscione for the interview as well as his IHMC lecture, which gathered well over 300 people and can be viewed at: https://www.ihmc.us/lectures/20160811/
1:21:58: Ken says this episode "this episode combined two of my favorite topics:  the science of food spiced with a touch of AI."
1:22:55: Dawn and Ken sign off.