UWF and IHMC announce inaugural cohort for state's first Ph.D. in Intelligent Systems and Robotics
UWF-IHMC Press Release 20191007.pdf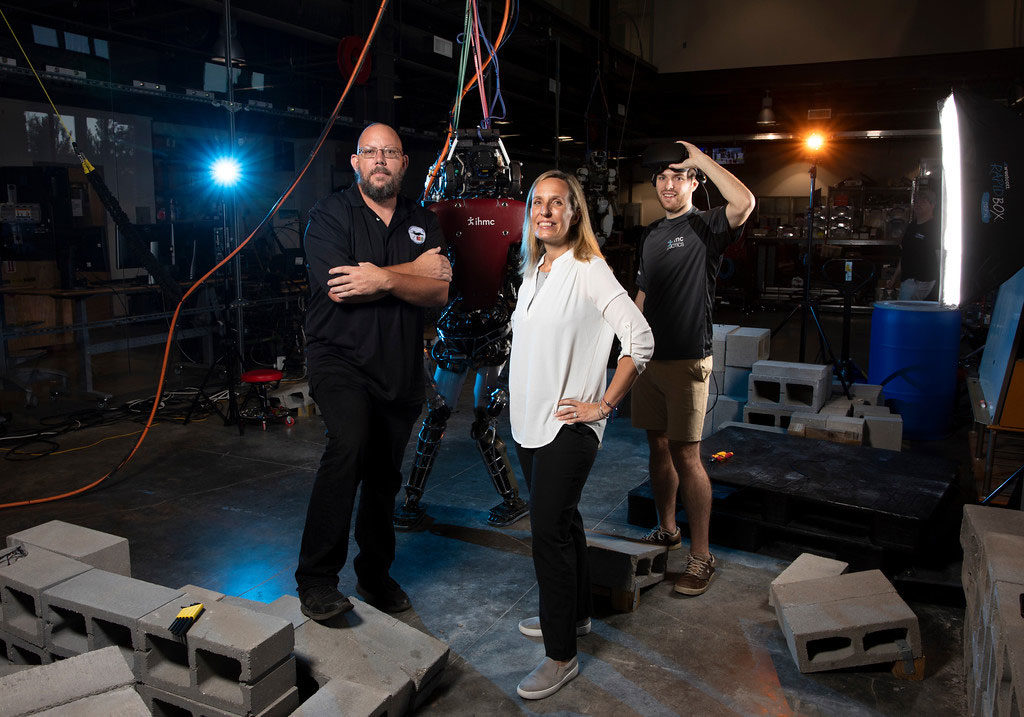 Doctoral program director Brent Venable, center, with Jacques Perry, left, and Duncan Calvert, right
This fall, the University of West Florida and the Institute for Human and Machine Cognition welcomed the inaugural cohort of five students to the newly established intelligent systems and robotics doctoral program.
The program centers on developing leading-edge software and hardware technology that combines human and machine elements to exploit their respective strengths and mitigate their respective weaknesses. It aligns with the University's strategic vision for research that impacts Northwest Florida's economic development and technology enterprise. The first of its kind in Florida and one of only a few in the nation, the program will serve the manufacturing, health care, defense and other high-tech industries, providing critical support to high-demand career fields.
"UWF welcomes an esteemed group of eager doctoral students, each with a uniquely impressive background," said UWF President Martha D. Saunders. "They are ready, and we are confident that UWF and IHMC will guide them to their individual success."
The doctorate in intelligent systems and robotics program will provide students with individualized paths tailored to their interests. The program is comprised of foundational courses in robotics and artificial intelligence, or AI, that address topics such as knowledge representation and reasoning, machine learning, computational methods in AI, basic hardware/software interaction and research methods.
"Our mission for this program is to develop students into graduates who can step right into opportunities in the workforce that will be ready and waiting for them, to further the field and innovative research," said Dr. Ken Ford, CEO of IHMC.
Two of the students, Taher Rahgooy and Andrea Martin, transferred to UWF from Tulane University to be part of the inaugural cohort on the heels of Dr. Brent Venable being named director of the intelligent systems and robotics doctoral program. Venable previously held a joint appointment as a professor of computer science at Tulane and research scientist for IHMC. She said her first priority in the program is setting the students up for success in research that interests them.
"The way I see it, my job is to make this an optimal environment and opportunity for all of the participants; the students, faculty, researchers involved," Venable said. "These students will work in labs with researchers for more than four years and will have a chance to make a difference. From a mentor point of view, this is 'academic parenting,' and it's my job to make sure it's successful."
Jacques Perry, a UWF alumnus and military veteran, is another candidate who was accepted into program. Perry has 10 years of cybersecurity experience and currently serves as the lead cybersecurity engineer and information system security manager for the 782nd Test Squadron at Eglin Air Force Base.
Perry completed an internship with IHMC during graduate school, which he said first sparked his interest in AI. When the opportunity arose to conduct AI research that could enhance cybersecurity efforts, along with access to IHMC resources, he didn't hesitate to apply for the doctoral program.
"My doctoral work will be directly applicable to cybersecurity for Air Force missions," Perry said. "This degree program will also allow me to gain a leadership position in the Air Force cyber community, where I'll be able to bring more focus on the capabilities of AI in cyber defense and offense. I eventually expect to see AI playing both strong defensive and offensive roles in cyber warfare, which will inherently require the next generation of cybersecurity personnel to thoroughly understand the capabilities and limitations of AI and how it will shape the cyber battlefield."
The other students included in the Fall 2019 class include UWF alumni Duncan Calvert, who currently works in the robotics lab at IHMC, and Bhavyansh Mishra, a recent UWF graduate who interned at IHMC in the summer of 2018.
A not-for-profit research institute of the State University System, IHMC is a pioneer of technologies aimed at extending human capabilities through a unique approach combining computer science, cognitive psychology, neuroscience, engineering, medical sciences and related disciplines.
For more information about the Ph.D. in Intelligent Systems and Robotics, visit uwf.edu/isr.
UWF and IHMC announce inaugural director for Intelligent Systems and Robotics doctoral program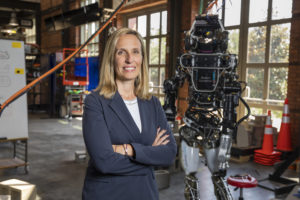 The University of West Florida and the Florida Institute for Human & Machine Cognition announce Dr. Kristen "Brent" Venable as the inaugural director of the Ph.D. in Intelligent Systems and Robotics program.
UWF is partnering with IHMC for the program, which begins in Fall 2019. Venable will shape and direct the new program, hire faculty and recruit doctoral students.
"The highly-anticipated doctoral program has found a well-suited leader in Dr. Venable," said UWF President Martha D. Saunders. "Her expertise in artificial intelligence matches well with the program's vision to develop thought-leaders in these exciting fields."
Venable joins UWF from Tulane University, where she held a joint appointment as a professor of computer science and research scientist for IHMC.
"I have known Brent for a long time and she is the perfect choice to head up the new program," said Dr. Ken Ford, IHMC CEO and director. "Brent has broad expertise in AI and related topics, and we are fortunate that she has agreed to take this position."
Venable's primary research interests are within artificial intelligence including constraint-based reasoning, preferences, temporal reasoning and computational social choice. Her research focuses on providing a solid framework for the design and deployment of intelligent systems able to reason about preferences.
"This is an exciting opportunity for me," Venable said. "I love research and I love working with students, so this position gives me the best of both worlds. I'm particularly excited with the potential we have to develop a unique program in the United States that will have students working on research projects as soon as they set foot on campus."
Venable began her career in higher education as a faculty member in the Department of Pure and Applied Mathematics at the University of Padova in Italy, where she also earned a doctorate in computer science and a Laurea degree with honors in mathematics.
The new program is the first of its kind in Florida and one of only a few in the nation. It aligns with the University's strategic vision for research that impacts Northwest Florida's economic development and technology enterprise. Manufacturing, health care, defense and other high-tech industries will be served by the program, providing critical support to high-demand career fields.
The program will focus on providing students an immersive hands-on research experience from the outset.
"Excitement surrounding the new program has been tangible, and with the announcement of Dr. Venable's leadership, the excitement grows," said Dr. Jaromy Kuhl, interim dean of the Hal Marcus College of Science and Engineering. "Her interests and expertise will be instrumental in launching and establishing a competitive program that prepares generations of students for lifelong success."
For more information about the Doctorate in Intelligent Systems and Robotics program, visit uwf.edu/isr
IHMC Wins Silver Medal in Cybathlon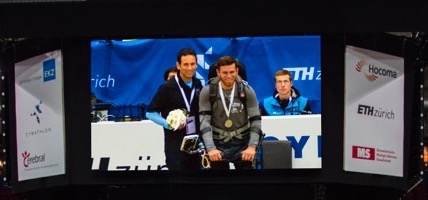 In a weekend international showdown, the Florida Institute for Human & Machine Cognition (IHMC) robotics team once again demonstrated its brawn as it placed a strong second in the powered exoskeleton division of the first annual Cybathlon. Held October 8th, in Zurich, Switzerland, the Cybathlon is a global competition for disabled athletes aided by wearable robotic devices.  The unique competition hosted 66 teams from across the globe, competing in six distinct divisions.
Using the Mina v2 exoskeleton, developed at IHMC's research facility in Pensacola, Florida, the IHMC pilot athlete was Mark Daniel. Daniel, who grew up in Pensacola, suffered a spinal cord injury in 2007 as a result of a car accident, which left him paralyzed. He began assisting the IHMC research team in 2010, with the evaluation and testing of powered exoskeletons.
Senior Research Scientist Peter Neuhaus, the lead researcher on the project, said, "I am very proud of our team's Silver Medal finish in the Powered Exoskeleton race. This competition was open to researchers and companies throughout the world, and to finish just behind an established company affirms our position in the field."
German-based company ReWalk won first place in the competition, represented by Andre Van Ruschen, who also suffered a spinal cord injury due to a car accident. Nine teams from around the world competed in the exoskeleton division event, with IHMC being the only team from the United States to compete and place.
"The team worked hard getting the software and hardware ready, and Mark's ceaseless training paid off," Neuhaus continued. A true athlete in mind, spirit, and body, Daniel rolled his wheelchair up to fifteen miles a day and swam to prepare for the event.
The powered exoskeleton competition was comprised of a race among the athletes that included six tasks with a ten-minute time limit. The robotic-assisted tasks included sitting down and standing back up from a sofa; walking through a slalom course without hitting the poles; climbing a ramp and opening a door; walking up and down stairs; and walking on a path landing the feet on random flat stones.
There were five other disciplines beyond the exoskeleton division at the packed event, which welcomed over 4,600 visitors and 66 teams. It was held at the SWISS Arena Kloten and organized by the Swiss Federal Institute of Technology. The main sponsor for the competition was Hocoma, the maker of Lokomat and other rehabilitation exoskeletons.
Supporting the IHMC team were local sponsors to include Stormy Dawn Anderson, Scivation Inc., the William and Karen Dalton Family, Allied Motion, Futek, Elmo Motion Control, Lord MicroStrain Sensing, inTec and Star Prototype.
Neuhaus said the Cybathlon marks an important step in IHMC's long-term research goals in exoskeletons. The Cybathlon win is the most recent in a string of many for the IHMC robotics team. In June 2015, the team took second place in the world, and first place among teams from the United States, in the DARPA Robotics Challenge. "While it is impressive what we, as a community, have accomplished and demonstrated so far, we have a long way to go with regard to restoring mobility with robotic devices for people with paralysis," Neuhaus said. "Our goal is to continue to make advancements in mobility assistance through cutting edge research."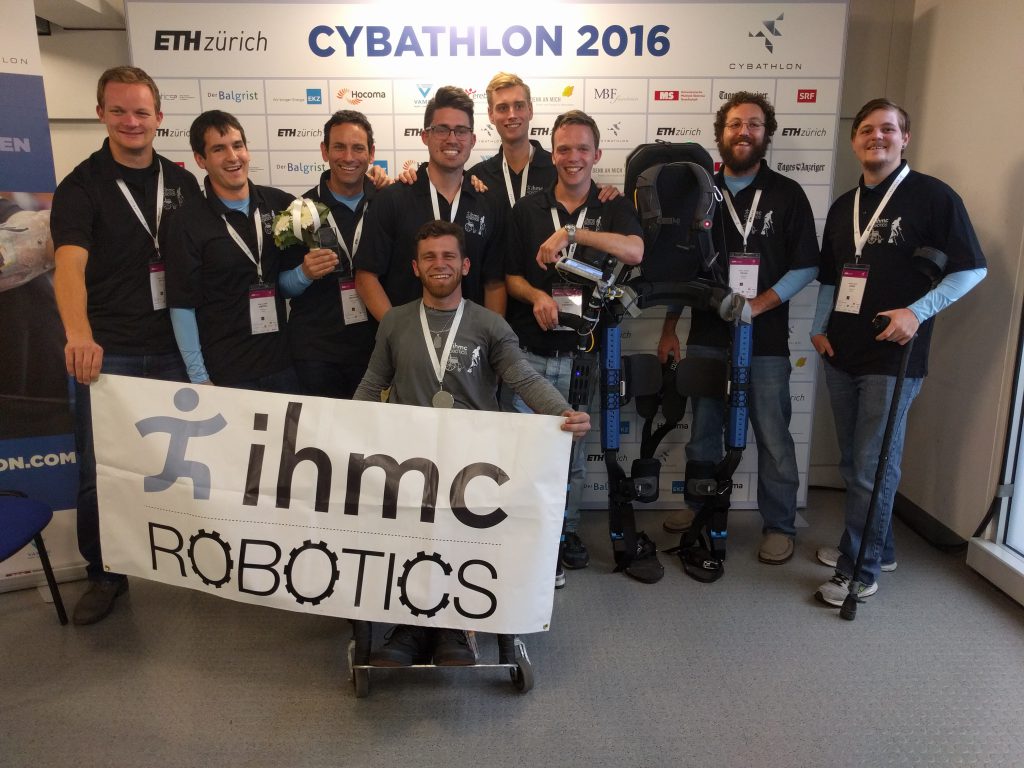 Nova: Rise of the Robots
The Running Man is at it again. IHMC's "Atlas robot," which placed second in the Defense Advance Research Projects Agency (DARPA)-sponsored international robotics competition last summer, will be featured in a NOVA documentary this evening, Wednesday, Feb. 24th, called "Rise of the Robots."
It explores how robots are gradually making their way into the real world, with questions such as: "How close are we to a future where humanoid robots are part of our everyday lives? What are the implications of a future with robots that can do a human's job?"
The DARPA competition, held last June in Pomona, California, involved 23 teams from around the world, whose robots competed against each other in completing eight tasks such as driving a car and cutting a hole in the wall.
A South Korean robot, DRC-HUBO, placed first, finishing six minutes faster than IHMC's Atlas, the 6'2" robot weighing more than 380 pounds. Built by Boston Dynamics, the IHMC team, led by Jerry Pratt, John Carff, Peter Neuhaus and Matt Johnson, spent several years working on the robot's software and controls.
IHMC researchers continue to run the robot everyday, tasking Atlas with new challenges such as vacuuming, sweeping, dancing, and having the robot engage in a minute of autonomous activity.
To watch the NOVA film trailer:
For more information on the NOVA documentary, contact Jennifer Welsh, the public relations person for NOVA: jennifer_welsh@wgbh.org ; 617-300-4382.
For more information on Atlas, contact IHMC writer/communications manager Kristine Crane: kcrane@ihmc.us ; 352-387-3057.
IHMC's Running Man captures 2nd at DARPA robotics competition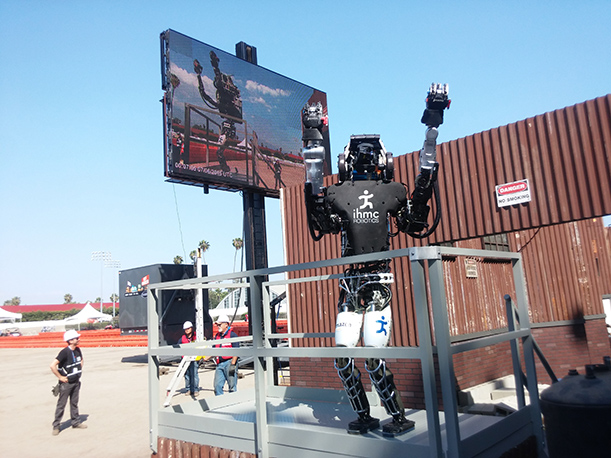 Three years of almost non-stop work paid off Saturday when the Institute for Human and Machine Cognition placed second in a $3.5 million global robotics competition held in Pomona, Calif.
Team IHMC's semi-autonomous robot, nicknamed "Running Man," on Saturday bested 21 other teams from around the world by driving a car, walking over debris, cutting a hole in a wall, turning a valve for a fire hose and performing other tasks — all with spotty communications between man and machine. The course simulated a disaster area in which humans could not safely operate.
"I am incredibly proud of our robotics team," said IHMC CEO/Director Ken Ford. "They did a amazing job finishing second overall and were first among the Atlas teams."
The competition, the third and final trial since 2013, was sponsored by DARPA, the Defense Advance Research Projects Agency. The first-place team, Team KAIST from South Korea, was awarded $2 million. It also completed all eight tasks, but did so six minutes faster than the IHMC robot. IHMC, which finished the course in just over 50 minutes Saturday, will bring home $1 million in prize money. A chimp-like robot from Carnegie Mellon University placed third. Only three teams completed all eight tasks.
Unlike some of the other robots, which moved on wheels or four legs, IHMC's machine and the other Atlas robots had to balance and walk on two legs. After it fell twice Friday in its first run through the course, IHMC's 23-member team worked through the night to resolve the problems and replace part of an arm and a leg.
"It was pretty damaged after Friday's falls, so we had to take it slow today," said IHMC computer scientist and team member Doug Stephen. "Part of the physical structure was bent, so it was throwing off some of the alignment. So we didn't think we'd get even two tasks done today, much less all eight."
"Everyone is over the moon now," Stephen said. "We're super-happy."
Organizers of the much-anticipated event said the advances made by IHMC and other teams mark the start of a new era in the science of robotics.
Humans "get most of our ideas about robotics from science fiction. (Today) we want to show a little bit of science fact," Gill Pratt, director of the event, told the Associated Press.
While Hollywood has portrayed robots as agile and self-thinking, the machines are only now beginning to make strides toward that ideal, and the competition was designed to push the research forward, organizers said.
The 6-foot, 2-inch Atlas robot used by IHMC, which weighs more than 380 pounds, was built by Boston Dynamics. But the software and controls were produced by institute researchers Jerry Pratt, John Carff, Peter Neuhaus, Matt Johnson and others. After the second round of the robotics challenge in late 2013, that software was considered so robust that DARPA asked that other teams be allowed to use it.
"Some of the other teams' software would just let them say, 'move here,'" said Carff, who was the primary operator of the robot. "With ours, we could put a virtual arm out in the world, and we can see where that virtual arm is going to go, we can preview the path it's going to take, and we can say, 'Yes, that's not going to collide with anything, so go for it.'"
In keeping with IHMC's core principles, the software ensures a high degree of collaboration between the human operators and the machine by "providing bi-directional information exchange," according to an academic paper authored by the team members. The robot may suggest a move, but that suggestion can be verified by human operators.
The challenge has been a great learning experience for IHMC's team and the entire field of robotics, team members said.
"All we can do is do the best research we can do," Stephen said. "It's not about beating the other teams as it is advancing the research and sharing that with the world."
IHMC team members are expected to take some much-needed time off this summer before turning to other robotics projects.
Video highlights of the DARPA Robotics Challenge https://www.youtube.com/watch?v=dv9Wm20UrcU
IHMC Scientist Named To Florida Inventors Hall Of Fame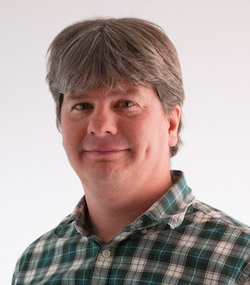 Jerry Pratt, one of the world's leading researchers in the field of robotics, has been named to the Florida Inventors Hall of Fame, joining an august group of inventors which includes the likes of Thomas Edison.
Pratt, a senior research scientist at the Florida Institute for Human and Machine Cognition (IHMC) in Pensacola, holds four patents on robotics inventions and is considered a rising star in the field. He is one of seven people with Florida connections who will be inducted into the Hall at an October ceremony in Tampa. Others in this group, the second year of inductees, include famed automaker Henry Ford and scientist Robert Grubbs, winner of the 2005 Nobel Prize in chemistry.
"Collectively, the seven 2015 inductees hold more than 430 U.S. patents," said Randy Berridge, chairman of the selection committee. "Their high merit has been recognized by national and international institutions and communities … and we are honored to be inducting them into the Florida Inventors Hall of Fame."
Pratt said he was honored and humbled by the recognition.
"Sometimes I think what's most fun about working in robotics is that we are practically inventing the field every day," Pratt said. "There's a long way to go before robotics is a mature field, and I am honored to join so many other people who are working to create the future."
Pratt, 43, holds a Ph.D. in computer science from the Massachusetts Institute of Technology. Before joining IHMC in 2002, Pratt's company developed a powered exoskeleton that allowed a person to carry large loads over rough terrain with little effort. His other patents cover technology that allows bipedal robots to know where to place their feet when walking, and to maintain their balance and prevent falls.
Pratt leads a team of researchers who also developed the HexRunner, which last year set a world speed record for legged robots, reaching speeds of more than 30 mph. Pratt's work has been instrumental in changing the stereotype of robots as clunky machines with jerky movements to ones that maximize speed, agility and biological similarity, said IHMC founder and CEO Ken Ford.
"We're really proud of Jerry; it's a well-deserved honor," Ford said. "Jerry's work personifies the subtle and rather beautiful virtuous cycle between the acts of invention and of scientific discovery."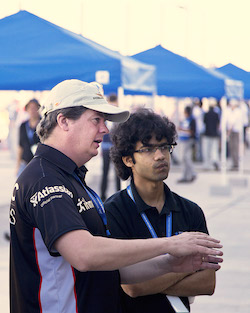 In June, Pratt and the IHMC Robotics Team will compete in the final round of the Defense Advanced Research Projects Agency's (DARPA) international robotics competition, which tests the ability of humanoid robot systems to respond to disasters. The team placed first in the Virtual Robotics Challenge, a computer simulation, and second in the DRC Trials at Homestead Miami Speedway using actual robots in a competition featuring 26 teams from around the globe.
Pratt is married to former Pensacola City Councilwoman Megan Benson Pratt. They have two children. The couple co-founded the Pensacola MESS Hall, a hands-on learning center where kids explore Math, Engineering, Science and Stuff. It is a spinoff of IHMC's Science Saturdays education outreach program.
The Florida Inventors Hall of Fame, begun in 2013, is based in Tampa and seeks to recognize the leading scientific and technological accomplishments in the state. Nominees, who must have at least one U.S. patent, are submitted through an open nomination process and are elected by a committee of distinguished leaders in research and innovation throughout Florida.
For more information on the Hall of Fame and the complete list of inductees, visit www.floridainvents.org.
Robotics Open House

Open House at IHMC – Thursday, April 6, 2023
To celebrate the National Robotics Week, IHMC's Robotics researchers will welcome the public from 3 to 8 p.m. April 6, 2023, for an Open House event in hopes of inspiring young people to seek out careers in the fields of science, technology, engineering, and math. The family-friendly event encourages scientific discovery through hands-on activities, challenges, and demonstrations while providing the opportunity to learn about robots from IHMC's researchers and educators.
National Robotics Week is all about celebrating the United States' leadership in robotics technology and development and inspiring students of all ages to pursue careers in these areas. At Robotics Day, IHMC will demonstrate kid-friendly robotics concepts and real-world applications that inspire and amaze.
Visitors will be able to see IHMC researchers and their work in drones, robotics, virtual reality experiences and more. The last tour begins at 7 p.m.
Established by Congress in 2010 to raise awareness about robots and their important role in shaping the future of education, industry, and the U.S. economy, National Robotics Week brings together students, educators, and influencers who share a passion for robots and technology.
IHMC giving Atlas a leg up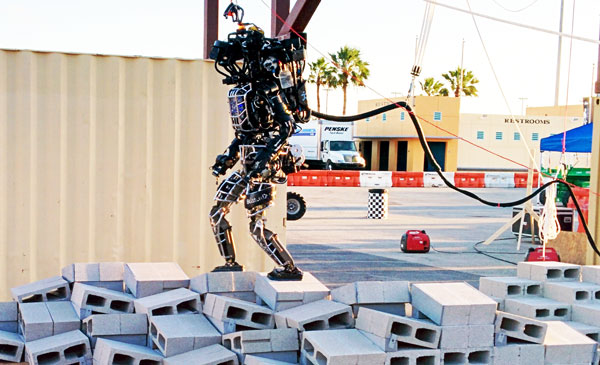 The Florida Institute for Human and Machine Cognition (IHMC) continues to earn recognition for its development of software for the Atlas robot. A recent post on Tech Gen magazine notes IHMC's work to advance the bipedal robot's ability to walk more like a human.
The IHMC Robotics Team has performed exceptionally well in the multi-year, international Robotics Challenge sponsored by the Defense Advanced Research Projects Agency (DARPA). IHMC came in first in the initial computer simulation trial in June 2013, and second overall in the second phase, which featured using actual robots in field trials at Homestead Miami Speedway in December 2013. The next phase of the competition, featuring more advanced field trials, is scheduled for June 5-6, 2015, in Pomona, California.
At the Speedway, IHMC finished first among the seven teams using the Atlas robot and first among teams from the U.S. Through funding from DARPA, which provided the Atlas robots to the various teams, IHMC is now open sourcing its bipedal walking software for Atlas so that other research teams can use it on their robot.
To read the Tech Gen article: http://techgenmag.com/2014/10/24/atlas-robot-gets-closer-to-walking-like-a-human/
To read more about IHMC and the DARPA Robotics Challenge: www.ihmc.us/news/20131223
IHMC robot sets world speed record
A new land-speed record for legged robots was achieved on May 22 by researchers at the Florida Institute for Human and Machine Cognition (IHMC). The HexRunner robot reached an estimated 30-33 mph on an open course, without any support tethers.
The record-setting run was filmed by the Discovery Channel, which is expected to broadcast it later this summer.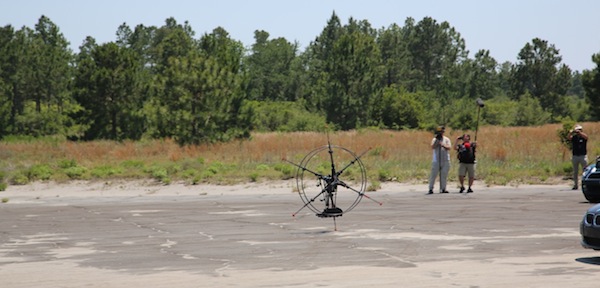 The HexRunner running robot on its record-setting speed run.
"More significant than the top speed is showing that you can make a running robot that doesn't need a lot of feedback from sensors, and you don't need a lot of actuation," said IHMC Senior Research Scientist Jerry Pratt, team leader of the HexRunner project.
HexRunner is a running robot with six spring-loaded legs revolving around a central hub, with three legs on each side of the hub. At the tip of the top leg it stands six feet high. Dr. Pratt said the speed was measured with a chase car and through analysis of high-speed motion video shot from the side.
"The speedometer on the chase car hit 33 while the robot was still running away from it," he said. The 30 mph documented speed is a conservative figure based on motion analysis from video taken during the test. "We might be able to hit 45 mph with small modifications if we have a good run on a long enough course."
The HexRunner is the "parent" of the OutRunner robot, a two-foot version based on technology licensed from IHMC to Robotics Unlimited, headed by Research Scientist Sebastien Cotton, who worked on the HexRunner team.
HexRunner was developed as part of IHMC's DARPA-sponsored FastRunner project. Dr. Pratt said that the FastRunner robot is more complicated than HexRunner, and while it has shown excellent stability in simulation, the research team doesn't fully understand the stabilizing mechanisms. HexRunner, a less complex machine, was built to help develop that understanding.
"By looking at the HexRunner and understanding why it is stable, we can now look at the more complicated model and see if we see the same stabilizing mechanisms," Dr. Pratt said. "And once we understand better what is going on, then we should be able to get the FastRunner working."
He credits a computer simulation done by IHMC Research Associate Johnny Godowski for leading to HexRunner, under development for about a year.
"We had to do something completely different than had been done before," Godowski said. "It's a different architecture, but it mimics what's being done in nature. It opened new vistas between engineering and biology."
The ultimate goal, Dr. Pratt said, is to figure out how animals run in nature, an understanding that could produce breakthroughs in robotics.
"The high-level question is how can animals run with stability at high speeds?" he said. "And how can we make a robot to achieve the same feats?"
IHMC Research Scientist Chris Schmidt-Wetekam said one of the next goals of the FastRunner project is to develop a fully segmented leg that more closely mimics biology.
"We're working toward more complicated robots," Dr. Schmidt-Wetekam said. "Things look really promising in simulation, but it's a lot more complicated in actuality, so we went back to basics. HexRunner checks off an important box on our checklist, and validates our simulation. OK, we can do this."
IHMC Robotics featured on CNN
Pensacola – The work of the IHMC Robotics team with the Atlas humanoid robot is featured in an episode of a new monthly CNN program, The Art of Movement. The four-minute-plus feature can be seen online here: http://edition.cnn.com/video/data/2.0/video/world/2014/03/06/spc-art-of-movement-automata-b.cnn.html
The segment features interviews with IHMC scientists and extensive video shot both in the IHMC Robotics Lab in Pensacola and at the DARPA Robotics Challenge (DRC) trials at Homestead Miami Speedway in December 2013. IHMC's own video team shot some of the footage used by CNN, especially from the DARPA trials. The episode focuses on IHMC's work with the two-legged Atlas robot, built by Boston Dynamics and used in the DRC competition.
The teams participating in the DRC represent some of the most advanced robotics research and development organizations in the world. They are collaborating and innovating on a very short timeline to develop the hardware, software, sensors and human-machine control interfaces that will enable their robots to complete a series of challenge tasks selected by the Defense Advanced Research Projects Agency for their relevance to disaster response.
IHMC finished first in the initial stage of the DRC in June 2013, a computer simulation competition dubbed the Virtual Robotics Challenge. The robotics team followed that up with an overall second-place finish among 16 robotics development teams at the trials at Homestead Miami Speedway, featuring the actual robots. IHMC finished first among the seven teams using Atlas.
The concluding phase of the DRC is tentatively scheduled for spring 2015.
According to CNN's website, "The Art of Movement is a new monthly show that highlights the most significant innovations in art, culture, science and technology that are helping shape our modern world. From the visually beautiful to the technically awe inspiring, from ocean tides to animal migration, from bionic limbs to ballet, The Art of Movement will showcase the latest cultural currents and scientific new waves redefining how we engage with the world."