//
Dec 19, 2017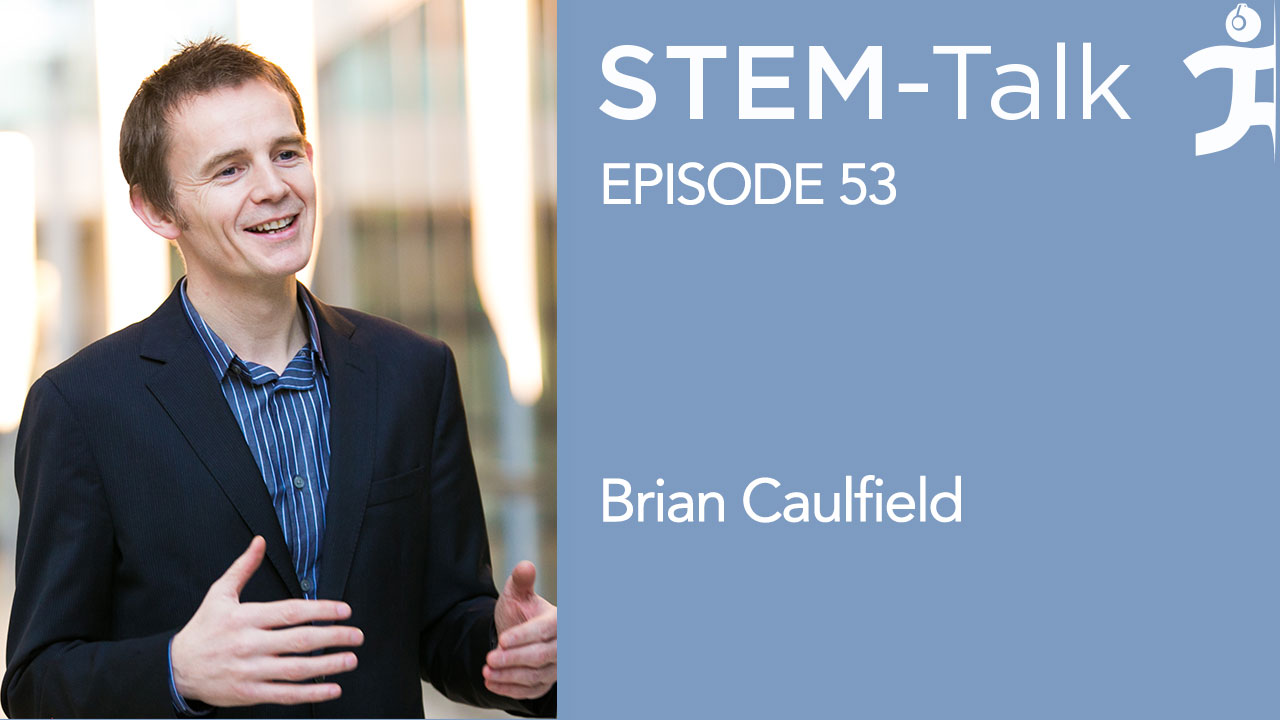 Today's interview is with Dr. Brian Caulfield, the dean of physiotherapy at the University College Dublin, where he also is one of the directors of Ireland's largest research center, the INSIGHT Center for Data Analytics.
Brian is especially known for the work he is doing with wearable and mobile sensing technologies and how their use is opening new avenues for human performance evaluation and enhancement in areas like elite sports to rehabilitation medicine to gerontology. He also is a leader in the use of electrical muscle stimulation, also known as EMS, which is being used in health and sports.
Brian also is the principal investigator in Ireland's industry-led Connected Health Technology Center and is the overall project coordinator for the Connected Health Early Stage Researcher Support System, which is Europe's first networked Connected Health PhD training program.
Brian graduated with a bachelor's Degree in Physiotherapy, a master's in Medical Science, and a PhD in Medicine from the University College of Dublin. He has co-authored more than 180 research publications and six patents. He also has supervised more than 30 master's of science graduate research and PhD projects to completion.
Brian was the recent recipient of the prestigious 2017 University College Dublin Innovation Award, which recognized his work in the development of a connected health ecosystem in Ireland.
Links:
https://www.insight-centre.org/users/brian-caulfield
https://www.researchgate.net/profile/Brian_Caulfield
Electrical stimulation counteracts muscle decline in seniors
Show notes:
3:52: Brian talks about growing up in Dublin and how he dreamed of becoming a professional athlete rather than a scientist.
4:35: Brian explains that as a kid he started noticing on TV how a couple of therapists would run onto the soccer field whenever a player was injured. That's what first gave him the idea of going into physical therapy.
6:08: After receiving his physical therapy degree from the University College of Dublin, Brian tells the story of how he was about to leave for a job in Chicago when the director of the university lab offered Brian a job as a research assistant, which led him to stay in school and pursue a master's degree.
8:02: Dawn asks Brian what it was like as a 21-year-old to work in a lab side by side with biomedical engineers and scientists on a project that looked at how reflex excitability is modulated throughout the different phases of the walking cycle in stroke patients when compared to patients who have a healthy gait.
11:45: Ken asks Brian what it was like to work in the United States after receiving his master's degree.
13:30: Dawn asks Brian about returning to Dublin to work on a doctorate and his decision to focus his research on ankle sprains, which is one of the most common non-contact injuries suffered across all sports.
18:04: Brian talks about the limitations of studying athletes in the laboratory and how accelerometers made it possible to do research in the field.
20:57: Dawn asks Brian to expand on how his collaboration with biomedical engineers and computer scientists enabled them to develop wearable accelerometers and sensors to measure human movement.
23:34: Ken asks how this technology, which was developed to improve athletic performance, led to other technologies that were applied to accessing older adults who are at risk of falls.
27:24: Dawn points out that it was this research that led Brian to be named the University College Dublin's site director for the Insight Center, which is one of Europe's largest data analytics research organizations with more than 450 researchers. Dawn asks Brian to talk about Insight and its structure and purpose.
29:26: Dawn talks about how much fun it was using inertial measurement units, known as IMUs, during an undersea mission with NASA to assess the technology's future use in looking at astronaut vestibular function on return to Earth. She then asks Brian to talk about other potential clinical and fitness applications when using IMU technology?
32:11: Dawn asks Brian to talk about his recently published study investigating whether the addition of inertial sensor data can provide additional insight into the nature of postural stability deficits for post-concussion monitoring protocol.
34:34: STEM-Talk blurb
35:02: Dawn asks how it's possible that a measure of motor performance can help predict that a player is more likely to sustain a contact injury, which, Dawn points out, seems counterintuitive.
37:02: Ken asks Brian if his work on reducing the number of concussions among rugby players could have applications in a sport like American football.
38:25: Ken asks Brian to provide an overview of the different types of electrical muscle stimulation, also known as EMS, that are being used in health and sports today.
41:08: Ken asks how popular systems such as Compex and PowerDot fit into this spectrum of devices?
41:51: Dawn talks about how EMS was used in the former Soviet block for sports training back in the 1950s, and asks Brian about the early excitement and the subsequent perspective that has emerged over the years with respect to EMS and sport training.
45:49: Ken says the comfort factor of EMS is a big deal and that he has allowed friends to borrow a PowerDot EMS unit and that when they increase the settings they often stop using the unit because it's uncomfortable. Ken asks Brian about the need, particularly for the aging population, for a more comfortable approach.
47:39: Ken talks about the late Charlie Francis who was a strong advocate of EMS and used it with all of his sprinters, including Ben Johnson. Francis said there were four mains uses for EMS in sports: enhancement of maximum strength; as a means of facilitating recovery; as a rehabilitation tool; and as a motor learning and muscle recruitment tool. Ken asks Brian if all four uses, or just a few of them, were valid uses.
49:51: Ken mentions that exercise programs have long been based on the premise that resistance training will be largely ineffective unless it's carried out at something like 70% of maximal voluntary force, and that it should last roughly 20 or 30 minutes. This level of intensity and duration has been seen as necessary to facilitate proteolysis, the breakdown of proteins in the muscle which is generally seen as the precursor of muscle protein synthesis. However, some training methods such as electrical muscle stimulation and blood flow restriction training are explicitly trying to avoid any extensive breakdown of proteins in the muscle. Ken asks Brian to share his thoughts on this.
52:01: Brian talks about muscle fiber types and their characteristics as Dawn mentions that one of the primary interests in EMS arises from its application in building strength in both younger and older populations.
53:51: Ken talks about how as people age, they lose power more quickly than strength, and strength more quickly than muscle mass. This age-related decrease in muscle mass is fiber type specific and involves a loss of size of the glycolytic type-two fibers rather than the slow oxidative type-one fibers. Ken mentions an interesting 2013 paper from a German and Italian research team that reported EMS produces an increase in the size of the fast-type fibers in aging humans. In particular, the researchers reported a 4% increase in the percentage of the faster fiber type after 24 sessions spread across nine weeks. Ken asks Brian for his thoughts on this.
56:05: Dawn mentions that the ideal protocol for EMS for sarcopenia should focus on an increase in muscle strength, and then improvement in type-two muscle fibers with respect to diameter and percentage. Dawn ask Brian which frequencies are best for type-two fibers with the aging population.
57:23: Because human space flight is very much like accelerated aging, Brian talks about the huge potential of EMS with respect to long-duration human space flight, and gives an overview of the work that the European Space Agency is doing in this area.
59:31: Brian talks about the use of muscle stimulation to elicit a cardiovascular exercise effect, particularly for spinal cord injured patients.
1:02:14: Dawn points out the Brian has managed to develop a protocol that elicits an aerobic exercise effect in simulating shivering, and asks Brian how comfortable that is. Brian talks about how it's not comfortable at all.
1:03:09: Brian expands on work he's doing to overcome the comfort issues by describing how he worked with a company to develop a multi-path approach to delivering current into the body, which essentially means using non-standard pathways for current flow that are shared between arrays of very large electrodes rather than single pairs of electrodes over individual muscles.
1:04:15: Brian talks about using the application with different populations that range from elite athletes to various clinical populations. These populations include people with type-two diabetes; chronic obstructive pulmonary disease; sedentary adults; the elderly; and people with spinal-cord injuries.
1:06:42: Dawns asks Ken if he still uses EMS and what tips he has for STEM-Talk listeners. Ken talks about how the new PowerDot system is useful on long-duration flights, but that it can cause unwanted attention from seatmates and the flight crew. Ken and Brian describe incidents that happened to them on flights.
1:09:32: Dawns asks Brian to explain arthrogenic muscle inhibition and the conditions under which it typically occurs.
1:12:51: Ken asks Brian to follow up on his answer by describing an athlete who might show up at Brian's office with chronic interior knee pain and demonstrates inhibition of the quad complex, specifically VMO, and also shows some associated atrophy. Ken wonders what role EMS could play, and what specific order of treatments Brian might try on such a patient.
1:16:00: Dawn mentions that University College Dublin honored Brian with its 2017 Innovation Award. Brian talks about how wonderful it was that his family was there for the presentation.
1:17:37: Brian talks about how much he enjoys running and that there's nothing he loves more than being up in the Wicklow Mountains running.
1:18:53: Interview ends.