//
Oct 24, 2017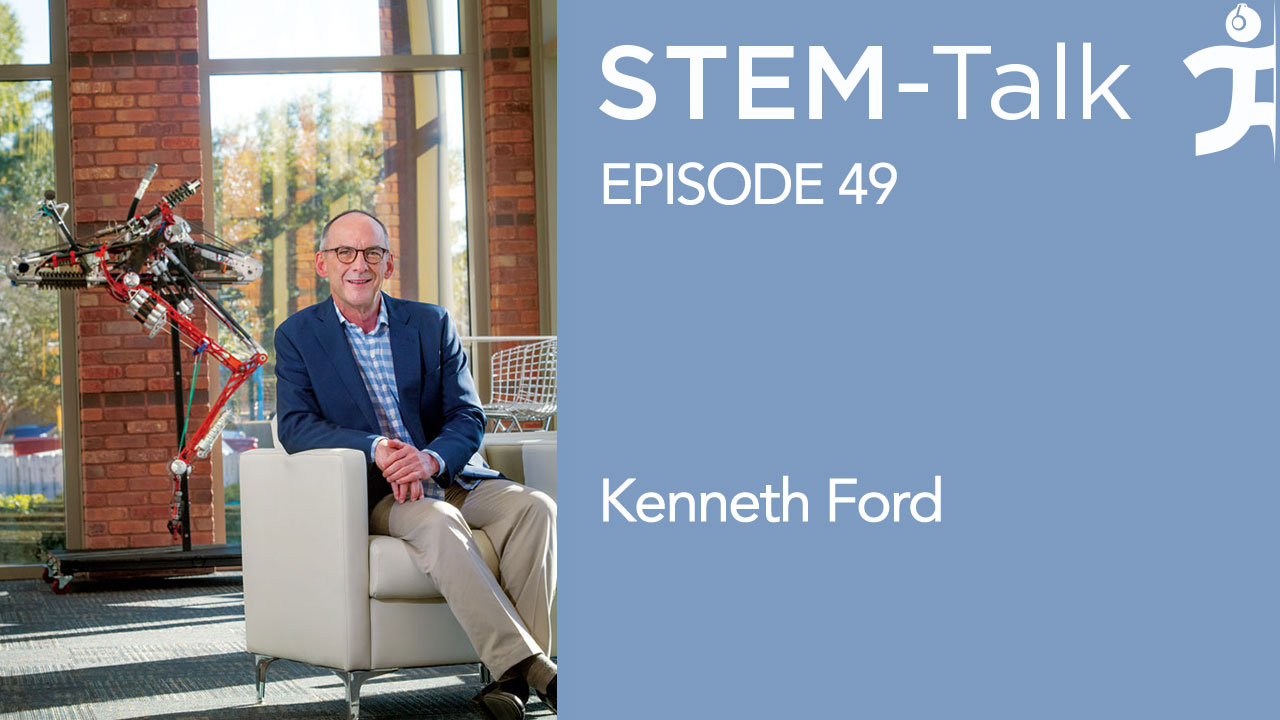 On the eve of Ken Ford's induction into the Florida Inventor's Hall of Fame, co-host Dawn Kernagis convinced IHMC's director and CEO that it was the perfect time to have the chairman of STEM-Talk's double secret selection committee take a turn as a guest on the podcast.
Today's show features part one of Dawn's two-part interview with her STEM-Talk co-host Ken Ford. Listeners will learn about Ken's childhood and background; his early work in computer science and research into AI; as well as the creation of IHMC, which, as our regular listeners know, is a "not-for-profit research lab pioneering groundbreaking technologies aimed at leveraging and extending human cognition, perception, locomotion and resilience." In this episode, Ken will share some of the pioneering work underway at IHMC. Dawn also asks Ken about highly vocal critics of AI such as Elon Musk.
Episode 50, the second part of Dawn's interview with Ken, will transition to a conversation about Ken and IHMC's research into human performance. Their conversation will cover exercise, the ketogenic diet and ketone esters with the goal of extending health span and perhaps longevity.
In terms of background, Dr. Ken Ford is a co-founder of IHMC, which has grown into one of the nation's premier research organizations with world-class scientists and engineers investigating a broad range of topics.
Ken is the author of hundreds of scientific papers and six books. He received his Ph.D. in Computer Science from Tulane University. He is a Fellow of the Association for the Advancement of Artificial Intelligence, a charter Fellow of the National Academy of Inventors, and a member of the Association for Computing Machinery, the IEEE Computer Society, and the National Association of Scholars.
In 2012, Tulane University named Ford its Outstanding Alumnus in the School of Science and Engineering. The Association for the Advancement of Artificial Intelligence named Dr. Ford the recipient of the 2015 Distinguished Service Award. Also in 2015, Dr. Ford was elected as  a Fellow of the American Association for the Advancement of Science.
In January 1997, Dr. Ford was asked by NASA to develop and direct its new Center of Excellence in Information Technology at the Ames Research Center in Silicon Valley, where he also served as Associate Center Director. In July 1999, Dr. Ford was awarded the NASA Outstanding Leadership Medal. That same year, Ford returned to private life in Florida and to IHMC.
In October 2002, President George W. Bush nominated Dr. Ford to serve on the National Science Board (NSB). In 2005, Dr. Ford was appointed and sworn in as a member of the Air Force Scientific Advisory Board.
In 2007, he became a member of the NASA Advisory Council and on October 16, 2008, Dr. Ford was named as chairman – a capacity in which he served until October 201l.
In August 2010, Dr. Ford was awarded NASA's Distinguished Public Service Medal – the highest honor the agency confers. In February 2012, Dr. Ford was named to a two-year term on the Defense Science Board and in 2013, he became a member of the Advanced Technology Board which supports the Office of the Director of National Intelligence.
Links:
IHMC website:
https://www.ihmc.us
Ken Ford web page:
https://www.ihmc.us/groups/kford/
Florida Inventors Hall of Fame website:
http://www.floridainvents.org
Outside magazine story on Ken Ford and ketogenic diet:
https://www.outsideonline.com/2113406/high-carb-low-fat-ketone-diet
Bulletin Atomic Scientists 2014
Show notes:
6:41: Dawn welcomes Ken to the show.
7:04: Dawn asks Ken to talk about his childhood
8:12: Dawn points out that Ken moved around a lot because his father was in the Navy and asks him what that was like.
8:20: Dawn mentions that Ken lived in Guantanamo, also known as GITMO. She asks him what it was like to live there as a young child.
8:56: Dawn talks about how when Ken started high school, he became passionate about wrestling and began shaving off weight by cutting back on carbs. She asks Ken what drew him to wrestling in the first place.
9:48: Dawn asks Ken to discuss the mental aspect of wrestling.
10:33: Dawn asks Ken if he was always interested in science.
11:15: Dawn asks Ken if he had any influential teachers in high school.
13:56: Dawn discusses how before Ken became a scientist, he was a rock and roll promoter. She then asks Ken how this happened.
16:06: Dawn asks Ken if it was during this time that he met Jeff "Skunk" Baxter, previously interviewed on STEM-Talk.
16:37: Dawn shares a funny story about how her sister used to work with Richard "Paco" Zimmer, one of the best in the business.
17:25: Dawn discusses how Ken enlisted in the Navy after promoting rock and roll. She goes on to say how this is what led to Ken becoming interested in computer science, even though he thought computers were about the most "unfun thing that the Navy could assign him to do." She then asks Ken to talk about how the Navy pushed him into computer science.
21:38: Dawn discusses how Ken did his Masters in System Science, while in the Navy, at the University of West Florida. He then went to Tulane for his doctorate. Dawn asks Ken how an ex-athlete and philosophy major decides to get a doctorate in computer science, and whether or not people thought he was crazy.
22:46: Dawn says that after Tulane, Ken returned to the University of West Florida in 1988 and became the assistant professor in computer science, and then rather quickly became a full professor. She then asks Ken what research in AI looked like at the time.
23:57: Dawn asks Ken what the focus of his AI research was back then.
28:55: STEM-Talk Blurb
29:21: Dawn discusses how Ken is not a fan of the term artificial intelligence, and that he says that amplified intelligence is a better way to refer to AI. She then asks Ken to talk about this.
30:54: Dawn says that Ken and his colleague, Pat Hayes, have said that the Turing test has misdirected the ambitions of people working in AI and has confused the public, particularly the media. She then asks Ken to describe the Turing test and talk about why it has become problematic.
33:38: Dawn discusses how AI techniques like machine learning are now used for many other applications. She then asks Ken if he could have ever imagined this kind of future when he began working with AI in the 1980s.
35:54: Dawn references a story from the New York Times that discusses a meeting Elon Musk had with governors, where he said that they should adopt AI legislation before "robots start going down the street and killing people." He also tweeted that AI going rogue was more of a risk than North Korea. Dawn asks Ken his opinion on this.
39:21: Dawn reads Ken a quote from the co-founder of the Center for Complex Systems Research at the University of Illinois. She then asks Ken what he thinks about the comment.
41:50: Dawn then discusses a story from David Fries about the brilliancy of the name Institute for Human and Machine Cognition. Dawn asks Ken if he intentionally placed the word human before machine in the institute's name.
42:42: Dawn comments on how impressed she is by the range of research done at IHMC. She asks Ken to give listeners an overview of the work.
43:44: Dawn shares an audio clip about self-reinvention from a video produced for Ken's induction into the Florida Inventors Hall of Fame.
44:22: Dawn asks Ken to talk about how he has constantly reinvented himself.
45:13: Dawn discusses how Ken has created a supportive framework at IHMC that is flexible enough so that the researchers and scientists there can also reinvent themselves. She then asks Ken how he came up with this concept.
48:04: Dawn comments how one of the things that makes it possible is the flat structure of IHMC and asks Ken to elaborate on this.
49:18: Dawn discusses how IHMC has begun doing research on human performance in extreme environments. She then asks Ken what brought about the interest in human performance in extreme environments, and that evolved into an arm of IHMC.