//
Aug 1, 2017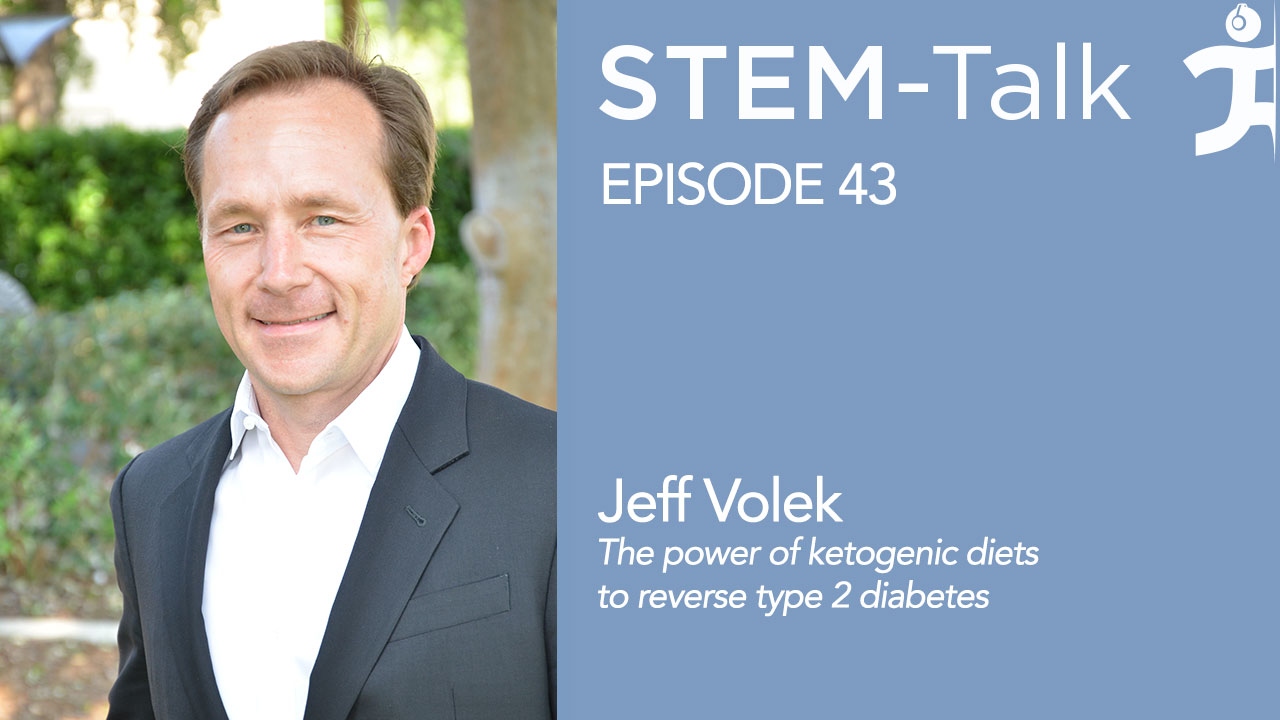 Today's episode features an important interview with Dr. Jeff Volek, a researcher who has spent the past 20 years studying how humans adapt to carbohydrate-restricted diets.  His most recent work, which is one of the key topics of today's interview, has focused on the science of ketones and ketogenic diets and their use as a therapeutic tool to manage insulin resistance.
In 2014, Volek became a founder and the chief science officer of Virta Health, an online specialty medical clinic dedicated to reversing diabetes, a chronic disease that has become a worldwide epidemic. The company's ambitious goal is to reverse type 2 diabetes in 100 million people by 2025.
Earlier this year, The JMIR Diabetes Journal published a study coordinated by Volek and Virta that showed people with type 2 diabetes can be taught to sustain adequate carbohydrate restriction to achieve nutritional ketosis, thereby improving glycemic control, decreasing medication use, and allowing clinically relevant weight loss. These improvements happened after just 10 weeks on the program that Virta designed for people.
In addition to his role at Virta, Volek is a registered dietitian and full professor in the department of human sciences at Ohio State University. He is a co-author of "The New Atkins for a New You," which came out 2010 and spent 16 weeks on The New York Times best-seller list. The book is an updated, easier-to-use version of Dr. Robert Atkins' original 1972 book, "Dr. Atkins' Diet Revolution."
Volek has co-authored four other books, including "The Art and Science of Low Carbohydrate Living" and "The Art and Science of Low Carbohydrate Performance." Both books are co-authored with and delve somewhat deeper than "The New Atkins" did into the science and application of low-carb diets.
Volek received his bachelor's degree in dietetics from Michigan State University in 1991. He went on to earn a master's in exercise physiology and a PhD in kinesiology and nutrition from Pennsylvania State University. He has given more than 200 lectures about his research at scientific and industry conferences in a dozen countries. In addition to his five books, he also has published more than 300 peer-reviewed scientific papers.
Although numerous studies have confirmed the validity and safety of low-carb and ketogenic diets, Volek and others who support carbohydrate restriction are often criticized for being so one-sided that their work comes across as more advocacy than science. But in "The Art and Science of Low Carbohydrate Living," Volek writes:
"What is the proper response when three decades of debate about carbohydrate restriction have been largely one-sided and driven more by cultural bias than science? Someone needs to stand up and represent the alternate view and science."
As Volek explains in episode 42 of STEM-Talk, this has become his mission.
Links:
"New Atkins for a New You" — http://amzn.to/2uOjLkF
"The Art and Science of Low-Carbohydrate Living"– http://amzn.to/2hh1W9k
"The Art and Science of Low-Carbohydrate Performance" — http://amzn.to/2f2oPMV
New York Times article:
https://www.nytimes.com/2017/04/11/well/live/tackling-weight-loss-and-diabetes-with-video-chats.html?_r=0
JMIR DIABETES paper:
http://assets.virtahealth.com/docs/Virta_Clinic_10-week_outcomes.pdf
Show notes:
3:016: Ken and Dawn welcome Jeff to the show.
3:32: Dawn asks Jeff when and how he first became interested in science.
5:24: When Jeff was studying to be a dietitian, he was looking at a low-fat, high-carb diet. But when he began to work with diabetics, something did not seem right. Dawn asks Jeff if that is what led him to begin studying low-carb diets.
6:39: Ken comments on how diabetes is perhaps the greatest healthcare challenge we face as a society, which drives costs to more than $300 billion a year.
7:59: Dawn asks Jeff about the effectiveness of traditional treatment and management approaches for people with diabetes.
8:27: Dawn asks Jeff to talk about Virta Health, a company Jeff helped found, and a recent paper and JMIR Diabetes Journal. The paper reported on the results of a study that looked at whether sustained carbohydrate restriction and nutritional ketosis could be part of a comprehensive intervention that would allow people with type 2 diabetes to improve their health.
11.54: Dawn asks Jeff why this approach would work at the cellular level, whether it is the reduction in glucose alone or if the ketone bodies are playing a role.
14:13: Ken asks Jeff why he thinks some patients respond so remarkably and others not as much.
16:27: Dawn discusses how Virta's mission is to reverse diabetes for 100 million people by 2025. She asks Jeff if this is a realistic number or a stretch goal.
18:28: Ken asks Jeff to briefly talk about the business model of this process and how he sees it shaking out.
20:09: Dawn asks Jeff how he and Sami Inkinen, founder of Trulia and another co-founder of Virta, crossed paths.
22:00: Dawn asks Jeff what his thoughts are on the possible epigenetic effects of the ketogenic diet, with respect to general health and wellness.
25:46: Dawn talks about an athletic friend of hers with Crohn's disease and how she had positive health outcomes from following a ketogenic diet. She then asks Jeff if anyone has seen improvements to conditions like Crohn's disease or rheumatoid arthritis when considering the inflammatory nature of these diseases processes.
27:54: STEMTALK BLURB
28:23: Dawn comments on how she has been a vegetarian for more than 20 years, and how it is difficult to be on a ketogenic diet with no meat as a fat source. She then discusses how "The New Atkins for a New You," has a chapter devoted to a low-carb diet for vegetarians and asks Jeff if he has any tips to share for vegetarians or vegans.
29:59: Ken discusses a conversation he had with a woman about the difficulty of a ketogenic diet for someone who is fat-phobic. She has the idea that if she eats fat it will soon be on her. Ken then asks Jeff if this "fat fear" is something that he finds in working with patients.
32:30: Ken comments on how Rob Wolff reports that lipidologists are quite wary of the LDL-P, the particle numbers that they see in some people trying the ketogenic diet. As a result, these people have to increase their carb intake. Ken then asks Jeff what his thoughts on this are.
35:33: Ken discusses how LDL-P is more strongly correlated with heart disease than LDL cholesterol in the literature.
41:02: Dawn asks Jeff if he thinks that someone on a ketogenic diet would need a different amount of fiber per day compared to what has been recommended by the Institute of Medicine.
41:44: Dawn discusses how for decades recreational and competitive athletes have religiously consumed a diet rich in carbohydrates to fuel their performance, and the conventional wisdom has been to avoid fatty foods. However, in recent years these beliefs have been questioned. Dawn asks Jeff to give an overview of this trend.
44:58: Dawn asks Jeff to expand on why he thinks there was no difference in muscle glycogen between the two groups.
47:56: Dawn discusses a recent paper published in The Journal of Physiology where Louise Burke looked at elite race walkers while on the ketogenic diet. The team found that this diet impaired performance in elite endurance athletes "despite a significant improvement in peak aerobic capacity." Her primary point was that race walkers showed increased oxygen demand for a given speed. Dawn then asks Jeff to share his thoughts on this paper.
49:40: Ken asks Jeff to briefly explain the role of PDH, and whether Jeff looked at this enzyme in his studies on athletes who were keto-adapted.
51:40: Ken discusses how in contrast to endurance sports, some more power-oriented athletes have reported that when on a ketogenic diet they experience low energy levels during the most demanding moments in the sport, but others do not experience this at all. Ken asks Jeff if he has any thoughts on power athletes on a ketogenic diet.
56:29: Dawn discusses how Jeff has spent a good amount of time studying keto-adapted elite ultra-runners, such as the western states 100 record holder, Tim Olson. Dawn asks Jeff what he learned at this event with regards to a low-carb endurance athlete, and how this informs recommendations he would make to athletes when they are fueling for a competition of this kind.
59:07 Dawn asks Jeff if he sees more athletes shifting towards a low-carb diet.
1:00:37: Ken discusses the use of exogenous ketone esters in the Tour de France races. He then asks Jeff for his opinion on this and to briefly address the confusion on this topic
1:04:01: Ken comments on how Jeff wrapped up the confusion nicely.
1:05:14: Ken and Dawn thank Jeff for joining them.