//
Jun 20, 2017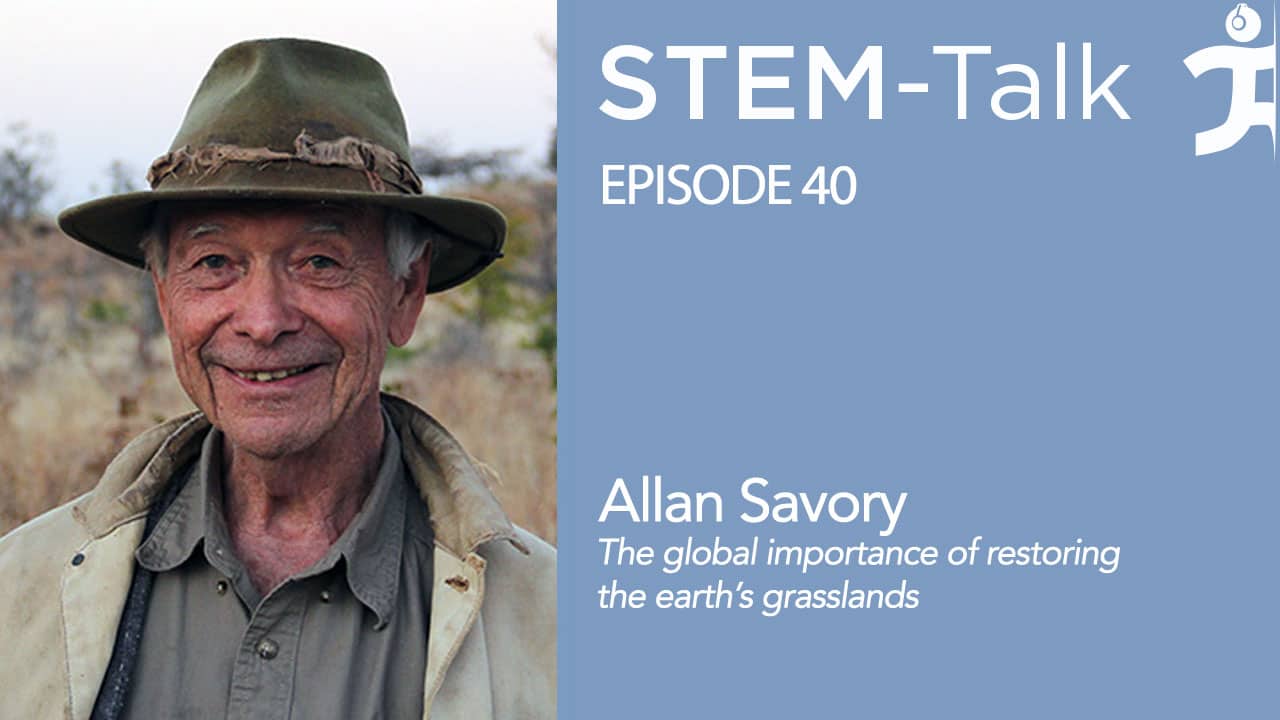 Joining us for this special edition of STEM-Talk is Robb Wolf, who will co-host today's show with Ken Ford, STEM-Talk's regular co-host and chairman of the Double-Secret Selection Committee which selects all the STEM-Talk guests.
Wolf is the New York Times best-selling author of "The Paleo Solution" and "Wired to Eat." He's also a friend of today's guest, Allan Savory, a world-renowned ecologist who advocates for the restoration of the earth's grasslands.
"I've known Allan for years as a passionate advocate for restoring the health of the earth, especially grasslands. So when Ken invited me to join him and co-host the podcast with Allan, I jumped at the chance," said Wolf, who is filling in for regular STEM-Talk co-host Dawn Kernagis.
Grasslands take up a third of the earth's land surface. And, as you will learn in today's podcast, they are in serious trouble.
Seventy percent of grasslands have been degraded by global trends ranging from deforestation to droughts to agricultural and livestock practices. As more and more of earth's fertile land rapidly turns into deserts, Savory travels the world promoting holistic management as a way to reverse thousands of years of human-caused desertification.
Savory is an ecologist, international consultant and the president of the Savory Institute, which promotes large-scale restoration of the world's grasslands. Desertification, which Savory says is just a fancy word for land that's turning to desert, directly affects more than 250 million people worldwide and has placed another billion people at risk, according to the United Nations.
Savory was born in Southern Rhodesia, which is now the nation of Zimbabwe, and went to college in South Africa where he majored in zoology and biology. He went to work as a research biologist and game ranger in what was then known as Northern Rhodesia, but is now the nation of Zambia. Later in his career, he became a farmer and game rancher in Zimbabwe.
As a game ranger in the 1960s, Allen made a significant breakthrough in understanding what was causing the degradation of the world's grassland ecosystems and became a consultant who worked with groups on four continents to develop sustainable solutions.
Most of his time as a game ranger was spent in the country's savannas and grasslands among antelopes, elephants and lions. It was then that Allan started to notice that the healthiest grasslands were those in which large herds of wild grazers stayed bunched together and were constantly on the move because of predators that hunted in packs.
It was this insight that led Savory to develop what he refers to as a "holistic management framework," a planning process that mimics nature as a means to heal the environment. Once an opponent of livestock, he grew to believe that increasing the number of livestock on grasslands rather than fencing them off for conservation was the way to stop desertification.
But when civil war broke in Rhodesia in the '60s, Allan ended up leading an elite military squad to fight communist guerrillas. In the latter days of the civil war, Allan became a member of Parliament and the leader of the opposition to the ruling party.
He was exiled in 1979 as a result of his opposition to the ruling party and immigrated to the United States.
In 1992, Savory and his wife, Jody Butterfield, formed the non-profit Africa Centre for Holistic Management and donated a ranch that serves as learning site for people all over Africa. He and Butterfield then co-founded the Savory Institute in 2009, whose mission is to promote restoration of the world's grasslands through holistic management.
The couple lives in Albuquerque, New Mexico, and have co-authored books together, including "Holistic Management: A Commonsense Revolution to Restore Our Environment," which came out last year.
In 2003, Allen received Australia's International Banksia Award for the person or organization doing the most for the environment on a global scale. In 2010, he received the Buckminister Fuller Institute's Challenge award for work that has significant potential to solve humanity's most pressing problems. The Savory Institute also is one of 11 finalists in the Virgin Earth Challenge, a $25 million initiative for the successful commercialization of ways to take greenhouse gases out of the atmosphere.
Links:
Savory Institute –  http://www.savory.global
"Holistic Management: A Commonsense Revolution to Restore Our Environment" – http://amzn.to/2sHBkmm
"Holistic Management Handbook – http://amzn.to/2sI0Is7
Show notes:
4:51: Ken and Rob welcome Allan to the show.
5:01: Ken comments on how Allan has travelled an incredibly varied path through life and asks Allan to discuss his experiences as a biologist and park ranger in Africa.
8:23: Ken discusses the time Allan spent fighting communist guerrillas when civil war broke out in Zimbabwe in the 1960s and comments on the elite military group that Allan hand-picked and trained. Ken asks Allan to talk about how and why he was selected to lead this unit and about his methods of selection and training.
10:43: Rob asks Allan about the significance of the herds of wild grazing animals, that Allan observed when he spent time in the savannahs and grasslands as a game ranger and solider.
14:38: Rob discusses how in the later days of the civil war Allan served as a member of parliament, but in 1979 ended up being exiled and emigrated to the United States. Rob then asks Allan to talk about this part of his life.
17:50: Ken comments on how Allan has led an interesting life and taken on numerous difficult positions, never shunning a painful choice or controversy.
18:35: Rob discusses Allan's frame of reference, now called holistic management, that he began developing. Holistic management mimics nature and also draws on organizational skills learned in the military and is considered by Allan as a legitimate option to heal the environment and reverse desertification. Rob asks Allan to clarify what holistic management is and when and how it developed.
22:09: Rob asks Allan to describe the desertification and the impact it's having on the earth.
30:31: Ken asks Allan to discuss how he met his wife, Jodi Butterfield, and how the two of them created the Savory Institute, which works to promote preservation of the world's grasslands through holistic management.
32:25: Ken asks Allan to share the activities and goals of the Savory Institute.
36:37: STEMTALK BLURB
37:04: Rob comments on how the world seems to always bifurcate into two ideological camps. On one hand there are malthusiasts, or folks who have predicted a number of collapse scenarios, resource depletion, mass starvation, etc., and although extremely convincing at times, their predictions are usually wrong. The other ideological group may be referred to as rational optimists, who make the case that markets and innovation will always save the day. Today, it is generally argued that rational optimists win the debate, but Rob has a gut sense that this may not go on indefinitely. Rob asks Allan what his views on this topic are, and whether he is a malthusiast or rational optimist.
44:06: Robb talks about advances in evolutionary medicine and how traditional medicine often chases symptoms in lieu of finding solutions. Robb asks Allan if he sees a parallel with sustainability in food production, and if this evolutionary framework could inform our approach to a sustainable future.
48:18: Ken comments on how many people are surprised to learn about the predator-prey interaction in the holistic management process and asks Allan to talk about this interaction.
51:41: Rob asks Allan to expand upon the constant battle of the topic of holistic management and properly managed grazing animals.
54:30: Ken remarks that many people have jumped on Allan's claims regarding the potential of carbon sequestration, both supportive and critical. Ken then asks Allan to elaborate on his views of the efficacy of carbon sequestration in the framework of holistic management.
56:23: Rob asks Allan what the largest benefits are for the farmer adopting the practice of holistic management.
57:54: Ken comments how Joel Salatin of Polyface Farms is a large proponent of holistic management, and how he credits the approach as a key element in transforming Polyface Farms from an uneconomic farm into a prosperous operation, which serves as a model for many other diversified farm operations around the world. https://youtu.be/4dq8vsVvvOc
59:13: Rob asks Allan if there are any specific conditions that he could see the adoption of holistic management in agriculture proceeding either faster or slower around the world.
1:02:05: Ken asks Allan how new technology, such as robotics, may help holistic management practices.
1:04:41: Rob asks Allan to discuss his new book, Holistic Management: A Common Sense Revolution to Restore Our Environment, released in 2016 by Allan and his wife, Jodi. This book is a revised third edition of Allan's book published in 1990: Holistic Management: A New Framework for Decision Making. Rob comments on how the new book's subtitle has a more urgent message and asks Allan to talk about why he chose to revise the subtitle.
1:05:47: Rob asks Allan if down time exists for him and what he does for fun in this time.
1:07:03: Allan ends the interview by talking about how it's important that people take a position and stop sitting on the fence.