//
Apr 11, 2017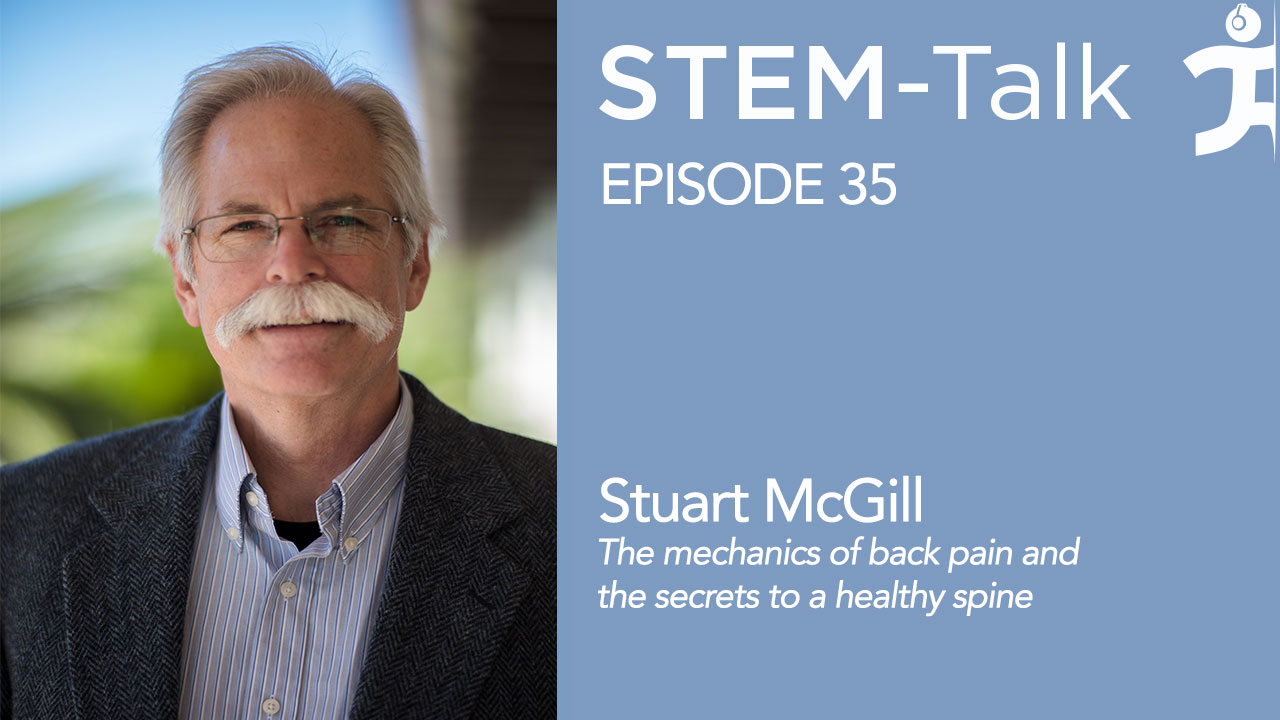 Back pain has become the world's leading cause of disability.
Stuart McGill has been at the forefront of non-surgical approaches to addressing back pain for many years. His 2015 book "Back Mechanic: The Secrets to a Healthy Spine Your Doctor Isn't Telling You" is a wonderfully accessible account of his methods and perspectives.
McGill spent 30 years as a professor of spine biomechanics at the University of Waterloo in Canada. His laboratory has become a renowned destination for everyday people as well as Olympic and professional athletes from around the world who are struggling with back pain.
He is the author of more than 300 scientific publications and 3 textbooks that address issues such as lumbar spine function and injury mechanisms, patient assessment, corrective exercise prescription, and performance training. McGill also consults for many medical management groups, governments, corporations, legal firms, and elite sports teams.
He has won numerous awards, including the prestigious Volvo Bioengineering Award for Low Back Pain Research.
He released his landmark text, "Low Back Disorders: Evidence-Based Prevention and Rehabilitation," in 2002. It changed the way coaches, bodybuilders, athletes and non-athletes approached core training. His new book, "Back Mechanic," is written for a lay audience and addresses common misperceptions about back pain. It also provides a step-by-step guide of the McGill Method to fix back pain.
Backfitpro.com is a web site also geared for a lay audience and is dedicated to providing access to evidence-based information and products that assist in preventing and rehabilitating back pain. Products featured on the website have been tested in McGill's lab at the University of Waterloo.
McGill and his staff have also produced a video, "The Ultimate Back: Enhancing Performance," that synthesizes McGill's approaches for avoiding back injury and enhancing athletic and physical performance. It is available for purchase on Vimeo.
4:23: Stuart talks about how he was more interested in becoming a plumber than a scientist until his high school football coach asked him to return to school and earn his high school degree. That led him to college where he met professors who got him excited about mathematics and physics, and eventually the study of spine biomechanics.
7:00: Ken asks Stuart to describe the remarkable research atmosphere Stuart was able to create at the University of Waterloo.
8:08: Stuart explains that he did not go to medical school, but that he learned he had a unique talent of assessing and relating to people with back pain.
11:00: Ken shares his experience of back pain and traveling to Canada to visit Stuart as a patient, which prompts Stuart to describe his process of assessing people.
14:53: Dawn asks Stuart to talk about his motivation for writing "The Back Mechanic."
19:53: Although back pain is the world's leading cause of disability, Dawn asks Stuart why back pain is underappreciated by so many people in the medical community.
22:04: Stuart explains some of the most mechanisms for back injury and ways to prevent them.
26:22: Ken asks Stuart to talk about a study he did several years ago on firefighters with the Pensacola Fire Department.
30:36: Stuart talks about how heavy weightlifting will probably shorten the careers of modern golfers like Rory Mcllroy, and how the great golfers of old who had wonderful long careers – Arnold Palmer, Jack Nicklaus, Gary Player – weren't weightlifters.
33:53: Stuart talks about the great strikers in mixed martial arts and the UFC are the leaner ones who can unleash muscle. The same is true of the great sprinters, the great golfers, and the great home run hitters, who are the ones who can create a very brief muscle power pulse, and let it go.
34:33: Dawn asks Stuart about reports that the rate of back surgery in the U.S. is five times higher than in other developed countries.
39:31: Stuart provides an overview of the how to about a self-assessment of pain triggers.
46:29: Dawn asks Stuart to explain the McGill method to fixing back pain.
55:03: Ken asks about the technique of power breathing and the implications for spinal disability.
57:15: Ken mentions that he and Stuart are fans of kettlebells, and that power breathing is what a a person does when swinging a kettlebell. Ken asks Stuart to talk about the exercises that he sees as most beneficial with kettlebells.  Ken and Stuart discuss the relative benefits of kettlebell swings, farmer's walks, and bottoms-up carries.
1:06:49: Stuart talks about measuring competitors in the World's Strongest Man competition, the NFL, heavyweight UFC fighters, and then asks Ken to guess who had the strongest core Stuart had ever measured. Ken says it was probably a kettlebell dude like Pavel. Stuart confirms that yes it was Pavel Tsatsouline.
1:10:29: Dawn asks if it is true the spine is weaker and more vulnerable to injuries in the morning.
1:14:30: Stuart talks about sciatica, which is usually caused by narrowing of the discs and a little bit of arthritic activity in the vertebra.
1:18:35: Stuart talks about what he describes as silly stretches and exercises, which includes sit-ups and crunches.
1:21:19: Ken asks Stuart to run through the McGill Big Three exercises for spinal stability.
1:30:41: In American training culture, Stuart says there's too much emphasis on time under the bar, and not enough emphasis on pushing heavy stuff around. He goes on to explain how pulling a slid is a tremendously strengthening and athletically enhancing activity.
1:37:35: Ken talks about friends who've sustained back injuries, and points out that was often after they had joined certain training programs focused on Olympic style lifts with high reps. She asks Stuart if he is seeing increased number of spinal injuries with the increased popularity of those type of training programs?
1:43:38: Dawns asks if there's a direct correlation between back pain or injury and a person's ability to brace.
1:45:29: Ken asks Stuart to comment on a 2016 study showing that taken as a whole young men today have much less grip strength than their fathers.
1:50:39: Stuart talks about the kinds of back injuries that are associated with sex and ways to mitigate spinal pain associated with sex.
1:52:02: Stuart talks about how his lab was the first to measure orgasm.
1:55:16: Ken and Dawn thank Stuart and sign off.
Visit backfitpro.com to learn more about the approaches and back pain exercises that can rehabilitate and prevent spine injury.