//
Mar 28, 2017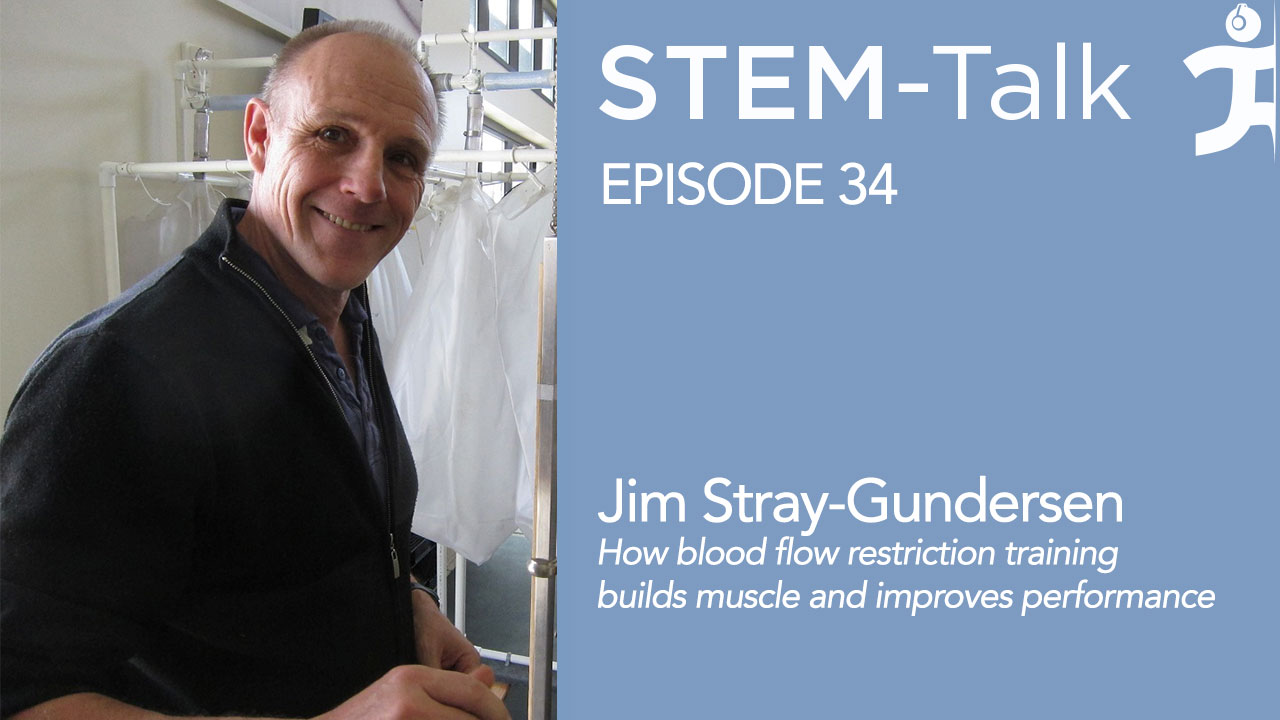 Blood-flow-restriction training is a topic of growing interest. But as IHMC director and STEM-Talk co-host Dr. Ken Ford points out, there's also a great deal of misinformation about the training.
Episode 34 of STEM-Talk addresses some of that misinformation with our interview of Dr. Jim Stray-Gundersen, who helped pioneer blood flow restriction training and leads the Live Hi/Train Low program for the US Athletic Trust.
Since receiving his board certification in general surgery in 1985, Jim has focused his work and research on maximizing human performance, health and resilience. He pioneered the Hi-Low training protocol and played a key role in the development of the anti-doping test, SAFE, which stands for Safe And Fair Events. It is considered the most aggressive blood-profiling test in the fight against doping.
He has worked with numerous Olympians in various sports and has an ongoing relationship with world renowned long-distance runner Alberto Salazar, who also is a coach and director of the NIKE Oregon Project. Jeff has been an official physician and consultant of the United States, Norwegian and Canadian Olympic teams. He is an official member of 15 world championships.
Jim completed post-doctoral fellowships in cardiovascular physiology and human nutrition at the University of Texas Southwestern Medical School. He received appointments as an associate professor of orthopedic surgery and physiology. He spent 20 years on the faculty of UTSW and helped build and direct two human-performance centers at St. Paul and Baylor University hospitals.
He has served on international medical committees that include the International Olympic Committee, FIFA, International Biathlon Committee, International Ski Federation and the International Skating Union.
Jim also is the sports science advisor for the US Ski and Snowboard Association (USSA), and continues to lead human performance and altitude camps for Olympic athletes, masters athletes, as well as Navy SEALs. He runs The SG Performance Medicine Center and Sport Technologies for Maximal Athletic Performance, overall fitness, weight loss, and recovery in Frisco, Texas, and now the new center in Park City, Utah, located inside The Center of Excellence USSA Building.
As if that isn't enough, he also is the chief medical officer of B STRONG (www.goBstrong.com)., a Utah -based company he co-founded in an effort to make blood flow restriction safe, effective, and affordable for the general public. B STRONG is a patent-pending exercise method based on blood-flow restriction exercise.
During the interview, Jim refers to several studies and articles. Below is a link to those studies and papers, and two suppliers of blood flow restriction gear. Be sure to also check out the US Athletic Trust, an organization that supports American Olympic hopefuls, that Jim talks about toward the end of the podcast.
Studies:
— Rapid increase in plasma growth hormone after low-intensity resistance exercise with vascular occlusion
— Effects of resistance exercise combined with moderate vascular occlusion on muscular function in humans
— Repetitive restriction of muscle blood flow enhances mTOR signaling pathways in a rat model
— Use and safety of KAATSU training: Results of a national survey
— Blood flow-restricted exercise in space
— Proliferation of myogenic stem cells in human skeletal muscle in response to low-load resistance training with blood flow restriction
— Blood flow-restricted strength training displays high functional and biological efficacy in women: a within-subject comparison with high-load strength training
— Applications of vascular occlusion diminish disuse atrophy of knee extensor muscles
Gear:
Kaatsu Global, to get 15% discount use discount code: IHMC
Go B Strong, to get 15% discount use discount code: IHMC
Show notes:
:30: Dawn welcomes Ken, who talks about how he has been using blood flow restriction training for the past several years and what a fascinating fellow Jim is.
2:00: Ken reads the winning five-star iTunes review, titled, "I feel my brain making more connections while I listen."
3:00: Dawn and Ken review Jim's background and career.
5:00: Dawn welcomes Jim to the podcast.
5:30: When Dawn asks Jim how he first became interested in science, Jim talks about being a hellion in elementary school and how his mother and teacher worked together to find out what interested Jim. Turns out, it was bugs, and Jim started collecting insects.
8:00: As a child, Jim also was interested in sports and talks about how his father came to the United States from Norway on a track scholarship.
10:50: Dawn points out that Jim studied ethology and animal behavior as an undergrad, and asks him why he decided to jump from that to medicine.
16:11: Dawn follows up by asking Jim how he transitioned into sports medicine.
19:21: Jim gives a general definition of blood flow restriction exercise, followed by a more technical description.
23:51: Ken points out that it's called blood flow restriction training, and not blood flow occlusion training. Ken then asks Jim for his thoughts on the degree of restriction stimulus necessary to safely achieve very strong or close to optimal results.
27:51: Break. STEM-Talk is an educational service of the Florida Institute for Human and Machine Cognition, a not-for-profit research lab pioneering groundbreaking technologies aimed at leveraging and extending human cognition, perception, locomotion and resilience.
28:11: After Dawn asks Jim if he has different protocols for different applications, Jim explains that he uses the protocols established by Dr. Yoshiaki Sato, a Japanese sports scientist who developed the technique.
30:21 Jim gives an overview of how 50 years ago Dr. Sato came up with blood flow restriction training, which is referred to as Kaatsu.
32:20: Jim explains the origins of the word Kaatsu, which in Japanese is two words: "Ka," meaning additional, and "atsu," meaning pressure.
36:51: Jim talks about a study in Japan involving more than 12,000 people that looked at the incidence of deep vein thrombosis in individuals doing Kaatsu.
40:21: Jim points out that through trial and error, Dr. Sato and his colleagues found safe ways of doing blood flow restriction training.
44:36: Ken asks Jim to comment on blood flow restriction and the use of light weights in tandem.
48:51: Jim talks about how most of us were taught that if you wanted to get a muscle stronger, you had to exercise that muscle. The big secret of blood flow restriction is that using some muscles that are distal to the band can stimulate growth in all muscles used during the exercise.
52:45: With respect to the efficacy of blood flow restriction training, Ken asks Jeff to identify three of the most important positive effects people see in blood flow restriction training.
57:51: Ken points out that as baby boomers continue to mature, there is a growing interest in fending off sarcopenia, the age-related loss of lean muscle mass, strength and functionality.
59:11: Jim goes into detail about how blood restriction training for seniors and baby boomers is a God-send as a way to address sarcopenia.
1:00:57: Jim talks about exciting work being done by his colleagues in Scandinavia where they have shown that they are getting stem cell activation as well as conversion of IIx fibers into IIa fibers.
1:01:27: Dawns asks Jim to address speculation that blood flow restriction training might also have an effect on ligament bone strength.
1:03:17: Jim talks about how blood flow restriction is being used to avert the atrophy normally associated with ACL tears.
1:05:02: Jim talks about his experience working with Todd Lodwick, a Nordic skier who tore his rotator cuff and broke a couple of ribs just before the Sochi Olympics. Todd started doing blood flow restriction twice a day and was able to compete in his sixth Olympic games 40 days after his injury.
1:06:57: Ken and Jim talk about how blood flow restriction training is especially useful when traveling and how to turn your hotel room into a workout room.
1:10:17: Jim explains how exercise and nutrition are critical for specific outcomes for all kinds of exercise, but especially blood flow restriction training.
1:11:23: As NASA contemplates long-duration space flights, Ken asks Jim for his thoughts on the potential of blood flow restriction in the context of human space flight.
1:13:09: When Dawn asks if there's a particular sport or type of athlete who seems best adapted to blood flow restriction training, Jim says that pretty much everybody can benefit from correct instruction in blood flow restriction.
1:14:30: Jim says that blood flow restriction training particularly has a place in middle schools and high schools in terms of introducing young athletes to strength training.
1:15:35: Jim talks about working with the Olympic skier Bode Miller, who had chronic back problems, and how he used blood flow restriction training to bounce back and compete in the Vail World Championships in 2015.
1:19:29: Dawn asks Jim to explain his role in the US Athletic Trust.
1:22:10: Dawn and Ken thank Jim for appearing on STEM-Talk.
1:22:23: Dawn and Ken say that they enjoyed the interview with Jim so much, that they will appeal to the Double Secret Selection Committee to have Jim back on the podcast.
1:22:45: Dawn and Ken encourage people to take a minute to go to iTunes to rate the podcast, and then sign off.