Aug 30, 2016

//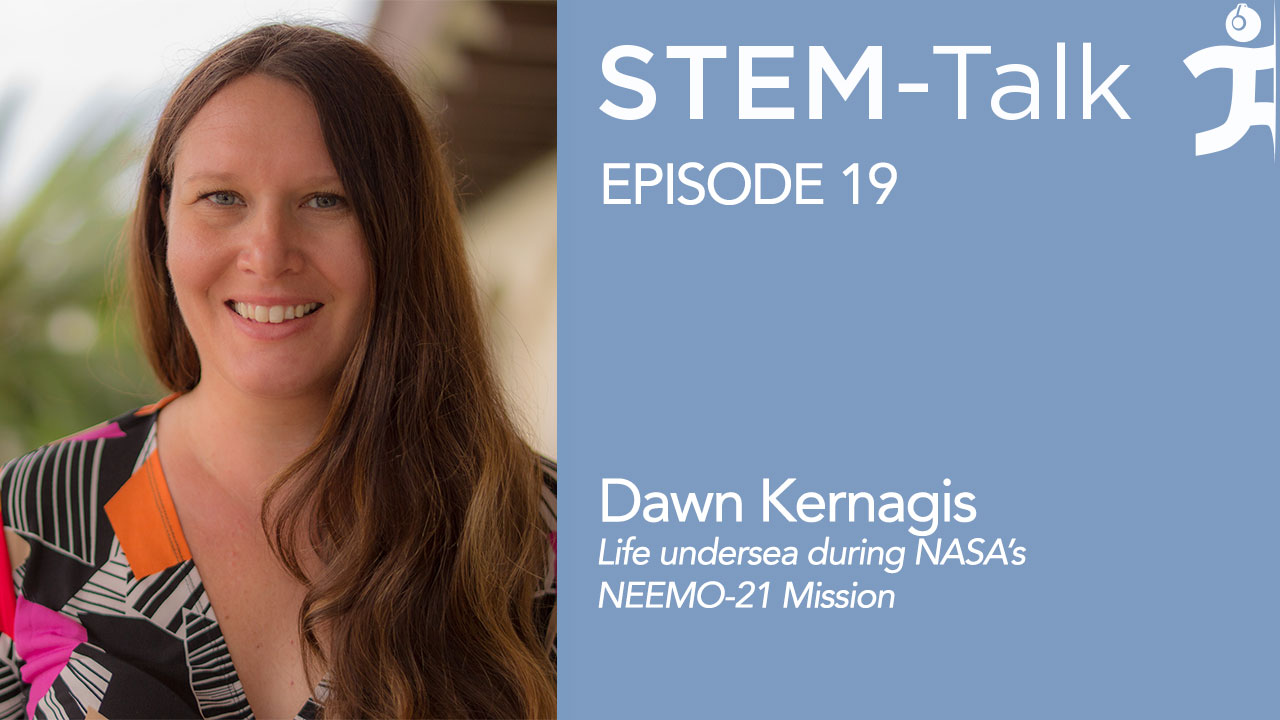 For this special episode of STEM-Talk, IHMC Research Scientist and STEM-Talk Host Dawn Kernagis sits on the other side of the microphone. This summer, Dawn was one of six divers selected for NASA's NEEMO (NASA Extreme Environment Mission Operations) 21 mission, and we were able to talk to her live from the Aquarius Reef Base, located 62 feet below the surface of the Atlantic Ocean in the Florida Keys National Marine Sanctuary.
During the 16-day mission, Dawn and her colleagues performed field research designed to test operations and equipment for future space exploration. In particular, the international crew of aquanauts performed research both inside and outside the habitat. During simulated spacewalks carried out underwater, they evaluated tools and mission operation techniques that could be used in future space missions. Inside the habitat, the crew's objectives include testing a DNA sequencer, a medical telemetry device, and HoloLens operational performance for human spaceflight cargo transfer.
In many ways, the NEEMO mission crystalizes Dawn's career. Her research expertise has been focused on human performance, risk mitigation and resilience in extreme environments—namely undersea and in space. In addition to her accomplishments as a scientist, Dawn is also a long-standing diver, and this year was inducted into the Women Divers Hall of Fame.
Conducting the interview is IHMC Senior Research Scientist and former NASA astronaut Tom Jones. Dawn shares aspects of her daily life in the undersea habitat, from eating freeze dried food to watching thousands of fish from the galley window every night before bed. She also delves into the research that she conducted, which included testing a mini DNA sequencer and deep water dives to collect samples of several coral species and weighted walks on the ocean floor to simulate space walks.
STEM-Talk's Billy Howell and Jason Conrad, key players in the production of each episode, also join the impromptu conversation with "fanboy" questions for Dawn.
Dawn kept a blog about her experience, which you can read at: https://www.ihmc.us/blog/neemo
2:00: Dawn discussed her experience as manager for the world record-breaking diving exploration project Wakulla Springs.
2:24: On her induction, last April, into the Women Divers Hall of Fame, she said, "It was cool to be sitting with women I have looked up to since I was a little girl."
3:23: Dawn described certain challenges faced by people working in extreme environments such as Navy divers, deep sea divers and astronauts: decompression sickness, oxygen toxicity and nitrogen narcosis.
5:02: Ken Ford read a 5-star iTunes review (which are piling up): "The best podcast. It is as if the double secret selection committee has hacked my Google search. Keep up the great work, team."
5:37: Tom Jones explained that the NEEMO mission, now in its 15th year, is an analog to deep space expedition.
6:09: Dawn said her voice sounded high because of the increase in air density in her undersea habitat.
7:14: Dawn explained that for the in-water work, they gear up and jump out of the habitat in hard hat diving supplies. "There is constant communication with the habitat," she says.
9:30: "It makes such a difference to have a great team."
9:50: "The nice thing is we have support divers who bring supplies up and down on a daily basis. It is not as isolated as space expeditions."
10:50: Dawn described some of the physiological effects of being at a pressure of 3 atmospheres and 62 feet deep:
"I can't whistle; I have a high voice; we can feel swells pick up overhead—the pressure changes, so our ears are constantly popping. We're hungry all the time."
12:12: They performed simulated space walks to identify different species of coral for the Florida International University marine sciences team.
13:25: They used geology sample tools and water-resistant iPads.
14:20: They tested medical telemetry equipment (like miniPCRs for DNA sampling) that may be used at the International Space Station; then relayed the data back to physicians.
18:40: With the cheek swab and saliva samples, they looked for epigenetic changes that occur in response to living in a saturation environment.
19:11: Every morning, they got up around 6:00 or 6:30 and make coffee. Then they did the first round of medical telemetry: collecting blood pressure readings, oxygen saturation, hydration levels, and weight. Those were also collected in the evenings.
20:54: "Every evening we've been spending watching the amazing night life outside our window."
21:07: The free time was spent at the galley window, watching all the different fish swim by. Dawn described a lion fish swimming by…She also saw eagle rays and squid.
21:45: She looked for modifications that occur in response to living in a saturation environment. "We are trying to get a baseline idea. Molecular tags change the way a DNA is read out, expressed, and what protein product is made."
22:52: Their findings may one day be used to prepare for a Mars expedition. "The Software/hardware in the habitat and planetary exploration analog has been focused on long-range space duration, specifically Mars."
24:40: "The food has been way better than anticipated; but we can have food sent that's fresh." They ate mountain house camping food, using hot water and a microwave. She was able to stick to her vegetarian diet.
25:43: They all bunked out at around the same time. There was a round-the-clock mission control on Aquarius Reef.
26:29: Commercial break: STEM-Talk is an educational service of the Florida Institute for Human and Machine Cognition, a not-for-profit research lab pioneering ground-breaking technologies aimed at leveraging human cognition, perception, locomotion and resilience.
27:07: Dawn lauded the NEEMO team: "The people are forward thinking; everyone on this team communicates very well. The mentality where you prioritize team over self; for a mission like this (and space) have to be thinking about team.
28:08: The team comprised astronauts, physicians, engineers, molecular biologists.
30:00: Prior to the mission, they had a week of solid training at Johnson Space Center in Houston. They also had a week of hands-on training in the Keys before going under water.
31:09:  Dawn is startled by support diver in galley window
31:40: In December, Dawn talked to NEEMO founder Bill Todd, about her epigenetics experiment. During that conversation, he asked her to be part of the dive crew.  "I couldn't speak … I said absolutely, it wasn't even a question. I was honored."
34:10: Dawn described the challenge of being in such a beautiful research environment: "Not only are you testing out the procedures; you're doing it in a place where you enjoy it, and a bad move could be detrimental. You've got to keep your situational awareness up and running the entire time while you are doing these other tasks."
34:47: Tom recalled being in space, enjoying the view of the earth, when his colleague said to him, "Just think Tom, we're just three inches away from instant death."
35:15: Before leaving the habitat and returning to the surface, the aquanauts underwent a 16-hour (largely overnight) decompression procedure while breathing 100% oxygen.
38:15: Billy asked Dawn if she can feel the above sea weather in her habitat: "When the seas are rougher above us, you can definitely feel it down here; the habitat connected to life support buoy. With the swells, the pressure changes in your ears. You can see fish moving with the swells. One cool thing… the lightening storms at night: You can see water light up, and it's absolutely beautiful."
39:57: Massive heavy dry pots were used to send materials up and down and keep everything dry; the support divers worked really hard to move them back and forth. The electronics were wrapped in plastic bags, in case of any kind of leaking.
42:07: Sometimes there were delays in communication during bad weather.
43:45: Dawn described her experience as a support diver for a day.
46:14: "It was a lot of fun to be on the other side," she said of the interview. "And having a simulated space walk in the background while I was doing an interview was priceless…"
46:36: Ken said that this live interview from the bottom of the sea "is the kind of thing you'll only hear on STEM-Talk."
46:53: Dawn and Ken sign off.