//
May 11, 2022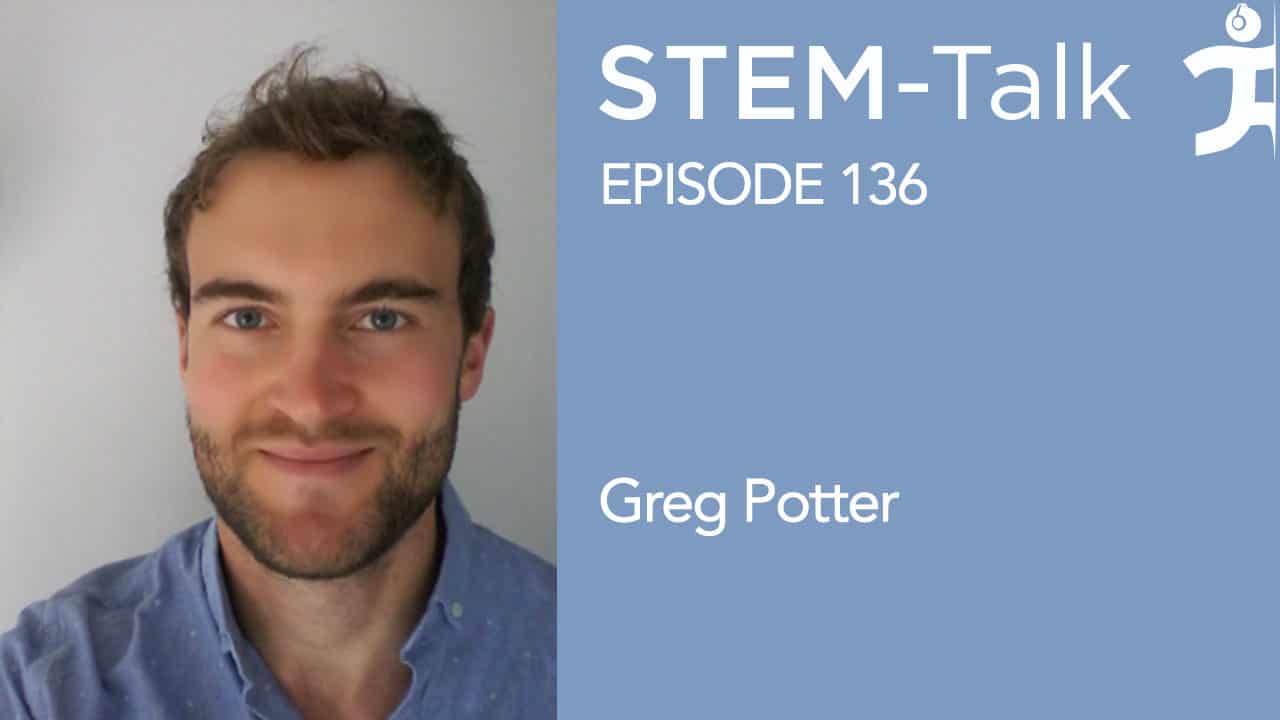 Today we have part one of a two-part interview with Dr. Greg Potter, a British researcher who specializes in circadian biology, sleep, diet, and metabolism. Greg gained attention in the U.S. and Europe for his research into the importance of biological rhythms and sleep and how they affect people's lives. His work has been featured in the BBC World Service, the Washington Post, Reuters and other scientific journals and news outlets.

In addition to being a science writer and sleep consultant, Greg also is an entrepreneur who co-founded Resilient Nutrition in 2020, a company that leverages science to produce foods and supplements geared toward helping people feel and perform better. Greg earned undergraduate and master's degrees in exercise science from Loughborough University in England before heading off to the University of Leeds for his Ph.D.

Ken Ford's STEM-Talk co-host Dawn Kernagis is traveling and was not able to join him for today's interview with Greg.  In this first part of the interview, Ken talks to Greg about his youth and academic background and how he became interested in circadian biology. Greg also goes into detail about why he decided to specialize in sleep and what his research has taught him about the role and importance of melatonin, a hormone that helps control the body's sleep cycle. Be on the lookout for part two of Ken's interview with Greg, which covers a number of topics ranging from insomnia, sleep apnea, time-restricted eating, exercise, and nutrition.

Show notes:

[00:05:03] Ken opens the interview asking if it's true that Greg's curiosity and fascination with building things as a child led him to tell his uncle he wanted to be an engineer when he grew up. [00:06:22] Greg talks about how he and his older siblings lived on the campus of the school where their parents taught. [00:07:35] Ken asks Greg why he abandoned the idea of being an engineer and instead applied for an art scholarship to senior school. [00:08:28] Ken asks what kind of art Greg liked to make. [00:09:17} Ken asks how a rugby injury in Greg's childhood sparked his initial interest in science. [00:10:33] Ken asks why Greg took a year off before attending university, and what he did during that time. [00:11:04] Greg talks about his first experience with research, which came during a physiological society studentship in his second year of university, where he worked under Dr. Johnathan Folland. [00:12:59] Ken asks about Greg's experiences as an undergrad when he coached sprinters and worked as a personal trainer and massage therapist. [00:14:18] Ken mentions that Greg must have been a good coach because in addition to training sprinters, he also helped two men break the Atlantic Rowing World Record. [00:16:01] Ken mentions that Greg finished his undergraduate degree in exercise science at Loughborough around the same time as the 2012 London Olympic games. The Great Britain Olympic Team used Loughborough as its base. Greg talks about what a great experience that was for him as a recent graduate who had an interest in elite athletic performance. [00:16:42] Ken asks about Greg's experience in between his undergraduate and graduate studies, where he took an internship in the sports science and sports medicine department of the Rugby Football Union. [00:17:36] Ken mentions that while at Loughborough pursing a master's degree, Greg began to pay more attention to the role of biological rhythms and sleep in people's lives. That prompted him to pursue a Ph.D. at the University of Leeds, researching circadian rhythms, sleep, nutrition, and metabolism. Ken asks why Greg developed an interest in these research topics and what led him to the University of Leeds. [00:19:58] Ken mentions that Greg has become best-known for his work on sleep, asking about a paper Greg published in Endocrine Reviews in 2016 on circadian rhythm and sleep disruption. Ken goes on to ask Greg to explain how circadian rhythms are generated by biological "clocks" and why it is disruptive to good health if we disrupt these rhythms. [00:28:36] Ken asks about the distinction between the body's master clock and peripheral clocks, and what are some examples of these peripheral clocks and the roles they supposedly play. [00:32:15] Ken mentions that Greg has spoken about how humans once lived by two clocks, a biological one and an environmental one. Ken goes on to explain that these clocks were likely in sync for our ancestors, but that today people seem to have a third clock, which Greg has referred to as a social clock. Greg explains what this social clock is and why it has such a profound impact on humans. [00:37:03] Ken asks about the effects of shift work on people's circadian rhythms, mentioning a paper Greg co-authored with Tommy Wood, a frequent guest on STEM-Talk. Ken also points out that Satchin Panda (STEM-Talk episode 79) has produced research on shift work. [00:40:04] Ken asks Greg what the current best practices are to optimize health and performance for those who can't avoid shift work. [00:46:24] Ken mentions that some of the issues around shift work have to do with melatonin. Ken asks Greg to talk about the role and importance of melatonin as well as his thoughts on supplementing it. [00:52:36] Ken mentions that ConsumerLab reported that some over the over-the-counter melatonin they tested was not dosed appropriately. Greg talks about the different pharmacokinetics of melatonin, such as timed release, and under what circumstances which pharmacokinetics are more appropriate. [00:56:11] Ken ends part one of the interview asking Greg to talk about REM sleep disorder and what advice he has for people who suffer from the disorder.