STEM-Talk: Dr. Chris McCurdy on kratom and pain management
What if the roots of a secret to treating chronic pain has lain for centuries in the tree leaves of a Southeast Asian evergreen?
Dr. Chris McCurdy has spent the last 15 years of his career researching that question, with a focus on the medical efficacy of kratom and its alkaloids.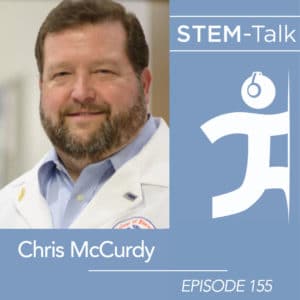 Now, he's back on STEM-Talk after five years to share what he and his lab at the University of Florida have learned since his 2018 interview on episode 61. McCurdy and his lab received two major grants from the National Institute of Drug Abuse to investigate kratom and its chemical components to better understand its potential to treat a multitude of conditions.
"One of the things that has been touted about kratom is that it does give energy," McCurdy notes. "Its traditional use was to boost energy for outdoor labor in the hot humid tropical environment of Southeast Asia. It has this sort of paradoxical effect of stimulation but also euphoria" at different dosing levels. 
Kratom has been used in herbal medicine for hundreds of years to boost mood, energy and pain relief. Though it has become popular throughout the world for recreational purposes, it is being recognized in the medical and research communities for its treatment for chronic pain and its potential to alleviate opioid withdrawal symptoms.  
"There's a lot of interest in pain," McCurdy said. "Our focus has been looking at the opioid crisis and trying to understand how kratom could be used in opioid use disorder…. But certainly, pain is really an unmet need." 
"We do need desperately for something to be as efficacious (as opioids) in pain treatment, but hopefully without the liabilities. And we see that kratom could be something promising in that area." 
For more than 25 years, McCurdy has studied the design, synthesis, and development of drugs to treat pain, anxiety, and substance-abuse disorders. He is a professor in the Medicinal Chemistry Department in the College of Pharmacy at the University of Florida. He also is director of the of school's Translational Drug Development Core and an Associate Dean for Faculty Development.  
In today's interview, we talk about: 
— The disparity between the traditional use of kratom (in tea form brewed from freshly picked leaves) and the new often highly concentrated manufactured products sold in the U.S.  
— His lab's study examining the effects of lyophilized kratom tea and its ability to alleviate withdrawal symptoms of opioid-dependence. 
— The potential of kratom alkaloids to serve as treatment for substance abuse disorders. 
— The benefits and risks associated with CBD usage. 
Here's a link to our podcast webpage where you can find the McCurdy episode and an archive of all STEM-Talk interviews.
IHMC is a not-for-profit research institute of the Florida University System where researchers pioneer science and technology aimed at leveraging and extending human capabilities. IHMC researchers and staff collaborate extensively with the government, industry and academia to help develop breakthrough technologies. IHMC research partners have included: DARPA, the National Science Foundation, NASA, Army, Navy, Air Force, National Institutes of Health, IBM, Microsoft, Honda, Boeing, Lockheed, and many others.