UWF and IHMC announce inaugural director for Intelligent Systems and Robotics doctoral program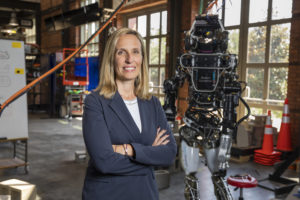 The University of West Florida and the Florida Institute for Human & Machine Cognition announce Dr. Kristen "Brent" Venable as the inaugural director of the Ph.D. in Intelligent Systems and Robotics program.
UWF is partnering with IHMC for the program, which begins in Fall 2019. Venable will shape and direct the new program, hire faculty and recruit doctoral students.
"The highly-anticipated doctoral program has found a well-suited leader in Dr. Venable," said UWF President Martha D. Saunders. "Her expertise in artificial intelligence matches well with the program's vision to develop thought-leaders in these exciting fields."
Venable joins UWF from Tulane University, where she held a joint appointment as a professor of computer science and research scientist for IHMC.
"I have known Brent for a long time and she is the perfect choice to head up the new program," said Dr. Ken Ford, IHMC CEO and director. "Brent has broad expertise in AI and related topics, and we are fortunate that she has agreed to take this position."
Venable's primary research interests are within artificial intelligence including constraint-based reasoning, preferences, temporal reasoning and computational social choice. Her research focuses on providing a solid framework for the design and deployment of intelligent systems able to reason about preferences.
"This is an exciting opportunity for me," Venable said. "I love research and I love working with students, so this position gives me the best of both worlds. I'm particularly excited with the potential we have to develop a unique program in the United States that will have students working on research projects as soon as they set foot on campus."
Venable began her career in higher education as a faculty member in the Department of Pure and Applied Mathematics at the University of Padova in Italy, where she also earned a doctorate in computer science and a Laurea degree with honors in mathematics.
The new program is the first of its kind in Florida and one of only a few in the nation. It aligns with the University's strategic vision for research that impacts Northwest Florida's economic development and technology enterprise. Manufacturing, health care, defense and other high-tech industries will be served by the program, providing critical support to high-demand career fields.
The program will focus on providing students an immersive hands-on research experience from the outset.
"Excitement surrounding the new program has been tangible, and with the announcement of Dr. Venable's leadership, the excitement grows," said Dr. Jaromy Kuhl, interim dean of the Hal Marcus College of Science and Engineering. "Her interests and expertise will be instrumental in launching and establishing a competitive program that prepares generations of students for lifelong success."
For more information about the Doctorate in Intelligent Systems and Robotics program, visit uwf.edu/isr