IHMC's Running Man captures 2nd at DARPA robotics competition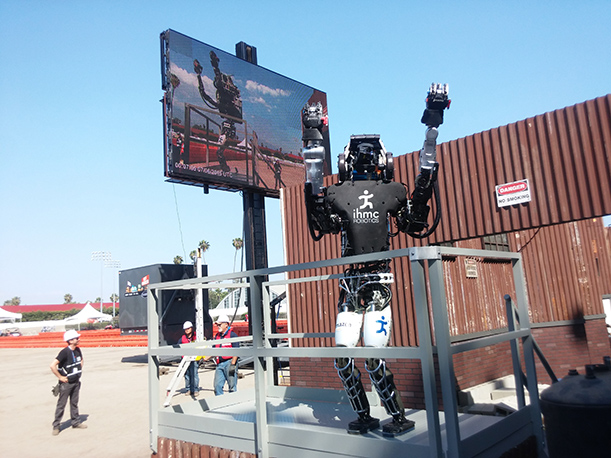 Three years of almost non-stop work paid off Saturday when the Institute for Human and Machine Cognition placed second in a $3.5 million global robotics competition held in Pomona, Calif.
Team IHMC's semi-autonomous robot, nicknamed "Running Man," on Saturday bested 21 other teams from around the world by driving a car, walking over debris, cutting a hole in a wall, turning a valve for a fire hose and performing other tasks — all with spotty communications between man and machine. The course simulated a disaster area in which humans could not safely operate.
"I am incredibly proud of our robotics team," said IHMC CEO/Director Ken Ford. "They did a amazing job finishing second overall and were first among the Atlas teams."
The competition, the third and final trial since 2013, was sponsored by DARPA, the Defense Advance Research Projects Agency. The first-place team, Team KAIST from South Korea, was awarded $2 million. It also completed all eight tasks, but did so six minutes faster than the IHMC robot. IHMC, which finished the course in just over 50 minutes Saturday, will bring home $1 million in prize money. A chimp-like robot from Carnegie Mellon University placed third. Only three teams completed all eight tasks.
Unlike some of the other robots, which moved on wheels or four legs, IHMC's machine and the other Atlas robots had to balance and walk on two legs. After it fell twice Friday in its first run through the course, IHMC's 23-member team worked through the night to resolve the problems and replace part of an arm and a leg.
"It was pretty damaged after Friday's falls, so we had to take it slow today," said IHMC computer scientist and team member Doug Stephen. "Part of the physical structure was bent, so it was throwing off some of the alignment. So we didn't think we'd get even two tasks done today, much less all eight."
"Everyone is over the moon now," Stephen said. "We're super-happy."
Organizers of the much-anticipated event said the advances made by IHMC and other teams mark the start of a new era in the science of robotics.
Humans "get most of our ideas about robotics from science fiction. (Today) we want to show a little bit of science fact," Gill Pratt, director of the event, told the Associated Press.
While Hollywood has portrayed robots as agile and self-thinking, the machines are only now beginning to make strides toward that ideal, and the competition was designed to push the research forward, organizers said.
The 6-foot, 2-inch Atlas robot used by IHMC, which weighs more than 380 pounds, was built by Boston Dynamics. But the software and controls were produced by institute researchers Jerry Pratt, John Carff, Peter Neuhaus, Matt Johnson and others. After the second round of the robotics challenge in late 2013, that software was considered so robust that DARPA asked that other teams be allowed to use it.
"Some of the other teams' software would just let them say, 'move here,'" said Carff, who was the primary operator of the robot. "With ours, we could put a virtual arm out in the world, and we can see where that virtual arm is going to go, we can preview the path it's going to take, and we can say, 'Yes, that's not going to collide with anything, so go for it.'"
In keeping with IHMC's core principles, the software ensures a high degree of collaboration between the human operators and the machine by "providing bi-directional information exchange," according to an academic paper authored by the team members. The robot may suggest a move, but that suggestion can be verified by human operators.
The challenge has been a great learning experience for IHMC's team and the entire field of robotics, team members said.
"All we can do is do the best research we can do," Stephen said. "It's not about beating the other teams as it is advancing the research and sharing that with the world."
IHMC team members are expected to take some much-needed time off this summer before turning to other robotics projects.
Video highlights of the DARPA Robotics Challenge https://www.youtube.com/watch?v=dv9Wm20UrcU
IHMC Robotics team heads to historic competition
The robotics team from the Florida Institute for Human and Machine Cognition (IHMC) leaves this weekend for what promises to be a historic milestone in the science of making machines move and think like humans.
The DARPA Robotics Challenge Finals, to be held June 5-6 in Pomona, Calif., is sponsored by the Defense Advanced Research Projects Agency. It will test 25 teams from around the world in a challenge course designed to emulate a disaster area where humans could not safely go. IHMC's team will be using the 6-foot-tall Atlas robot, built by Boston Dynamics but with the all-important controlling software designed by IHMC researchers.
The winning team will bring home $2 million from DARPA, which will go to further robotics research. The second-place team will win $1 million.
"It's been a lot of non-stop work, but we're ready to go," said Doug Stephen, one of the computer scientists on the project for IHMC.
For years, movies and television shows have portrayed bipedal robots as virtually flawless, fast-moving, self-thinking units. But the reality has lagged far behind that characterization. The DARPA Robotics Challenge was designed to push the science and engineering to the next level. And in recent weeks, IHMC's Atlas, nicknamed "Running Man," has stepped up to the occasion, performing well on the tasks it will face in the finals, including driving a car, walking over a debris field, opening doors, cutting a hole in a wall, turning a valve for a fire hose and climbing stairs.
The finals require the robots to think for themselves to a large degree and perform the eight tasks in 60 minutes or less — on battery power, without a safety line, and with limited communications with their handlers. This week, IHMC's machine finished the practice course well within the time frame.
"I am unconditionally proud of our robotics team and hope that the robot fates smile upon them in Pomona," said IHMC CEO/Director Ken Ford. "They are a terrific group of young engineers and computer scientists."
In the first two rounds of the Robotics Challenge in 2013, IHMC placed first in the virtual (computer simulation) trials, and second in the field trials, thanks in large part to the advanced computer software IHMC developed, organizers said. Other teams in next week's finals come from some of the most advanced robotics programs in the country, including Massachusetts Institute of Technology, Lockheed Martin, and Carnegie Mellon University, as well as several teams from Japan, South Korea, China and Germany.
IHMC robotics staff members are planning to spend most of Thursday and Friday packing Atlas, the Polaris four-wheeled vehicle it will drive, and almost a ton of support and computer equipment for shipment by FedEx to California. The truck and most team members leave Saturday morning.
A video of Wednesday's final practice run at the IHMC Robotics Lab in Pensacola can be seen here:https://www.youtube.com/watch?v=iCPiNOwh2is. Photos of the Atlas robot and the research team are attached to this email. IHMC also hopes to provide a news release Saturday night, June 6, after the results of the finals are announced.
For more information, contact Will Rabb, IHMC communications coordinator, at 850-512-4327 or email atwrabb@ihmc.us. DARPA updates on the competition can be found at http://www.theroboticschallenge.org.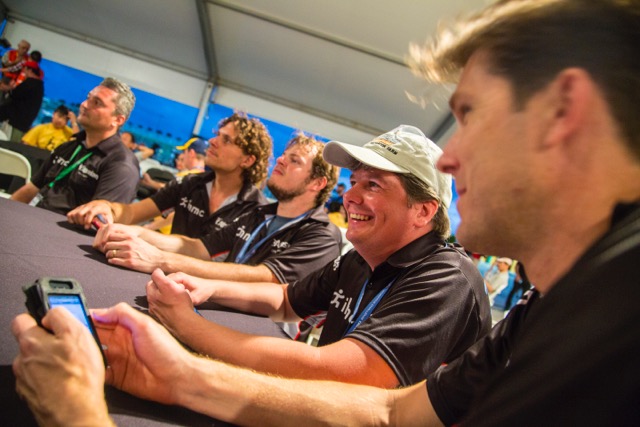 NASA Asteroid Redirect Mission App

NASA's Asteroid Redirect Mission iPad App has been released and is available for free download at the iTunes Store. The creation of this novel App was a joint effort between NASA and IHMC. The App is a large knowledge model that uses dozens of concept maps to organize and navigate through hundreds of videos, images and Web links on NASA's Asteroid Redirect Mission. Each of the concept maps represents the knowledge of experts on the particular topic.
All concept maps in this app were constructed using the IHMC CmapTools software which is available free for download.
Check our web page, download and experience the App, and then go give us a great review. 5 star reviews are warranted and appreciated!
http://cmap.ihmc.us/armapp/
Undersea medicine scholar joins IHMC
One of the country's leading lights in the fiel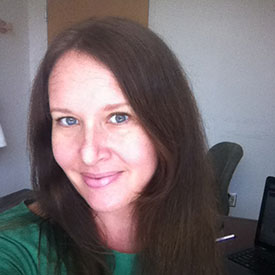 d of undersea medicine has joined IHMC as a research scientist in Pensacola, opening a new area of emphasis for the institute.
Dr. Dawn Kernagis, who grew up near Raleigh, N.C., and spent much of her youth cave- and wreck-diving in Florida and around the world, comes to IHMC from Duke University, where her work was considered so pioneering, that she was awarded a grant from the U.S. Office of Naval Research before she even started her doctoral program. It was the first time ONR's Undersea Medicine program had made such a grant.
She went on to earn her doctorate at Duke in biomedical research and was a post-doctoral fellow there. Her work continues to shed new light on why some divers suffer decompression sickness and others don't.
"The idea is that some divers are susceptible and some aren't — because of genetics," said Dr. Kernagis, whose study will be published later this year.
A big part of her work at IHMC will be focused on optimizing performance and mitigating risk for war fighters in extreme environments. That includes Navy divers, who can face unseen enemies: decompression sickness, oxygen toxicity and nitrogen narcosis. Her location on the Gulf Coast is well-suited for work with the Navy's Experimental Diving Unit and diver training school, based in Panama City.
"We are very pleased to have Dawn join the IHMC team and I have every confidence that she will play a key leadership role in developing a focused research effort aimed at increasing resilience for operators in extreme environments, such as those working undersea, in space, or in high-altitude aviation," said IHMC Director / CEO Ken Ford.
Like deep-sea divers, many pilots and astronauts also must deal with decompression and oxygen challenges. Under pressure or when breathed at higher concentrations over an extended period of time, too much oxygen can damage the lungs and trigger seizures in the brain.
"The holy grail in this area is finding a way to prevent oxygen toxicity," Dr. Kernagis said.
Dr. Kernagis earned her bachelor's degree in biochemistry from North Carolina State University and was a recipient of the Sigma Xi Undergraduate Research Award. She knows first-hand about the risks and rewards of diving. For more than a decade, she was a diver and dive manager for a world-record breaking deep exploration project focused on the caves in and around Wakulla Springs State Park near Tallahassee.
Dr. Kernagis  will also co-host a podcast IHMC plans to launch later this year, featuring some of the most interesting people in the world in science and technology.
"I'm really excited to be here and to have the opportunity to build an undersea program through IHMC," Dr. Kernagis said.
CmapTools now available for iPad
CmapTools, the software used by millions of people around the world to build concept maps, is now available for the iPad. Researchers at the Florida Institute for Human and Machine Cognition (IHMC) have released a new version to the Apple App Store.
"During our testing, the iPad version of CmapTools was particularly popular with elementary and high school students," said IHMC Associate Director and Senior Research Scientist Dr. Alberto Cañas, the leading developer of CmapTools. "It's amazing how fast elementary school students got into building the maps, and the speed at which they can build them using the iPad."
Concept maps are graphical tools for organizing and representing knowledge in an organized fashion. CmapTools empower users to construct, navigate, share and criticize knowledge models represented as concept maps.
IHMC is a world leader and developer of software for concept mapping, which is used around the world by businesses, schools and universities.
CmapTools has long been available for use on laptops and desktop computers, but the proliferation of the iPad created a demand for adapting the software for the versatile tablet. More than 225 million iPads have been sold since it was introduced in 2010.
"If you are using CmapTools on your desktop or laptop, and also want to build your Cmaps on your iPad, you need a way to move the maps around," Cañas said. "We created the Cmap Cloud, which enables the iPad to sync the maps with our servers here at IHMC, and provide access to them from a laptop or desktop.
"Many people use concept mapping to brainstorm about ideas; they have a project or a paper to write, and might not be carrying their laptop around, but have their iPad. Just as you wouldn't write 'War and Peace' on an iPad, but would use it for short documents, you want to be able to do your concept maps on it and, once it becomes a larger project, work with it on your laptop or desktop. For that you need complete compatibility in synching between the two."
Cmap software from IHMC has been downloaded for free by millions of people around the world. The new CmapTools for iPad app is also free, but it will cost $4.99 to access the features that allow the user to sync the iPad version of CmapTools with the Cmap Cloud and export the maps to other devices.
"We want the several million people who have downloaded CmapTools to know there is an iPad version, that they can download it, and that it syncs and shares with the version they've been using all these years," Dr. Cañas said.
In addition to the new iPad app, IHMC researchers have completely redone the CmapTools website (http://cmap.ihmc.us) issued a new version of CmapTools (Version 6) that accesses the Cmap Cloud, made the Cmap Cloud available, and created a new version of the CmapServer. Users can download CmapTools for the iPad from the Apple App Store.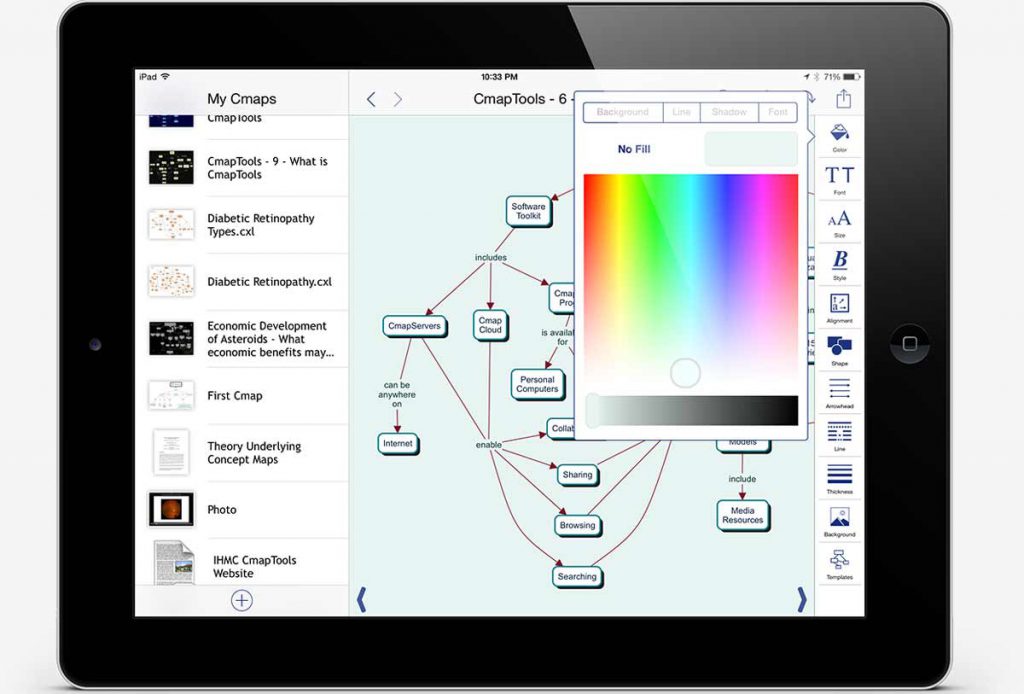 IHMC Scientist Named To Florida Inventors Hall Of Fame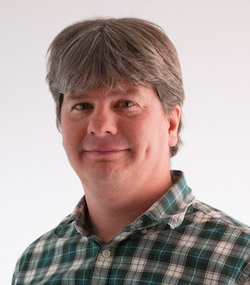 Jerry Pratt, one of the world's leading researchers in the field of robotics, has been named to the Florida Inventors Hall of Fame, joining an august group of inventors which includes the likes of Thomas Edison.
Pratt, a senior research scientist at the Florida Institute for Human and Machine Cognition (IHMC) in Pensacola, holds four patents on robotics inventions and is considered a rising star in the field. He is one of seven people with Florida connections who will be inducted into the Hall at an October ceremony in Tampa. Others in this group, the second year of inductees, include famed automaker Henry Ford and scientist Robert Grubbs, winner of the 2005 Nobel Prize in chemistry.
"Collectively, the seven 2015 inductees hold more than 430 U.S. patents," said Randy Berridge, chairman of the selection committee. "Their high merit has been recognized by national and international institutions and communities … and we are honored to be inducting them into the Florida Inventors Hall of Fame."
Pratt said he was honored and humbled by the recognition.
"Sometimes I think what's most fun about working in robotics is that we are practically inventing the field every day," Pratt said. "There's a long way to go before robotics is a mature field, and I am honored to join so many other people who are working to create the future."
Pratt, 43, holds a Ph.D. in computer science from the Massachusetts Institute of Technology. Before joining IHMC in 2002, Pratt's company developed a powered exoskeleton that allowed a person to carry large loads over rough terrain with little effort. His other patents cover technology that allows bipedal robots to know where to place their feet when walking, and to maintain their balance and prevent falls.
Pratt leads a team of researchers who also developed the HexRunner, which last year set a world speed record for legged robots, reaching speeds of more than 30 mph. Pratt's work has been instrumental in changing the stereotype of robots as clunky machines with jerky movements to ones that maximize speed, agility and biological similarity, said IHMC founder and CEO Ken Ford.
"We're really proud of Jerry; it's a well-deserved honor," Ford said. "Jerry's work personifies the subtle and rather beautiful virtuous cycle between the acts of invention and of scientific discovery."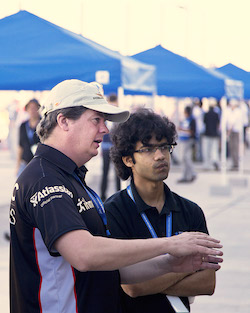 In June, Pratt and the IHMC Robotics Team will compete in the final round of the Defense Advanced Research Projects Agency's (DARPA) international robotics competition, which tests the ability of humanoid robot systems to respond to disasters. The team placed first in the Virtual Robotics Challenge, a computer simulation, and second in the DRC Trials at Homestead Miami Speedway using actual robots in a competition featuring 26 teams from around the globe.
Pratt is married to former Pensacola City Councilwoman Megan Benson Pratt. They have two children. The couple co-founded the Pensacola MESS Hall, a hands-on learning center where kids explore Math, Engineering, Science and Stuff. It is a spinoff of IHMC's Science Saturdays education outreach program.
The Florida Inventors Hall of Fame, begun in 2013, is based in Tampa and seeks to recognize the leading scientific and technological accomplishments in the state. Nominees, who must have at least one U.S. patent, are submitted through an open nomination process and are elected by a committee of distinguished leaders in research and innovation throughout Florida.
For more information on the Hall of Fame and the complete list of inductees, visit www.floridainvents.org.
Ken Ford receives top AAAI award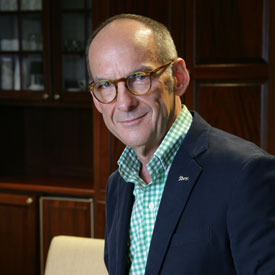 The Association for the Advancement of Artificial Intelligence (AAAI) has awarded one of its highest honors, the AAAI Distinguished Service Award, to Dr. Ken Ford, director and CEO of the Florida Institute for Human and Machine Cognition (IHMC).
The Distinguished Service Award, established in 1999, recognizes a single individual each year "for extraordinary and sustained service" to the artificial intelligence (AI) community. Dr. Ford is the 14th honoree.
In a letter to Dr. Ford announcing the honor, Awards Committee Chair Manuelo Veloso wrote that he was "specifically honored for your contributions to the field of artificial intelligence through sustained service, including the founding of the Florida Institute for Human and Machine Cognition (IHMC), leadership roles at NASA, and your work on the advisory boards of federal science and technology research organizations."
In nominating Dr. Ford for the award, former NASA Administrator Michael D. Griffin said that, "Few technologies have greater potential benefit to humanity than does the field of artificial intelligence, and even fewer people are able to convey the essence and importance of the field to federal leaders in the fashion in which Ken Ford has done and continues to do it. He is quite simply a national resource, and a more than deserving recipient of the AAAI Distinguished Service Award."
Griffin said that to many people at NASA, "Ken Ford simply 'is' artificial intelligence as it relates to the field of space flight."
He also cited Dr. Ford's "stunning success in founding and growing IHMC," which has become known for its groundbreaking research in the field of artificial intelligence.
"I'm truly humbled by the recognition from AAAI," Dr. Ford said. "It is a testament to the important work done by my colleagues at IHMC."
In addition to founding IHMC, Dr. Ford is a groundbreaking AI researcher. He is Emeritus Editor-in-Chief of AAAI/MIT Press and is an AAAI Fellow, a charter Fellow of the National Academy of Inventors, a member of the Association for Computing Machinery, a member of the IEEE Computer Society, and a member of the National Association of Scholars. He has received numerous awards and honors, including the Doctor Honoris Causas from the University of Bordeaux in 2005 and the 2008 Robert S. Englemore Memorial Award for his work in AI. In 2012, Tulane University named him its Outstanding Alumnus in the School of Science and Engineering. He served on the National Science Board, chaired the NASA Advisory Council, and has served on the Air Force Science Advisory Board and the Defense Science Board.
Under his leadership, IHMC has grown into one of the nation's premier research organizations with world-class scientists and engineers investigating a broad range of topics related to building technological systems aimed at amplifying and extending human cognitive, physical and perceptual capacities. Its headquarters are in Pensacola, Fla., with an associated research facility in Ocala, Fla.
The award was presented during the AAAI annual meeting in Austin, Texas, on January 27. Previous winners include Barbara Grosz of Harvard, Raj Reddy of Carnegie Mellon, Nils Nilsson of Stanford, Ronald J. Brachman of Yahoo Research and David Waltz of Columbia.
IHMC Moves Ahead with Pensacola Expansion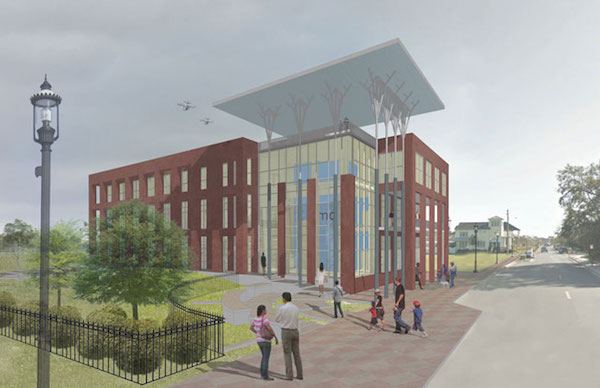 The Florida Institute for Human and Machine Cognition is back on track with a planned expansion of its Pensacola research facility following a nearly year-long delay caused by flooding of downtown in April 2014.
Completion is scheduled for February 2016. The contractor is Hewes and Company LLC, a Pensacola firm. Hewes has done extensive work across the Pensacola area, including large buildings for Pensacola Christian College, Avalex Technologies and AppRiver.
"We're really pleased to be back on track with the new building," said IHMC Director and CEO Ken Ford. "The delay was troublesome, but the architects were able to develop some really good, workable solutions. We're eager now to get this building built and keep growing in Pensacola."
In response to the flooding, the first floor of the new building was redesigned to raise it by one foot, to an elevation of 13 feet above sea level, and all structural materials were reviewed to ensure that they are water-resistant. Meanwhile, flood damage to the existing building has been repaired, but a planned expansion of that facility remains on hold.
The three-story, 30,000-square-foot building will substantially increase IHMC's Pensacola footprint, allowing consolidation of research and administrative functions at the main campus at 40 S. Alcaniz Street in the Seville Historic District, and allow for future growth. IHMC's operations are currently spread over four separate sites in downtown.
The $8 million expansion is being funded with a loan secured through Escambia County. IHMC is solely responsible for repayment of the loan.
The new building will face Romana Street and be located behind the current facility on land IHMC owns between Alcaniz and Florida Blanca streets. The building's facade will be reminiscent of the old brick warehouses that used to dominate the area while serving the Port of Pensacola.
Lead architect Carter Quina, AIA, of Quina Grundhoefer Architects in Pensacola, said the appearance of the redesigned building remains virtually the same as before, while providing more security against potential future flooding. It retains its "fit" with the nearby historic neighborhoods.
"We worked hard to give it a look that fits in with the Historic District, and that remains," Quina said. "The interior is high-tech, but the exterior reflects its location in what the city designated as the Brick Warehouse District, and the use of brick, steel and concrete, all historical materials used in the area, gives it that feel. We're also adding glass to allow natural daylight inside and to make the interior accessible to the public."
He said the new building features design and technology that "maintain all of our sustainability goals," including the extensive use of natural daylight, LED lighting that adjusts to the daylight, extensive soundproofing for the labs, durable materials, and a powerful lab hoist designed with input from the scientists who will be using it.
The building was also designed to foster the use of stairs instead of elevators, cutting energy use and helping employees stay fit.
The first floor of the new building will largely consist of research labs, including an expanded Robotics Lab and a multi-sensory interfaces lab focused on sensory displays and human-machine interfaces, and a street-front lobby/exhibit space demonstrating the work at IHMC.
The second floor will feature a glass-walled observation area for public tour groups and others to observe the Robotics Lab safely and without interfering with the work. The lab is a popular tour destination for schools and other visitors.
The third floor will hold additional offices, conference rooms and research space.
IHMC Board Member Cited for High Honor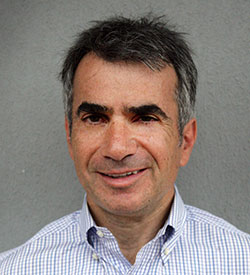 Dr. Alain T. Rappaport has been named a prestigious Fellow of the National Academy of Inventors (NAI). Dr. Rappaport is a member of the Florida Institute for Human and Machine Cognition (IHMC) Board of Directors and of its Science Advisory Council.
Dr. Rappaport was cited as having "demonstrated a highly prolific spirit of innovation in creating or facilitating outstanding inventions that have made a tangible impact on quality of life, economic development, and the welfare of society."
The Tampa-based NAI was founded in 2010 "to recognize investigators at universities and non-profit research institutes who translate their research findings into inventions that may benefit society," according to the group's website. "To join, an inventor must be affiliated with a Member Institution and be a named inventor on one or more patents issued by the United States Patent and Trademark Office."
Dr. Rappaport is an Internet and software entrepreneur, the co-founder and CEO of Nudgit, Inc., an Internet company focused on intelligent choice. He received his M.D. from the Necker Sick-Children School of Medicine, René Descartes University, and his Ph.D. in Molecular Pharmacology from the Pierre and Marie Curie University in Paris. Prior to Nudgit, Dr. Rappaport was general manager of health search in the Bing group at Microsoft Corporation until September 2010. He also served as general manager of health search for Microsoft's Health Solutions Group.
He has published in the areas of artificial intelligence, cognitive science and neurosciences in major journals and has been a speaker in leading technology and business workshops and conferences. Dr. Rappaport served as a NASA Advisory Council, Technology and Innovation Committee member in 2010-2012 and is a founding member of the Innovative Applications of Artificial Intelligence (IAAI) Conference. He holds over 10 patents.
The new class of 170 brings the total number of NAI Fellows to 414, who collectively hold nearly 14,000 patents and represent more than 150 top research institutes and universities around the world.
NAI Fellows now include 61 presidents and senior leadership of research universities and non-profit research institutes, 208 members of the other National Academies (NAS, NAE, IOM), 21 inductees of the National Inventors Hall of Fame, 16 recipients of the U.S. National Medal of Technology and Innovation, 10 recipients of the U.S. National Medal of Science, 21 Nobel Laureates, 11 Lemelson-MIT prize recipients, 107 AAAS Fellows, and 62 IEEE Fellows.
IHMC Director and CEO Dr. Ken Ford was named a Charter NAI Fellow in 2012, and IHMC Board Member Dr. William Dalton was named a Fellow in 2013.
Dr. Rappaport will be inducted during the 4th Annual Conference of the National Academy of Inventors on March 20, 2015, at the California Institute of Technology in Pasadena.
IHMC CEO on Panel Awarding Brain Research Money for NFL Partnership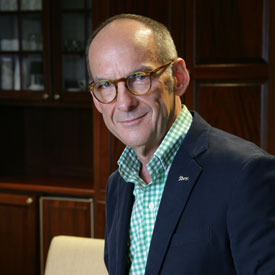 The NFL has announced seven winners of $500,000 brain research grants in Head Health Challenge II. Ken Ford, director/CEO of the Florida Institute for Human and Machine Cognition, serves on the six-person judging panel that selected the winners, who are eligible to receive up to $8.5 million to accelerate brain injury research, diagnosis and protection. The NFL's partners in Head Health Challenge II are Under Armour and General Electric.
The winners, which include researchers from the public and private sectors, were selected among nearly 500 proposals that were submitted between Sept. 2013 and Feb. 2014 from 19 countries.
"We had to pick the winners from a long list of smart, innovative proposals that represent some of the best new ideas on how to prevent, diagnose and treat traumatic brain injuries," Dr. Ford said. "It's very rewarding to be able to be part of the Head Health Challenge II program. The implications go well beyond football."
Concern about traumatic brain injuries has been sparked by the increased awareness of problems stemming from a variety of causes, including the use of powerful improvised explosive devices (IEDs) and the increased awareness of concussions in football and other sports.
Dr. Ford was named to the panel due to his significant expertise and experience in the development of technologies intended to enable cognitive orthotics and his broad background in science and technology R&D. An international leader in research on human cognition and artificial intelligence (AI), Ford holds a Ph.D. in computer science. He served as chairman of the NASA Advisory Council (Oct. 2008-Oct. 2011), received a presidential appointment in 2002 to the National Science Board, and recently completed a term on the Defense Science Board.
According to an NFL release, progress of the initiatives will be monitored over the next year. Each winner will receive $500,000 and have the opportunity to receive an additional $1 million to advance their research on brain injury.
"The disruptive ideas introduced by these seven entries are designed to increase brain safety for athletes, members of the armed forces and society at-large," the release stated. "The stories behind the winning entries and their pioneering efforts in this field are showcased in seven short online videos available to watch atwww.headhealthchallenge.com."
The effort is part of a multi-year collaboration among Under Armour, GE and the NFL called the Head Health Initiative. Launched in March 2013, it includes a four-year, $40 million research and development program from the NFL and GE to develop next-generation imaging technologies to improve diagnosis and allow for targeting treatment therapy for patients with mild traumatic brain injury.
The full NFL release can be found at NFL.com, or www.nflevolution.com/article/nfl,-under-armour,-ge-announce-head-health-challenge-ii-winners?ref=0ap3000000427468.
IHMC giving Atlas a leg up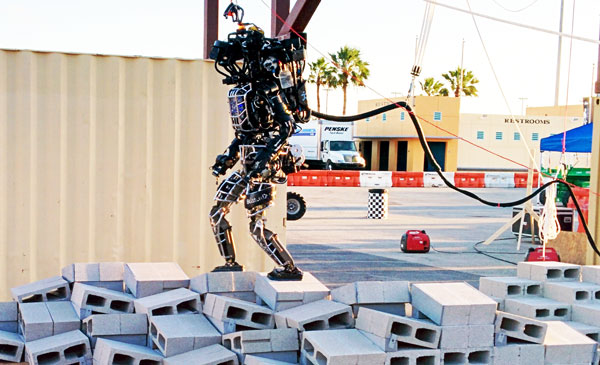 The Florida Institute for Human and Machine Cognition (IHMC) continues to earn recognition for its development of software for the Atlas robot. A recent post on Tech Gen magazine notes IHMC's work to advance the bipedal robot's ability to walk more like a human.
The IHMC Robotics Team has performed exceptionally well in the multi-year, international Robotics Challenge sponsored by the Defense Advanced Research Projects Agency (DARPA). IHMC came in first in the initial computer simulation trial in June 2013, and second overall in the second phase, which featured using actual robots in field trials at Homestead Miami Speedway in December 2013. The next phase of the competition, featuring more advanced field trials, is scheduled for June 5-6, 2015, in Pomona, California.
At the Speedway, IHMC finished first among the seven teams using the Atlas robot and first among teams from the U.S. Through funding from DARPA, which provided the Atlas robots to the various teams, IHMC is now open sourcing its bipedal walking software for Atlas so that other research teams can use it on their robot.
To read the Tech Gen article: http://techgenmag.com/2014/10/24/atlas-robot-gets-closer-to-walking-like-a-human/
To read more about IHMC and the DARPA Robotics Challenge: www.ihmc.us/news/20131223
Discovery Channel To Feature IHMC Exoskeleton
An upcoming segment of The Discovery Channel's Daily Planet program will feature a new exercise exoskeleton developed by researchers at the Florida Institute for Human and Machine Cognition (IHMC) in Pensacola.
Called the Grasshopper, or Hopper, the device was designed, built and tested as part of a NASA-funded project exploring the use of robotic exoskeletons for microgravity exercise. Because the Hopper uses motors instead of gravity to create the load on the user, the device is suited for use on space missions. Exercise in zero-gravity conditions is critical to maintain muscle strength and bone mass.
The Hopper is designed to replicate the effect of squat exercise with free weights, and its associated loading on the body. To test this claim, the Hopper was brought to EXOS, a leader in integrated performance training, nutrition and physical therapy for professional and elite athletes, the military and innovative corporations. EXOS has a center in Gulf Breeze, Fla., near IHMC.
The IHMC team is led by Senior Research Scientist Peter Neuhaus. Members include Research Associate Nick Payton and student interns Travis Craig and Jeremy Gines.
Noraxon, a company specializing in evidence-based biomechanics, provided sensors and technical analysis to compare exercise using the Hopper versus use of free weights.
The Daily Planet segment was filmed at IHMC and the EXOS center. The show's host, Lucas Cochran, was instrumented with the Noraxon sensors and coached by an EXOS specialist on how to properly perform the squat motion, both with free weights and while strapped into the Hopper. The data showed that his muscles and heart responded in very similar fashion while using either the Hopper or the free weights. In addition, Cochran reported that the Hopper was more comfortable than free weights for a similar weight.
The Daily Planet segment will air late October 2014.
For more information about the Hopper go to: http://robots.ihmc.us/grasshopper
To see a video of the Hopper, go to http://youtu.be/Akz5K4BXfAg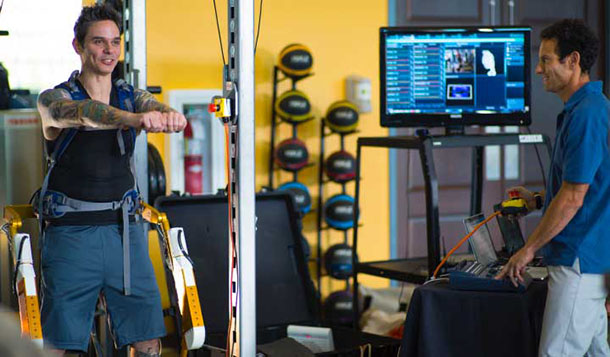 IHMC robot sets world speed record
A new land-speed record for legged robots was achieved on May 22 by researchers at the Florida Institute for Human and Machine Cognition (IHMC). The HexRunner robot reached an estimated 30-33 mph on an open course, without any support tethers.
The record-setting run was filmed by the Discovery Channel, which is expected to broadcast it later this summer.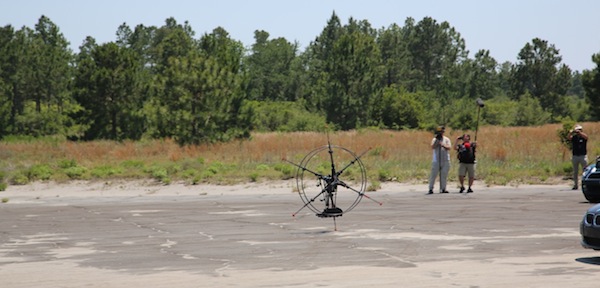 The HexRunner running robot on its record-setting speed run.
"More significant than the top speed is showing that you can make a running robot that doesn't need a lot of feedback from sensors, and you don't need a lot of actuation," said IHMC Senior Research Scientist Jerry Pratt, team leader of the HexRunner project.
HexRunner is a running robot with six spring-loaded legs revolving around a central hub, with three legs on each side of the hub. At the tip of the top leg it stands six feet high. Dr. Pratt said the speed was measured with a chase car and through analysis of high-speed motion video shot from the side.
"The speedometer on the chase car hit 33 while the robot was still running away from it," he said. The 30 mph documented speed is a conservative figure based on motion analysis from video taken during the test. "We might be able to hit 45 mph with small modifications if we have a good run on a long enough course."
The HexRunner is the "parent" of the OutRunner robot, a two-foot version based on technology licensed from IHMC to Robotics Unlimited, headed by Research Scientist Sebastien Cotton, who worked on the HexRunner team.
HexRunner was developed as part of IHMC's DARPA-sponsored FastRunner project. Dr. Pratt said that the FastRunner robot is more complicated than HexRunner, and while it has shown excellent stability in simulation, the research team doesn't fully understand the stabilizing mechanisms. HexRunner, a less complex machine, was built to help develop that understanding.
"By looking at the HexRunner and understanding why it is stable, we can now look at the more complicated model and see if we see the same stabilizing mechanisms," Dr. Pratt said. "And once we understand better what is going on, then we should be able to get the FastRunner working."
He credits a computer simulation done by IHMC Research Associate Johnny Godowski for leading to HexRunner, under development for about a year.
"We had to do something completely different than had been done before," Godowski said. "It's a different architecture, but it mimics what's being done in nature. It opened new vistas between engineering and biology."
The ultimate goal, Dr. Pratt said, is to figure out how animals run in nature, an understanding that could produce breakthroughs in robotics.
"The high-level question is how can animals run with stability at high speeds?" he said. "And how can we make a robot to achieve the same feats?"
IHMC Research Scientist Chris Schmidt-Wetekam said one of the next goals of the FastRunner project is to develop a fully segmented leg that more closely mimics biology.
"We're working toward more complicated robots," Dr. Schmidt-Wetekam said. "Things look really promising in simulation, but it's a lot more complicated in actuality, so we went back to basics. HexRunner checks off an important box on our checklist, and validates our simulation. OK, we can do this."
IHMC Scientist featured at inaugural STEM Symposium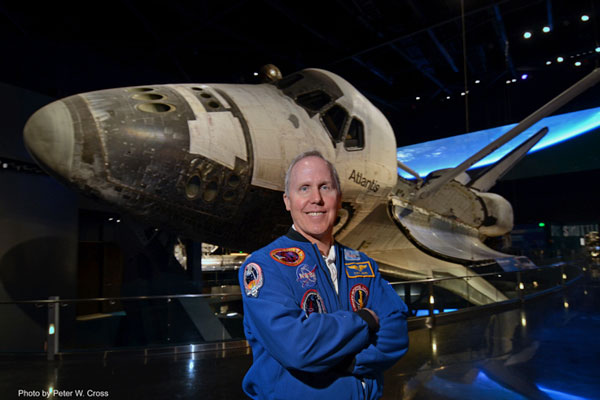 Veteran Shuttle astronaut Tom Jones, a senior research scientist at the Florida Institute for Human and Machine Cognition (IHMC), will be a featured speaker at the first-ever X-STEM: Extreme STEM Symposium in Washington, D.C., on April 24.
The symposium opens the third annual USA Science & Engineering Festival Expo and Book Fair, April 26-27, hosted by sponsor Lockheed Martin. Held at the Walter E. Washington Convention Center, X-STEM is a "TED-style" event for kids with talks by 50 of the nation's most noted science, technology, engineering and mathematics (STEM) professionals representing top universities, corporations, non-profits and governmental agencies.
"I'm honored to speak at X-STEM and get to meet some of our future explorers," Jones said. "Exciting our young people about science, technology, engineering and math — so they can write the next chapter in the history of space exploration — is crucial to America's future. I hope I can help energize tomorrow's explorers, scientists, inventors and entrepreneurs. They're the ones who will revitalize and maintain our competitive, vibrant economy."
Jones is a veteran NASA astronaut, planetary scientist, author and speaker. He flew on four space shuttle missions, and led three spacewalks at the International Space Station (ISS) to help install the U.S. science lab, Destiny.
The Wall Street Journal named Jones's book, "Sky Walking: An Astronaut's Memoir," one if its "Five Best" books on space. He writes frequently on space exploration and history, and offers regular on-air commentary about the United States' space exploration activities and plans.
An Air Force Academy graduate, he earned a Ph.D. in planetary sciences from the University of Arizona, conducting a telescopic search for water on asteroids. He flew B-52 bombers for the Air Force, studied solar system exploration concepts for NASA, engineered CIA intelligence-gathering systems, and served on the NASA Advisory Council. His current interests are asteroid exploration and resources, planetary defense, and extending human exploration to the Moon, asteroids and Mars.
Jones' current books include "Planetology: Unlocking the Secrets of the Solar System" (written with Ellen Stofan, Ph.D.; National Geographic), and "Hell Hawks!" (written with Robert F. Dorr; Zenith Press), a true story of an aerial band of brothers in World War II.
Founded by serial entrepreneur Larry Bock and Lockheed Martin CTO Ray O. Johnson to address the severe shortage in science and tech talent, the USA Science & Engineering Festival is the nation's largest science festival. More than 250,000 people are expected to attend.
Geared toward middle and high-school students, X-STEM features interactive presentations and workshops by top STEM role models and industry leaders to inspire students about STEM careers. Sessions will cover a wide array of subject areas, including space exploration, storm chasing, oceanography, the science of social networks, the physics of superheroes, mathematical puzzles and more.
For more information, visit www.USAScienceFestival.org.
Bradshaw to chair new Nissan advisory board
IHMC Senior Research Scientist Jeff Bradshaw has been named chair of the inaugural Scientific Advisory Council for the Nissan Research Center — Silicon Valley, in Sunnyvale, Calif.
The advisory group will give guidance on matters of science, technology, research and other similar topics of special interest to Nissan Motor Corporation. That includes research regarding autonomous vehicles, connected vehicles, human machine interactions and other matters of special interest to Nissan.
"I'm excited to work with this stellar group of experts," Dr. Bradshaw said. "Nissan's commitment to a human-centered, rather than a technology-centered, design approach puts them in a unique and enviable competitive position. As a result, they will produce well connected, environmentally aware and highly capable vehicles that excel in their safety, usability and usefulness."
The other members of the board are James Euchner, vice president of Global Innovation, Goodyear Tire & Rubber Company; Dr. Don Norman, co-founder of the Nielsen Norman Group; Dr. Missy Cummings, associate professor at Duke University and director of the Humans and Autonomy Laboratory; and Dr. Terry Fong, director of the Intelligent Robotics Group at the NASA Ames Research Center.
Human-Agent-Robot Teamwork has been a central interest for Dr. Bradshaw. From 2002-2006, IHMC's KAoS framework was used as part of a NASA series of annual two-week field tests of human-robot teams led by Dr. Bill Clancey and Dr. Maarten Sierhuis performing simulated planetary surface exploration at the Mars Desert Research Station in the Utah desert. With Dr. Sierhuis he co-founded and, with the help of Dr. Catholijn Jonker and Dr. Virginia Dignum, organized the Human-Agent-Robot Teamwork Workshop series (HART). Recently, Dr. Bradshaw led an international workshop for the National Academies of Science (NAS) on Intelligent Human-Machine Collaboration.
In collaboration with Dr. Paul Feltovich, Matt Johnson and Dr. Robert Hoffman of IHMC, and Dr. David Woods and others, Dr. Bradshaw has co-authored a series of influential articles relating to the inadequacies of the supervisory control model, the "myths of autonomy," and the virtues of what Johnson has termed, developed and championed as "coactive design" — an approach to human-machine interaction that contributed to IHMC's leading performance within the DARPA Robotics Challenge program.
Nissan, Japan's second-largest automotive company, is headquartered in Yokohama, Japan, and is part of the Renault-Nissan Alliance. Operating with more than 236,000 employees globally, Nissan sold more than 4.9 million vehicles and generated revenue of $116.16 billion in fiscal 2012.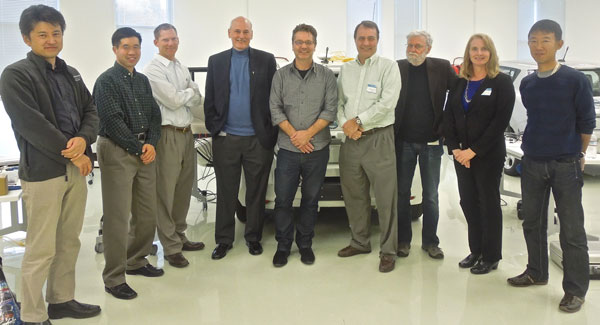 IHMC Senior Research Scientist Jeff Bradshaw has been named chair of the inaugural Nissan Scientific Advisory Council (SAC). Pictured from left to right: Yoshitaka Deguchi (Nissan Research Center-Sillicon Valley, Principal Researcher); Terry Fong (member, SAC); Greg Dibb (NRC-SV, Senior Manager of Strategy and Operations); Jim Euchner (member, SAC); Maarten Sierhuis (NRC-SV Director); Jeff Bradshaw (Chair, SAC); Don Norman (member, SAC); Missy Cummings (member, SAC); and Takeshi Mitamura (General Manager, Nissan Mobility and Services Laboratory).
Dr. Bonnie Dorr joins IHMC as an associate director, senior scientist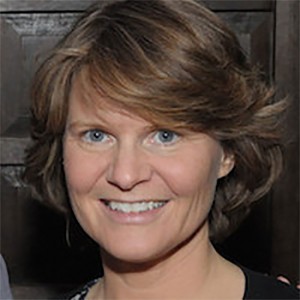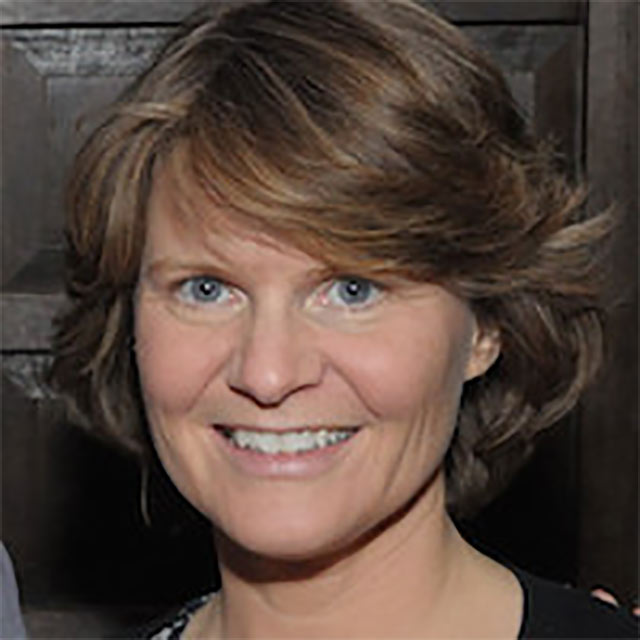 Pensacola – Dr. Bonnie J. Dorr, a leading researcher in the field of natural language processing, is joining the Florida Institute for Human & Machine Cognition (IHMC) as an associate director and senior research scientist at IHMC's Ocala facility.
Natural language processing is a growing research field at IHMC, and Dr. Dorr's expertise is at the cutting edge. Her extensive research and project management experience includes deep language understanding and semantics, large-scale multilingual processing (including machine translation), and summarization.
"We're clearly pleased to add someone of Bonnie's expertise and accomplishments," said IHMC Director/CEO Ken Ford. "Her vision, passion and experience make her a perfect fit for IHMC."
Dr. Dorr joins IHMC from the University of Maryland, where she was a professor in the Institute for Advanced Computer Studies and the Department of Computer Science. She was an associate dean of the College of Computer, Mathematical and Natural Sciences, and co-founded the Computational Linguistics and Information Processing Laboratory. She was also principal scientist for two years at the Johns Hopkins University Human Language Technology Center of Excellence.
In 2011 she became a program manager at the Defense Advanced Research Projects Agency (DARPA), overseeing research in human language technology. Her significant DARPA projects include Broad Operational Language Translation (BOLT), Deep Exploration and Filtering of Text (DEFT), Multilingual Automatic Document Classification, Analysis, and Translation (MADCAT), and Robust Automatic Transcription of Speech (RATS).
"I'm thrilled to be joining IHMC," said Dr. Dorr. "It's the part of the country where I want to live and work, and it's exactly the position I'd like to be in. And there are so many talented researchers I will be working with — who could ask for more?
"I believe IHMC is the gem of human-centered technology research in Florida. It's not a startup, its not a university, it is something in between that allows me the freedom to move quickly and to take on new challenges with a great group of people. I see a huge opportunity to make a difference. I just want to build to that level of excellence we have seen in IHMC robotics, and I know we can do that."
Dr. Dorr, who will retain collaborations with UM as emeritus professor, called IHMC "the perfect place" to continue liaising with both government and universities while also broadening her impact. "It lets me work in the applied world where I can address real-world problems of national importance."
She holds both a Master's and a Ph.D. in computer science from the Massachusetts Institute of Technology, with a bachelor's from Boston University. She is a Sloan Fellow, a NSF Presidential Faculty (PECASE) Fellow, and a former president of the Association for Computational Linguistics.
Dr. Dorr is married (Stephen Martin) and has three children.
IHMC Robotics featured on CNN
Pensacola – The work of the IHMC Robotics team with the Atlas humanoid robot is featured in an episode of a new monthly CNN program, The Art of Movement. The four-minute-plus feature can be seen online here: http://edition.cnn.com/video/data/2.0/video/world/2014/03/06/spc-art-of-movement-automata-b.cnn.html
The segment features interviews with IHMC scientists and extensive video shot both in the IHMC Robotics Lab in Pensacola and at the DARPA Robotics Challenge (DRC) trials at Homestead Miami Speedway in December 2013. IHMC's own video team shot some of the footage used by CNN, especially from the DARPA trials. The episode focuses on IHMC's work with the two-legged Atlas robot, built by Boston Dynamics and used in the DRC competition.
The teams participating in the DRC represent some of the most advanced robotics research and development organizations in the world. They are collaborating and innovating on a very short timeline to develop the hardware, software, sensors and human-machine control interfaces that will enable their robots to complete a series of challenge tasks selected by the Defense Advanced Research Projects Agency for their relevance to disaster response.
IHMC finished first in the initial stage of the DRC in June 2013, a computer simulation competition dubbed the Virtual Robotics Challenge. The robotics team followed that up with an overall second-place finish among 16 robotics development teams at the trials at Homestead Miami Speedway, featuring the actual robots. IHMC finished first among the seven teams using Atlas.
The concluding phase of the DRC is tentatively scheduled for spring 2015.
According to CNN's website, "The Art of Movement is a new monthly show that highlights the most significant innovations in art, culture, science and technology that are helping shape our modern world. From the visually beautiful to the technically awe inspiring, from ocean tides to animal migration, from bionic limbs to ballet, The Art of Movement will showcase the latest cultural currents and scientific new waves redefining how we engage with the world."