Undersea medicine scholar joins IHMC
One of the country's leading lights in the fiel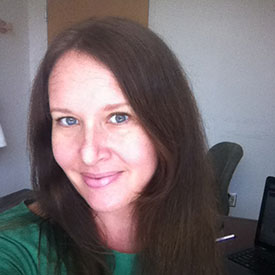 d of undersea medicine has joined IHMC as a research scientist in Pensacola, opening a new area of emphasis for the institute.
Dr. Dawn Kernagis, who grew up near Raleigh, N.C., and spent much of her youth cave- and wreck-diving in Florida and around the world, comes to IHMC from Duke University, where her work was considered so pioneering, that she was awarded a grant from the U.S. Office of Naval Research before she even started her doctoral program. It was the first time ONR's Undersea Medicine program had made such a grant.
She went on to earn her doctorate at Duke in biomedical research and was a post-doctoral fellow there. Her work continues to shed new light on why some divers suffer decompression sickness and others don't.
"The idea is that some divers are susceptible and some aren't — because of genetics," said Dr. Kernagis, whose study will be published later this year.
A big part of her work at IHMC will be focused on optimizing performance and mitigating risk for war fighters in extreme environments. That includes Navy divers, who can face unseen enemies: decompression sickness, oxygen toxicity and nitrogen narcosis. Her location on the Gulf Coast is well-suited for work with the Navy's Experimental Diving Unit and diver training school, based in Panama City.
"We are very pleased to have Dawn join the IHMC team and I have every confidence that she will play a key leadership role in developing a focused research effort aimed at increasing resilience for operators in extreme environments, such as those working undersea, in space, or in high-altitude aviation," said IHMC Director / CEO Ken Ford.
Like deep-sea divers, many pilots and astronauts also must deal with decompression and oxygen challenges. Under pressure or when breathed at higher concentrations over an extended period of time, too much oxygen can damage the lungs and trigger seizures in the brain.
"The holy grail in this area is finding a way to prevent oxygen toxicity," Dr. Kernagis said.
Dr. Kernagis earned her bachelor's degree in biochemistry from North Carolina State University and was a recipient of the Sigma Xi Undergraduate Research Award. She knows first-hand about the risks and rewards of diving. For more than a decade, she was a diver and dive manager for a world-record breaking deep exploration project focused on the caves in and around Wakulla Springs State Park near Tallahassee.
Dr. Kernagis  will also co-host a podcast IHMC plans to launch later this year, featuring some of the most interesting people in the world in science and technology.
"I'm really excited to be here and to have the opportunity to build an undersea program through IHMC," Dr. Kernagis said.