Robotics Open House

Open House at IHMC – Friday, April 14th
To celebrate the eigth annual National Robotics Week, IHMC's Robotics researchers will welcome the public on April 14th for an Open House event in hopes of inspiring young people to seek out careers in the fields of science, technology, engineering, and math. The family-friendly event encourages scientific discovery through hands-on activities, challenges, and demonstrations while providing the opportunity to learn about robots from IHMC's researchers and educators.
Screenings of National Geographic's Robots Movie at Naval Aviation Museum – Saturday, April 15th
The Naval Aviation Museum Foundation along with IHMC will host a free, family-friendly event on Saturday, April 15 from 12 p.m. – 5 p.m. The event celebrates National Robotics Week featuring robot demonstrations and free screenings of National Geographic's film, "Robots."
National Robotics Week is all about celebrating the United States' leadership in robotics technology and development and inspiring students of all ages to pursue careers in these areas. At Robotics Day, IHMC will demonstrate kid-friendly robotics concepts and real-world applications that inspire and amaze.
Kids and families are invited to see National Geographic's film, "Robots" in the newly renovated Giant Screen Theater. Tickets to the film Robots on Saturday, April 15 at 3 p.m. and 4 p.m. are free and available to the first 200 people per showing. Complimentary popcorn and a beverage will be also provided.
Questions can be directed to robot@ihmc.us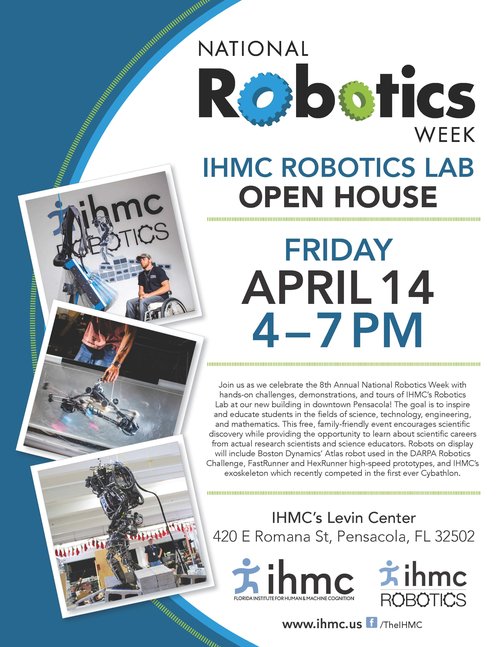 Info from last year's event:
Roughly 900 people from the local community walked through the lab during 2014's open house, including 475 children. Visitors touring the lab had a chance to operate the Atlas robot through Dynamixel arms that scooped candy down a chute to them, as well as run down the street alongside the HexRunner fast-running prototypes.  NASA-IHMC's X1 Exoskeleton was on display, giving visitors a look into a mobility assistance device for rehabilitation and exercise. The MicroAirVehicle team also had their quadcopters flying.
Robots on display at IHMC included:
•    Boston Dynamics' Atlas robot used in the DARPA Robotics Challenge,
•    the FastRunner and HexRunner prototypes,
•    Micro Air Vehicles, and
•    NASA-IHMC X1 Exoskeleton.
In addition to the general public open house event, IHMC also hosted a more technical special event during the day for nearly 200 local middle and high school students from robotics clubs at Tate High School, Niceville High School, Episcopal Day School, Newpoint School, Bailey Middle School, Navarre Homeschool Group, and UWF's IEEE Club. Students met with representatives from local organizations, including the Pensacola MESS Hall, Gulf Power, BEST Robotics, First Robotics, Mini Urban Challenge, Pensacola State College, and the University of West Florida. They learned about volunteer and internship opportunities in the Pensacola area, as well as numerous robotic competitions in which they could participate. Student teams from Pine Forest High and Niceville High also gave demonstrations of the robots that they designed and built at their schools.
Established by Congress in 2010 to raise awareness about robots and their important role in shaping the future of education, industry, and the U.S. economy, National Robotics Week brings together students, educators, and influencers who share a passion for robots and technology. Headed by founder and lead organizer, iRobot, along with support from IHMC and robot enthusiasts throughout the country, the tech-heavy week is all about celebrating the United States as a leader in robots technology development, educating the public about how robotics technology impacts society, and inspiring students of all ages to pursue careers in robotics and other science, technology, engineering, and math (STEM) related careers. In all, a record 225 events focused on 'everything robots' in 50 states. For more information about National Robotics Week, go to: http://www.nationalroboticsweek.org. National Robotics Week is also on Twitter (@roboweek and #roboweek) and Facebook (facebook.com/roboweek).