STEM-Talk: Dr. Brian Cole on advances in knee, shoulder, and elbow injuries
You can thank Bob Newhart for Dr. Brain Cole's career. 
The classic 1970s sitcom gave Cole, then an impressionable middle schooler, a vision of the impact a physician could have on the lives of patients with good humor.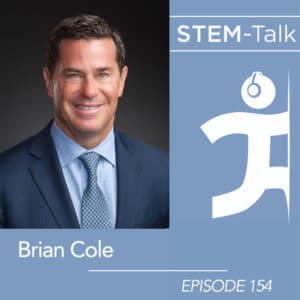 "If you ask any individual in health care, the reason I chose this is I love to help people," Cole says on the latest episode of STEM-Talk. "On 'The Bob Newhart Show' he was able to help people, but he did so with a sense of humor."  
Something about the low-key way that psychology, sociology and humor fit together to make an impact on people appealed to young Cole. He says he has carried that with him throughout a career that led him to becoming a renown orthopedic surgeon. 
Today on STEM-Talk, Cole shares his journey with Dr. Ken Ford, IHMC's founder and chief executive officer, and Dr. Marcas Bamman, Senior Research Scientist at IHMC.  
Cole specializes in cartilage restoration, orthobiologics, and advanced surgical techniques for the treatment of knee, elbow, and shoulder injuries. He is the team doctor for the NBA's Chicago Bulls and the co-team doctor for the Chicago White Sox. He also is the host of the Sports Medicine Weekly Podcast. 
He practices at Midwest Orthopaedics, where his Master's in Business Administration (MBA) is used in his role as managing partner of the practice.  
On STEM-Talk, Cole talks about his cutting-edge research into ways to treat knee, shoulder, and elbow injuries.  He also shares his novel approach to dealing with ACL tears, one of the most common sports injuries, and his investigations of methods to enhance the healing and recovery time following ACL reconstructions.  
Interview highlights include:  
 Cole's experience with professional athletes in the role as head team physician for the Chicago Bulls and the co-team physician for the Chicago White Sox.

 

His day-to-day practice with non-professional athletes, from children to senior citizens. "Understanding what (someone) needs and how to make a difference in their life is one of the greatest privileges… Having the privilege to see people and take care of them never gets old."

 

How he fights the prevailing trend of "technology over reason" in medicine to focus on treating his patients and not on an X-ray or an MRI. It boils down to two concepts dubbed the "Brainless Application of Radiologic Findings" (BARF) and being a "Victim of Modern Imaging Technology" (VOMIT).

 

The impact that weight loss can have on knee pain. "I have a number of patients that I've made feel better through lifestyle modification and never giving them an injection, never doing surgery on them, just having a conversation. It is an enormous part of the holistic approach to managing patients."

 

What is behind the huge jump in ACL tears among 14- to 18-year-olds, which have increased by 148 percent over the past 10 years, and what strategies are evolving to enhance ACL healing and accelerate recovery.

 

 Discussion of the best treatment of meniscal tears, one of the most common pathologies in sports medicine.

 

Treatment of rotator cuff repair, shoulder replacements, soft tissue injuries, osteoarthritis, the use of stem-cells, bone marrow aspirate and more.