STEM-Talk: Dr. John Ioannidis on flaws in COVID-19 response
In the early days of the COVID-19 pandemic, Dr. John Ioannidis wrote an article in March 2020 questioning government statistics about the fatality rate of COVID-19. The backlash was swift and brutal, and John's reputation as one of the most influential scientists in the world took a beating.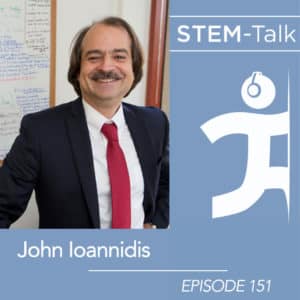 Here, John makes his second appearance on STEM-Talk to discuss his extensive research into the pandemic. Episode 151 is available now on our podcast page, as well as in popular podcast apps and on YouTube.
John talks about his most recent peer-reviewed paper that looked at the age-stratified infection fatality rate of COVID-19 in the non-elderly population.  
The study found that the pre-vaccination fatality rate for those infected may have been as low as 0.03 percent for people under 60 years old, and 0.07 percent for people under 70, far below the World Health Organization's prediction of a 3.4 percent fatality rate. 
Over the past two decades, John's research has earned him a global reputation as a consummate physician and researcher, which contributed to The Atlantic describing him in 2010 as one of the most influential scientists alive. He is a professor of medicine, epidemiology and population health as well as a statistician and professor of biomedical data science at Stanford University. 
In today's episode, John: 
Shares what led him to study infectious diseases.

 

Walks us through his most recent paper, published in January 2023 on COVID-19 mortality rates.

 

Talks about the role that obesity rates may have had on mortality rates across the globe.

 

Describes as the U.S. government's response to the pandemic and the importance of collecting reliable data in the future to guide disease modelers and governments before they make decisions on significant policies, such as lockdowns.

 

Discusses how he underestimated the power that politics and the media can have on science. 

 

Discusses the erosion of public trust in institutions and the media and what might be done to re-establish that trust.

 

 
IHMC is a not-for-profit research institute of the Florida University System where researchers pioneer science and technology aimed at leveraging and extending human capabilities. IHMC researchers and staff collaborate extensively with the government, industry and academia to help develop breakthrough technologies. IHMC research partners have included: DARPA, the National Science Foundation, NASA, Army, Navy, Air Force, National Institutes of Health, IBM, Microsoft, Honda, Boeing, Lockheed, and many others.