STEM-Talk: Dr. Gwen Bryan shares the future of exoskeletons
We walk every day, so we think it's an easy thing to do. But when we try to recreate it with an exoskeleton in the lab, the truth reveals how complex and challenging it is.
That's the puzzle that Dr. Gwen Bryan is working to solve as part of the exoskeleton team at the Florida Institute for Human and Machine Cognition.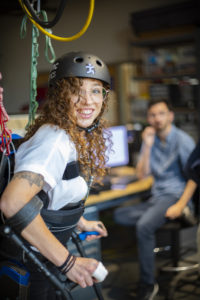 Episode 147 of "STEM-Talk" features a conversation with Bryan, an IHMC Research Scientist who investigates wearable robotic devices aimed at augmenting human performance in clinical, occupational, and military applications.  The episode is available now wherever you listen to podcasts.
With the exoskeleton team at IHMC, Bryan is particularly focused on maximizing the benefits of powered exoskeletons. At IHMC, Gwen leads the exoskeleton team, which is developing a novel augmentative device that continues IHMC's research on mobility devices for people with spinal cord injury. The team also is researching a powered exoskeleton to aid government employees who work at nuclear site remediation.   
The team's effort, which utilize a human-centered research approach, is uniquely situated to expand exoskeleton research and technology because of the expertise and collaboration among IHMC's robotics and human-performance research groups.