STEM-Talk: Dr. Dan Pardi on flipping the focus to "actual health"
What a revolution might it be if the healthcare system was built around our actual health, as opposed to the way it currently centers on treating an injury or disease once it occurs? 
That's one of the ideas that Dr. Dan Pardi explores in the latest episode of STEM-Talk (Episode 146). In his conversation with IHMC Founder Dr. Ken Ford and IHMC Senior Research Scientist Dr. Marcas Bamman, Pardi talks about the flaws in a health system that is really built around treatment, rather than health and wellness support — and what it might take to switch that focus.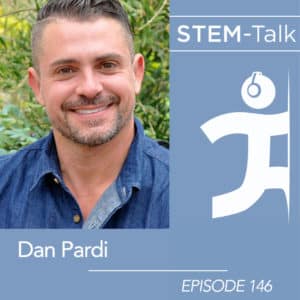 Pardi is the CEO of humanOS.me – a digital health training application. He is well known for his research into sleep and has collaborated with the U.S. military as well as organizations including Adobe, Salesforce, Workday, Pandora, Intuitive Surgical, and more.  
His own podcast, humanOS Radio, is the official podcast of the Sleep Research Society, the Canadian Sleep Society, and a content partner of the Buck Institute on Aging. Dan collaborated with more than 100 science professors around the globe to create his digital humanOS application.
Pardi has a Ph.D. in cognitive neuroscience from Leiden University in the Netherlands, and Stanford University in the United States. He has a master's degree in exercise physiology from Florida State University and currently lives in Austin, Texas, with his wife, two young boys, and their dog, Wally. 
The STEM-Talk conversation with Pardi covers his early career in bioinformatics and how a trip to Moscow led to his doctoral research of sleep and treatments for narcolepsy.  
He also talks about the Loop Model to Adopt and Sustain Health Behaviors, a behavior model he developed during his Ph.D. studies. The Loop Model became the core of humanOS. Finally, the conversation moves to the concepts of "actual health," health performance experts and a shift in what aging means that he believes is important to improving the quality of life for all of us.