Dr. Mark Lewis talks hypersonics in STEM-Talk Episode 138
Failure is an important part of research.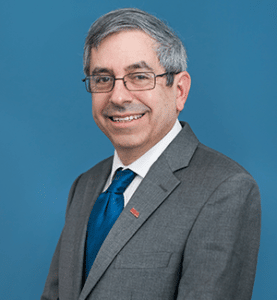 But in a risk-averse culture, the chance to learn from failure is hampering the development of some of the most important national defense tools needed for our arsenal, argues the expert guest on Episode 138 of STEM-Talk.
Dr. Mark Lewis is executive director of National Defense Industrial Association's Emerging Technologies Institute (ETI), a nonpartisan think tank focused on technologies that are critical to the future of national defense.
Previously, Lewis was the Director of Defense Research & Engineering in the U.S. Department of Defense, overseeing technology modernization for all military services and DoD Agencies. He also served as the acting Deputy Undersecretary of Defense for Research & Engineering.
In this role he was the Pentagon's senior-most scientist, providing management oversight and leadership for DARPA, the Missile Defense Agency, the Defense Innovation Unit, the Space Development Agency, federally funded research and development centers, and the DoD's basic and applied research portfolio.
A self-described nerdy kid who was into model airplanes and rockets, Lewis traces his love of engineering to the Apollo program and the pivotal moment of watching Apollo 11.
"I remember watching Neil Armstrong walk on the moon. As a kid I was hanging on every Apollo mission, every Gemini mission before that," Lewis says.
The highlights of his STEM-Talk include:
A return to the test-fail mindset of the past. Lewis argues that a movement away from the acceptance of failure as part of the learning process is hindering the development of tools our defense arsenal needs to compete with Russia and China.

One example he shares is the X-15 rocket plane, first test flown in 1959. The three X-15s built flew 199 times and set all manner of records in altitude, speed, etc. Mishaps and crashes didn't end the program in part, Lewis argues, because failure was considered a vital part of the scientific process.
The X-51 hypersonic aircraft, by comparison, has flown four times since its initial fight in 2010 — with stretches of a year between test flights as investigators picked apart things that failed about previous tests. The long delays between test flights hindered the ability to learn more about what works and what doesn't, he says.
The approach Lewis advocates: "Flying early, flying often, and when things break, we fly them again. When things fail, we learn quickly why they fail, and we recover."
The health of our defense infrastructure. The ETI's Vital Signs report evaluates the readiness and health of the defense industrial base. The 2022 report gives it a D — an overall grade of 69, which is three points below last year's grade.
The report authors assigned a failing grade in five areas, with one of the most troubling declines being in supply-chain performance. Another significant drop came in productive capacity and surge readiness.
Hypersonics is the successor to stealth. Lewis argues hypersonics is a critical technology for the future of national defense. It is the logical follow-on from stealth, a technology that makes weapons effective because it makes them hard to see — and subsequently hard to stop.
Stealth technology has now been seen by the world, and our adversaries, who have had time to develop defenses to it and their own versions of it. While hypersonic flight itself is not new, Lewis says today we use the term to refer not only to speed, but also to maneuverability at that speed.
"In the biggest sense, hypersonics is about survivability," Lewis says. "If I can be seen, the next logical step is that I travel in such a way at high speed and with unpredictable maneuverability that even though I can be seen, they won't know exactly what I am or where I'm going and I'll be difficult to stop."
The "boom and bust" cycle of funding behind hypersonics has been frustrating, Lewis says, and in some cases stymied its development.
Russia has deployed hypersonic weapons in Ukraine. Lewis argues that their use is less about a military requirement in the current war in Ukraine per se, than it is about strategic messaging to NATO: That they have these weapons and are deploying them, and we do not.
As Chief Scientist of the U.S. Air Force: Lewis got the job in 2004. It's a position that dates to the Air Force's earliest days in the late 1940s. By tradition the chief scientist comes from outside the Air Force to provide an outsider's viewpoint. The Chief Scientist is empowered to be free-thinking – and free-speaking.
A predecessor in this position likened the job to being the court jester, Lewis says, and here is why: In medieval times, the king had a court of noblemen surrounding him. The jester was often the only person who could speak honestly to the king "without having his head lopped off. That's the job of the chief scientist." Lewis says.
He stayed in the role for four years, returning to academia in 2008.
At the Pentagon. Lewis worked with Mike Griffin (STEM-Talk episodes 23and 134) in the Pentagon as the Director of Defense Research and Engineering. Modernization of the office was Griffin's key priority — everything from space to cyber, AI to 5G communication, and of course, hypersonics.
A Day Without Space study: In 2008, when Lewis was concluding his time as Chief Scientist of the Air Force, he launched a study that became known as the Day Without Space Study — essentially examining what warfare would be like without our space assets. What's the answer? "Go watch 'Saving Private Ryan.' There is no situational awareness, limited communications. That's what life would be like without space," Lewis says.
Directed Energy Technology. Historically there has been a sense that directed energy technology is hovering just over the horizon in the future, but Lewis argues we are "already there" in terms of its application.
"We've matured in our understanding of how we would use it." It used to be the sense of directed energy's application was replacing the gun with the laser. Rather, Lewis says, think about is as using the laser to do things that the gun can't do.
Investing in research funding. U.S. government funding for research and development fell by 12 percent between 2011 and 2016, while in the same time frame China increased its R&D investments by 56 percent.
Lewis notes, the United States is still the destination of choice for international students to come and study and stay.
"It has always been the American tradition for the best and brightest to come here and to stay here," Lewis says. "And that's still what we see."