Triumph grant helps seed IHMC's vision for human performance complex
It's not enough for elite warfighters to have a high level of physical fitness and cognitive ability in today's military. They also have to be resilient. While the tools and weapons of today's warfighters have evolved dramatically over the past few decades, the military's understanding of the biological processes that govern human performance and resilience has not evolved to the same level.
For years now, Ken Ford, IHMC's co-founder and CEO, has envisioned a research team focused on finding innovative ways to extend the capabilities and resilience of high-performing humans who routinely operate in extreme conditions and environments.
"One of the reasons we're interested in extreme environments is that high performing humans often fail in these environments, and you can learn a lot by studying failure mode," said Ford. "If you take a high performing human, like an astronaut, and put them in space, things can go bad very quickly. That's just as true under the ocean and it's just as true in a fighter jet."
Ford made this point during a 2018 interview with Florida Trend following a $1 million donation from Pensacola philanthropists and entrepreneurs Quint and Rishy Studer, who bought into the vision of an expanded role for IHMC to play in human performance.
The effort received another boost last year when Triumph Gulf Coast awarded IHMC $6 million to help seed a Healthspan, Resilience, and Performance team and complex. The new complex is being fast-tracked and will establish a one-of-a-kind capstone for research and development. The multimillion dollar facility will expand IHMC's downtown campus into three main buildings.
In addition to creating a one-of-kind facility for human-performance research, the complex will bolster the regional economy through new funding in federal and industry-sponsored research.
"We will be collaborating closely with regional institutions and organizations that share an interest in human health span and performance," said Julie Sheppard, IHMC's Executive Vice President and Chief Legal Counsel, who helped spearhead the Triumph proposal. "It's our belief that these collaborations will lead to innovative spinoff opportunities not only for IHMC, but also will create opportunities for local technology transfer partners."
IHMC has always focused on the development of science and technology to leverage and extend human performance, particularly cognition and then locomotion, said Ford. "Originally our work was strictly cognitive because IHMC was started mostly by artificial intelligence people. Then we moved to broaden that to include robotics. And then next we started looking at not just cognitive performance, but also physical performance, exoskeletons and several other related fields."
About 10 years ago, Ford said he and others at the institute become more interested in broadening that work. "So now, rather than having only two approaches to elevating human performance, we are in the early stages of expanding our research into the biological means to do that."
The Triumph funds, secured from BP in a legal settlement following the 2010 Deepwater Horizon Oil Spill, have been set aside to stimulate economic development in eight Northwest Florida counties that were significantly impacted by the spill. Ford, as well as the Triumph board, believe the HRP complex will have a transformational economic impact on Northwest Florida.
IHMC currently receives significant federal government funding for its research, particularly as it applies to elite warfighters, astronauts and special-operations forces. The HRP complex will permit IHMC to grow its research portfolio in this emerging area. In addition to its collaborations with the Department of Defense, NASA and other federal departments and agencies, the HRP complex will bolster the regional economy through new collaborations and funding in federal and industry-sponsored research that focuses on molecular and genomic science; biochemistry; cellular and tissue biology; physiology; biomechanics; biomedical engineering; regenerative medicine; neuroscience; rehabilitation; clinical trials; and machine learning and computational biology.
The HRP complex is one of the reasons that Dr. Marcas Bamman joined IHMC last year.
"What we're talking about is a rare, one-of-a-kind research opportunity," said Bamman, an internationally recognized researcher known for his scientific contributions to the biology of human skeletal muscle and medical rehabilitation. Ford recruited Bamman to join IHMC's biologically motivated team and become one of the ground-floor architects of the new effort.
As the founder and former director of the University of Alabama at Birmingham Center for Exercise Medicine, Bamman and the UAB center have been recognized as world leaders in the biological mechanisms underlying exercise-induced adaptations and their clinical utility in disease prevention and treatment as well as rehabilitation.
"What drew me, in addition to the talent, leadership and vision of IHMC, is the unique opportunity to establish a capstone research complex for advancing knowledge in human performance and resilience in a truly interdisciplinary manner," said Bamman. "The idea is to bring together all the key focus areas that have not necessarily been co-located before. In other words, we will be bringing together everything from clinical assessment to rehabilitation to clinical trials to molecular and biological analysis. Then we will be able to use computational biology to look at people's biological responses to various treatments in a very powerful way."
What particularly excites Bamman is that the complex will allow him and others to do research from molecule to man.
"One of the unique things we have here at IHMC, which will be substantially advanced by the new complex, is the ability to integrate researchers who specialize in human performance and resilience with computational scientists, artificial intelligence and even robotics. IHMC's exoskeleton-based work has a high degree of relevance for military operators as well as rehabilitation sciences. And like I said, to be able to do all this with one large team that leads research from molecule to man, or molecule to the whole human, is pretty remarkable."
Research programs with this scope typically rely on bringing together the expertise and facilities of several institutes from around the country or world, said Bamman.
"In the new HRP complex, we will be able to walk across the hall and tap into the expertise of people outside of our particular focus area. It will be an exciting environment where we as scientists can all learn from each other."
Another key player in the development of the HRP complex is IHMC's Chief Science Officer Tim Broderick. Broderick is a surgeon and biomedical engineer who has been a pioneer in laparoscopic, robotic and telerobotic surgery.
Prior to joining IHMC in 2019, Broderick was an academic surgeon and a DARPA program manager. During his years at DARPA, he conceived and established five high-impact biotechnology projects that included revolutionary programs focused on precision diagnosis and treatment of military-relevant diseases and injuries. Broderick also has led multiple ground, flight and undersea-based biomedical research projects.
Broderick and IHMC recently worked on a project that is part of a DARPA program known as the Measuring Biological Aptitude program, or MBA. It's an example of the type of project that will become part of new complex's impressive portfolio.
The crux of the MBA program is correlating the externally observable physical, behavioral, and cognitive features and traits of specialized operators and pilots with measurable elements of their biology to understand and ultimately anticipate how they will perform in various situations over time.
"This project allowed us to work on developing a disruptive training platform that integrates revolutionary molecular and metabolic analysis with some advanced predictive models. These models will use the latest approaches in machine learning and artificial intelligence utilizing novel real-time sensors that will allow us to measure the performance of a special forces operator or pilot."
Some of the projects in IHMC's pipeline that tap into the institute's new multi-disciplinary expertise in human performance and resilience include:
• Evaluating Potential Benefits of Intranasal Oxytocin on Undersea Operator Training and Performance: Naval Special Warfare (NSW) operators are exposed to a variety of extreme environmental conditions and intense physical demands. In addition to beathing high-pressure gases during prolonged cold-water immersions, inadequate recovery from sustained physical exertion underwater can negatively impact individual and team performance. The sponsors are looking for biotechnologies that could mitigate the effects of cold as well as support physical recovery, which would represent a significant unmet need for the NSW operational community. A possible mitigant is oxytocin, which has a wide range of actions both locally in the brain and peripherally in the body as well as in skeletal muscle. These peripheral effects can be mediated by classic ligand-receptor activation given the abundant expression of the oxytocin receptor in peripheral tissues. The IHMC project is looking at the administration of exogenous oxytocin, an approved FDA Investigational New Drug that has been shown as an easy and safe method to increase circulating oxytocin concentrations that may augment actions on peripheral tissues. It is an easily administered, adjunctive biological therapy that has the potential to improve recovery, performance and resilience of warfighters.
• Strategies to Augment Ketosis: Assessment of Prophylactic Ketone Administration on Concussive Injury in the U.S. Army Basic Airborne Course: IHMC researchers are conducting a novel trial designed to assess the efficacy of ketone ester supplementation during U.S. Army Basic Airborne Course training as a prophylactic against detrimental cognitive outcomes that soldiers sometimes experience following mild traumatic brain injury (mTBI). The study is exploring whether a metabolically supported ketone-fueled brain is more protected from neurotrauma. As part of the trial, researchers are examining the pre-jump prophylactic potential of ketone ester supplementation to attenuate closed head injury-induced changes in cognitive performance. Researchers also are looking at the potential of ketone esters to alter blood and urine-based protein, molecular, metabolic and lipid profiles that are impacted by closed head injury during jump training. Another aspect of the study is the development of a multidimensional predictive model of mTBI risk among basic airborne training course participants.
Dr. Morley Stone, IHMC's Chief Strategic Partnership Officer, says projects like this build upon the institute's multidisciplinary experience. IHMC already has extensive experience with traumatic brain injury research as well as a long history of productive and collaborative research for the Department of Defense.
"In addition to our reputation and heritage of impactful research, IHMC's internationally known researchers along with the new HRP complex will give us the infrastructure and experience capable of accepting and executing a wide range of grants and contracts related to human performance and resilience," Stone said.
To accommodate this expansion into human-performance research, IHMC is hiring people with specialized expertise (see profiles pages 5 and 6). Dr. Kaleen Lavin is a physiologist and molecular biologist who was a postdoc with Bamman at UAB for three years before recently joining IHMC. Her specialties are in human physiology and computational biology.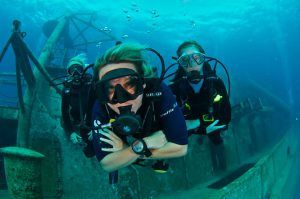 "What I do is provide a kind of molecular perspective on how a person's biology works. I incorporate a lot of computational work that helps us understand why people respond differently to exercise and other stressors, and why some people are more resilient than others when exposed to the exact same type of stress."
To do this, Lavin is looking at a person's biology at a very fine molecular level. She's looking at a person's gene expression and different proteins and how they change from person to person with exposure to stress.
"It requires a computational approach where the datasets are enormous," said Lavin. "That's how we are able to see the fine changes that we do see. But you can't look at these datasets in a spreadsheet like you can with other types of data. Here, we're talking about several tens of thousands of rows of data. Because of the complexity of the work we're doing, it will significantly improve the speed and accuracy of our work if we're able to have it become more automated with AI."
Lavin is already working with some of the AI scientists at IHMC on innovative ways to analyze data and write programs that will advance how researchers can interpret the complex sets of molecular data that she pulls together. As Bamman points out, "There are just not that many research environments where you can walk across the hallway and do that."
Bamman says the work that Lavin is doing is a great example of the kind of research IHMC will be able to do through the HRP complex.
"We want to be able to take blood and saliva samples and map all the molecular responses that can occur as a result of any number of things that can change a person's physiology and how it relates to their physical and cognitive performance."
For example, Bamman said, take two military operators who are performing some sort of strenuous task in an extreme environment like high altitude. There would be common responses between the two at the molecular level. But there would also be several differences between the two. So how that high-altitude stress impacts the two individuals differently at the molecular and performance level is what we're trying to understand. "Kaleen is working with our AI scientists to map all of these similarities and differences," said Bamman.
That's why Lavin is so excited about the human performance complex.
"I love having the ability to ask the kind of questions that Marcas and the other researchers are talking about and having the resources around me to answer them in the most rigorous way possible by working with people who are top experts in their fields, fields that are quite different than mine. I mean, there's no better way to do this kind of research. That's what brought me to IHMC."
Ford is working to fast-track the HRP complex and have the doors open in 2024.
"There is so much we can do once we get the HRP facility up and running. We will have an environmental chamber that we can use as a stress environment. We will have flight simulators and labs and the kind of advanced technology that will help rigorously test and measure physical and cognitive performances of warfighters, astronauts, pilots and other high-performing humans. I envision the complex being a place where researchers can, with very little bureaucracy, have access to a wide range of expertise to bear on a problem."
Ford says that in terms of IHMC future, he anticipates about a third of the work at the institute will be in human performance and about a third in AI and another third in robotics.
"The vision for the human performance complex is to have a place where you can combine the computational expertise, the biological expertise and the translational expertise all in one place so that we can, as Marcas says, do research from molecule to man," said Ford. "This facility really will be one-of-a-kind."
IHMC is a not-for-profit research institute of the Florida University System where researchers pioneer science and technologies aimed at leveraging and extending human capabilities. For more information, visit ihmc.us.