Science Saturdays Return
Science Saturday is back in business for 2022.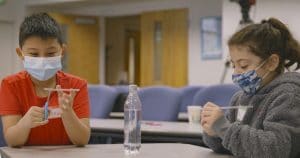 IHMC's popular STEM outreach program hosted four sessions in the fall of 2021 for grade-schoolers in both Ocala and Pensacola. The free, monthly event featured increased safety measures in response to the pandemic and still brought students a lineup of hands-on projects geared toward sparking the love of science for students in grade 3-6.
The educational series is moving forward in 2022, says Ursula Schwuttke, director of educational outreach for IHMC, continuing its longstanding tenure as a community fixture that sees IHMC and community scientists lead half-day sessions that use "fun science" to spark learning, Schwuttke says.
"Fun science gives kids the ability to discover their interest and ability in science, and to develop self-confidence," she says. "Opportunity is vitally important for kids. Without the opportunity to discover their interest, they can't know that it's something they should pursue."
In fall of 2021, Science Saturday hosted sessions on computer game design, robotics, neural networks and machine learning, and the physics of roller coasters. Roughly 35-40 students attended each of these sessions. The Science Saturday lineup for 2022 includes sessions on game design, robotics, circuits, monarch butterflies and more.
Parents find Science Saturday provides much-needed science enrichment.
"The fact that this is the only enrichment Science opportunity in Ocala that is free and open to all of Marion County Public School students is extraordinary and greatly appreciated!" says the parent of a fourth-grade boy who attended in Ocala.
"My first child counts science and math as her favorite subjects. My second has a wonderful science curiosity and is open to all kinds of lessons, so I appreciate a wide diversity in your programming," says a Pensacola parent. "Thanks for a consistently high quality experience in our children's community."
The adults at the head of the classes enjoy it, too, including Heath Parr, technology education teacher at Brown-Barge Middle School in Pensacola.
"I enjoy teaching Science Saturday's because the hands-on activities allow the students to truly engage with the lessons," Parr says. "The students are allowed to move, discuss, and interact with each other. These learning environments are important to independent inquiry and leads to deeper understanding and knowledge retention."
For 2022, safety guidelines around masks, limiting occupancy, and distancing will be in place to help everyone stay safe while they learn. Enrollment will be capped at 24 students per session.
Sign-up for each session opens two weeks before the date of each Saturday. To register your child, email PensacolaScienceSat@ihmc.us or call 850-202-4462.
Visit www.ihmc.us/outreach/science_saturdays and join the mailing list to stay up to date.