UWF and IHMC's Intelligent Systems and Robotics program celebrate first Ph.D. graduate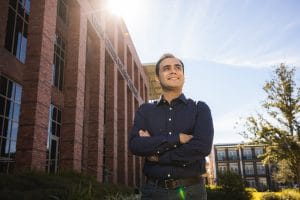 Taher Rahgooy, a Ph.D. candidate of the intelligent systems and robotics program launched by the Institute for Human and Machine Cognition and University of West Florida, became the program's first graduate at UWF's Fall Commencement in December 2021.
Rahgooy was among the initial cohort of five students to join the program when it was established two years ago and was one of two students who transferred to UWF from Tulane University on the heels of Dr. Brent Venable, the program's founding director. Venable previously held a joint appointment as a professor of computer science at Tulane and research scientist at IHMC.
"The graduation of our first doctoral student is an incredible milestone for the intelligent systems and robotics program," Venable said. "Only two years after its establishment, our program is contributing to the highly skilled workforce in the intelligent systems field, which is a national priority with a high demand market. His graduation validates and motivates all of our students, as well as UWF and IHMC mentors, to continue pursuing our innovative and personalized approach to graduate education in intelligent systems and robotics."
Rahgooy was a second year doctoral student at Tulane University when Venable accepted the director role at UWF. He said it wasn't initially an easy decision to transfer, but three key factors played a role in convincing him to make the jump.
"I really enjoyed working with Dr. Venable, as she is an extraordinary researcher and advisor and I knew that continuing to work with her would keep me on track for my future career," Rahgooy said. "She told me about the IHMC community, which gives intelligent systems and robotics students access to world-class researchers. Finally, I knew the program would provide facilities for doctoral students that are essential for performing many machine learning and artificial intelligence tasks requiring the handling of big data."
The program centers on developing leading-edge software and hardware technology that combines human and machine elements to exploit their respective strengths and mitigate their respective weaknesses. The first of its kind in Florida and one of only a few in the nation, the program serves the manufacturing, health care, defense and other high-tech industries, providing critical support to high-demand career fields.
The doctorate in intelligent systems and robotics program provides students with individualized paths tailored to their interests. The program includes foundational courses in robotics and artificial intelligence that address topics such as knowledge representation and reasoning, machine learning, computational methods in AI, basic hardware/software interaction and research methods.
"Through the program, I worked with great researchers who helped me understand the whole research environment better, and who gave help and guidance about the choices I should make for my future," Rahgooy said. "The financial support of the program allowed me to fully focus on research without any distractions, and I was always supported and encouraged by the department to participate in prestigious conferences both for presenting my work and as an attendee. This accelerated my progress, which resulted in several publications and presentations.
"I feel really proud of what I've achieved and the kind of resume I was able to build in this program."
Established in 2019, the program has grown to include 17 students from seven countries and 20 supervisors from IHMC and UWF's departments of intelligent systems and robotics, computer science and earth and environmental sciences. Venable said the "cutting-edge" research portfolio of investigated topics includes human-machine teaming, vision, robotics, natural language processing, cybersecurity, machine learning, cognitive systems, multi-agent systems and marine environmental sensing.
"Our program allows the 'mentor-student team' to tailor the coursework and research portfolio to specific interests pursued by each team, following the European style for doctorates and freeing them from the academic constraints typically involved in the vast majority of AI and robotics graduate programs in the United States," Venable said. "This level of personalization facilitates collaboration with industry and a project-driven style of research."
Rahgooy earned a bachelor's degree in computer engineering and a master's in artificial intelligence before beginning his doctoral studies in computer science at Tulane University.
His dissertation, titled "Machine Learning Guided by Linguistic and Behavioral Knowledge," discusses the data-driven methods he's developed for learning various cognitive models of decision-making, along with his work to expand into problems with sequential settings such as reinforcement learning.
Rahgooy said the next step in his career is finding research positions in the intelligent systems and robotics industry to continue his efforts.
"Working with Taher has been a true pleasure," Venable said. "He is the ideal doctoral student, one to whom you throw an idea and he comes back with a paper. He features a rare combination of a theoretical clarity of thought and very strong algorithmic and coding skills. He has grown into a mature and independent expert in intelligent systems and I am looking forward to hearing about his future successes."