Inventors Academy Honors Prolific IHMC Scientist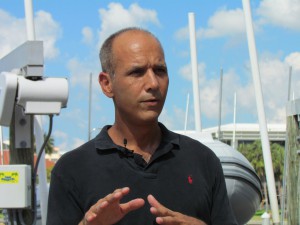 David Fries has been named a prestigious Fellow of the National Academy of Inventors (NAI). David is an interdisciplinary research scientist at the Florida Institute for Human and Machine Cognition (IHMC) and an expert and true innovator in undersea technologies, especially microsystems and robotics for sensing applications, advanced sensor development, and mobile robotic systems for field applications. He holds more than 35 U.S. patents, 13 of which have been licensed to seven separate companies.
David was cited as having "demonstrated a highly prolific spirit of innovation in creating or facilitating outstanding inventions that have made a tangible impact on quality of life, economic development, and the welfare of society." The NAI was founded in 2010 "to recognize investigators at universities and non-profit research institutes who translate their research findings into inventions that may benefit society," according to the group's website.
In addition to his research at IHMC, David is the co-founder of Intelligent Micropatterning LLC, the co-founder and CTO of Spyglass Technologies, Inc., the founder of non-profit SciFlies.org, and the co-founder of Guided Particle Systems, Inc. He has published more than 60 technical articles and has been featured in more than 50 media articles and broadcasts.
Fries is a member of the Marine Technology Society, the American Association for the Advancement of Sciences, the American Chemical Society, and the Oceanography Society. He was an original member of the University of South Florida's Center for Ocean Technology, where he began the field of underwater mass spectrometry. He also sits on the Board of Directors of the Thunderdome Project, and several other non-profit service organizations.
The NAI Fellows Program currently has 582 Fellows worldwide representing more than 190 universities and governmental and non-profit research institutions. Collectively, the Fellows hold more than 21,000 issued U.S. patents.
NAI Fellows now include more than 80 presidents and senior leaders of research universities and non-profit research institutes, 313 members of the other National Academies (NAS, NAE, IOM), 27 inductees of the National Inventors Hall of Fame, 36 recipients of the U.S. National Medal of Technology and Innovation and U.S. National Medal of Science, 27 Nobel Laureates, 14 Lemelson-MIT prize recipients, 170 AAAS Fellows, and 98 IEEE Fellows. IHMC Director and CEO Ken Ford was named a Charter Fellow in 2012.
David Fries will be inducted during the 6th Annual Conference of the National Academy of Inventors on April 6, 2017, at the John F. Kennedy Presidential Library and Museum in Boston, MA.