Dalton Inducted to 2016 Florida Inventors Hall of Fame
IHMC Board of Directors Vice Chair Dr. William Dalton to be Inducted into 2016 Florida Inventors Hall of Fame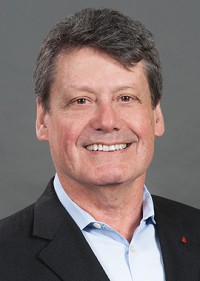 TAMPA, Fla. (Mar. 15, 2016) –Dr. William (Bill) Dalton, Founder and CEO of M2Gen®, a subsidiary of Moffitt Cancer Center & Research Institute in Tampa, and Vice Chairman of the IHMC Board of Directors is among the seven inventors announced today as the 2016 inductees of the Florida Inventors Hall of Fame.
Bill Dalton was nominated and approved as an inductee for his revolutionizing developments in cancer treatment and he will be inducted at the Florida Inventors Hall of Fame 3rd Annual Induction Ceremony & Gala on Sep. 16, 2016, in Tampa.
Nominees, who must have at least one U.S. patent and a connection to Florida, were nominated through an open nomination process and elected by a selection committee comprising distinguished leaders in research and innovation throughout Florida.  Bill will join IHMC Senior Scientist and Inventor Dr. Jerry Pratt who was inducted into the Florida Hall of Fame in 2015.
"We are delighted to be announcing this class of exceptional inventors whose work has greatly impacted Florida and our nation," said Randy Berridge, who serves on the Florida Inventors Hall of Fame advisory board and as chair of the selection committee.  "Collectively, the seven 2016 inductees hold more than 90 U.S. patents," said Berridge, who is also president of the Florida High Tech Corridor Council. "Among them are representatives of two storied U.S. agencies, a non-profit research institute, and five Florida research universities."
"The high merit of this year's inductees has been recognized by national and international organizations with many other honors and awards," said Paul R. Sanberg, chair of the Florida Inventors Hall of Fame advisory board and a 2015 inductee. "We are honored to be inducting them into the Hall of Fame."
The Florida Inventors Hall of Fame was recognized by the Florida Senate in 2014 with a resolution sponsored by Senator Jeff Brandes that commended the Hall of Fame "for its commitment to honoring inventors and celebrating innovation, discovery, and excellence."
The 2016 inductees of the Florida Inventors Hall of Fame are:
William S. Dalton is the founder and current CEO of M2Gen®, a subsidiary of Moffitt Cancer Center & Research Institute in Tampa, where he previously served as president and CEO, and was founder and chair of the Department of Interdisciplinary Oncology at the University of South Florida. Dalton is being recognized for his revolutionizing developments in cancer treatment and research in molecular mechanisms of drug resistance that led to the creation of Total Cancer Care™: personalized protocols for the treatment of cancer and information/decision tools used by clinicians worldwide. To date, Total Cancer Care™ has impacted the lives of over 120,000 patients and includes one of the largest bio-repositories and data warehouses in the U.S., dedicated to the improvement of personalized medicine. Dalton holds 10 U.S. patents.
D. Yogi Goswami, Distinguished University Professor of chemical engineering and director of the Clean Energy Research Center at the University of South Florida in Tampa, is being recognized for his pioneering contributions and technology development related to solar energy and indoor air quality. Goswami's contributions in combined power/cooling cycles have impacted global research in a new class of thermodynamic cycles. He has invented nano-scale antenna technologies to convert sunlight to power and thermal energy storage technologies. He also founded Transformair, Inc., which is commercializing his technology to destroy indoor air pollutants including viruses, bacteria, mold, airborne fumes and allergens, which is helping allergy and asthma sufferers worldwide. Goswami holds 16 U.S. patents.
Alan George Marshall, professor of chemistry and founding director and chief scientist of the Ion Cyclotron Resonance (ICR) Program at Florida State University in Tallahassee, co-invented and leads continuing development of the Fourier Transform Ion Cyclotron Resonance (FT-ICR) mass spectrometry, which aids in the study of molecular structure and the composition of cells. Marshall holds 8 U.S. patents and his inventions created an entirely new arena of discovery in a broad range of fields, from petroleum analysis to biomedicine. His original patents spawned the first commercial instrument (Nicolet Instrument Corp.) and subsequent FT-ICR instruments from other companies, with more than 800 FT-ICR instruments installed worldwide.
Nicholas Muzyczka, professor of microbiology and the Edward R. Koger Eminent Scholar for Cancer Research at the University of Florida in Gainesville, is recognized for his pivotal invention of the "granddaddy patent" for recombinant adeno associated virus (rAAV) vectors. Muzyczka's lab created a breakthrough with successful production of the AAV2 genome and AAV vectors. He holds 15 U.S. patents and his research led to potential therapies for neurodegenerative, pulmonary, cardiovascular, and eye diseases. In 1994, he became founding director of Powell Gene Therapy Center, making UF one of the leading institutions in AAV gene therapy. In 2001, Muzyczka founded Applied Genetic Technologies Corp (AGTC), a Florida-based company that commercializes gene therapy applications.
Jacqueline W. Quinn is a NASA environmental engineer who leads diverse environmental chemistry research at the Kennedy Space Center in Cape Canaveral, Fla. Quinn invented NASA's most licensed and recognized technology for groundwater remediation, Emulsified Zero Valent Iron (EZVI). Additional environmental remediation methods created by Quinn include AMTS and SPEARS, used for removal of cancer-causing PCBs (polychlorinated biphenyls) in materials, soils and sediments. Quinn holds 12 U.S. patents and her technologies have been licensed by companies throughout the United States and internationally.
Andrew V. Schally, Nobel Laureate and Distinguished Medical Research Scientist at the U.S. Department of Veterans Affairs, Distinguished Professor of pathology at the University of Miami, and chief of the Miami Veterans Affairs Medical Center Endocrine, Polypeptide and Cancer Institute, Schally received the 1977 Nobel Prize in Physiology or Medicine and was elected to the National Academy of Sciences in 1978 for his discovery of hypothalamic hormones. Subsequently he pioneered the application of analogues of hypothalamic hormones to cancer treatment, including the therapy of prostate cancer with agonists of LHRH used worldwide. Schally holds 32 U.S. patents licensed to 5 companies and is author or co-author of more than 2,400 publications.
M.J. Soileau, vice president for research and commercialization and professor of optics and photonics, electrical and computer engineering, and physics at the University of Central Florida in Orlando. He is being recognized for his pioneering research in nonlinear interaction of laser pulses with optical materials and for leading the development of the internationally recognized Center for Research and Education in Optics and Lasers (CREOL) at UCF. Soileau holds 6 U.S. patents, the applications of which have contributed to the advancement of high energy laser optics used by the United States Department of Defense.
More information is at www.FloridaInvents.org or contact info@FloridaInvents.org.
About the Florida Inventors Hall of Fame
The Florida Inventors Hall of Fame (FIHF) recognizes and commends Florida inventors whose achievements have advanced the quality of life for Floridians, the state and the nation. Founded in 2013 and housed in the USF Research Park in Tampa, FIHF was recognized by Florida Senate Resolution 1756 in April of 2014. FIHF encourages individuals of all ages and backgrounds to strive toward the betterment of Florida and society through continuous, groundbreaking innovation, and, by commending the incredible scientific work being accomplished in the state, to further the growth of Florida's innovation sector. FloridaInvents.org
Media Contact: Holly Behrend, 813-974-8772, hollybehrend@floridainvents.org