Ken Ford receives top AAAI award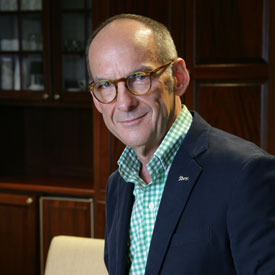 The Association for the Advancement of Artificial Intelligence (AAAI) has awarded one of its highest honors, the AAAI Distinguished Service Award, to Dr. Ken Ford, director and CEO of the Florida Institute for Human and Machine Cognition (IHMC).
The Distinguished Service Award, established in 1999, recognizes a single individual each year "for extraordinary and sustained service" to the artificial intelligence (AI) community. Dr. Ford is the 14th honoree.
In a letter to Dr. Ford announcing the honor, Awards Committee Chair Manuelo Veloso wrote that he was "specifically honored for your contributions to the field of artificial intelligence through sustained service, including the founding of the Florida Institute for Human and Machine Cognition (IHMC), leadership roles at NASA, and your work on the advisory boards of federal science and technology research organizations."
In nominating Dr. Ford for the award, former NASA Administrator Michael D. Griffin said that, "Few technologies have greater potential benefit to humanity than does the field of artificial intelligence, and even fewer people are able to convey the essence and importance of the field to federal leaders in the fashion in which Ken Ford has done and continues to do it. He is quite simply a national resource, and a more than deserving recipient of the AAAI Distinguished Service Award."
Griffin said that to many people at NASA, "Ken Ford simply 'is' artificial intelligence as it relates to the field of space flight."
He also cited Dr. Ford's "stunning success in founding and growing IHMC," which has become known for its groundbreaking research in the field of artificial intelligence.
"I'm truly humbled by the recognition from AAAI," Dr. Ford said. "It is a testament to the important work done by my colleagues at IHMC."
In addition to founding IHMC, Dr. Ford is a groundbreaking AI researcher. He is Emeritus Editor-in-Chief of AAAI/MIT Press and is an AAAI Fellow, a charter Fellow of the National Academy of Inventors, a member of the Association for Computing Machinery, a member of the IEEE Computer Society, and a member of the National Association of Scholars. He has received numerous awards and honors, including the Doctor Honoris Causas from the University of Bordeaux in 2005 and the 2008 Robert S. Englemore Memorial Award for his work in AI. In 2012, Tulane University named him its Outstanding Alumnus in the School of Science and Engineering. He served on the National Science Board, chaired the NASA Advisory Council, and has served on the Air Force Science Advisory Board and the Defense Science Board.
Under his leadership, IHMC has grown into one of the nation's premier research organizations with world-class scientists and engineers investigating a broad range of topics related to building technological systems aimed at amplifying and extending human cognitive, physical and perceptual capacities. Its headquarters are in Pensacola, Fla., with an associated research facility in Ocala, Fla.
The award was presented during the AAAI annual meeting in Austin, Texas, on January 27. Previous winners include Barbara Grosz of Harvard, Raj Reddy of Carnegie Mellon, Nils Nilsson of Stanford, Ronald J. Brachman of Yahoo Research and David Waltz of Columbia.