IHMC Scientist Named To Florida Inventors Hall Of Fame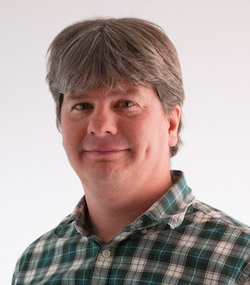 Jerry Pratt, one of the world's leading researchers in the field of robotics, has been named to the Florida Inventors Hall of Fame, joining an august group of inventors which includes the likes of Thomas Edison.
Pratt, a senior research scientist at the Florida Institute for Human and Machine Cognition (IHMC) in Pensacola, holds four patents on robotics inventions and is considered a rising star in the field. He is one of seven people with Florida connections who will be inducted into the Hall at an October ceremony in Tampa. Others in this group, the second year of inductees, include famed automaker Henry Ford and scientist Robert Grubbs, winner of the 2005 Nobel Prize in chemistry.
"Collectively, the seven 2015 inductees hold more than 430 U.S. patents," said Randy Berridge, chairman of the selection committee. "Their high merit has been recognized by national and international institutions and communities … and we are honored to be inducting them into the Florida Inventors Hall of Fame."
Pratt said he was honored and humbled by the recognition.
"Sometimes I think what's most fun about working in robotics is that we are practically inventing the field every day," Pratt said. "There's a long way to go before robotics is a mature field, and I am honored to join so many other people who are working to create the future."
Pratt, 43, holds a Ph.D. in computer science from the Massachusetts Institute of Technology. Before joining IHMC in 2002, Pratt's company developed a powered exoskeleton that allowed a person to carry large loads over rough terrain with little effort. His other patents cover technology that allows bipedal robots to know where to place their feet when walking, and to maintain their balance and prevent falls.
Pratt leads a team of researchers who also developed the HexRunner, which last year set a world speed record for legged robots, reaching speeds of more than 30 mph. Pratt's work has been instrumental in changing the stereotype of robots as clunky machines with jerky movements to ones that maximize speed, agility and biological similarity, said IHMC founder and CEO Ken Ford.
"We're really proud of Jerry; it's a well-deserved honor," Ford said. "Jerry's work personifies the subtle and rather beautiful virtuous cycle between the acts of invention and of scientific discovery."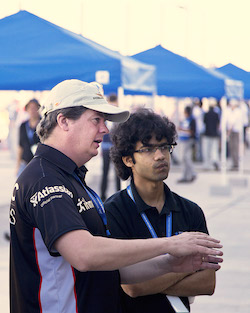 In June, Pratt and the IHMC Robotics Team will compete in the final round of the Defense Advanced Research Projects Agency's (DARPA) international robotics competition, which tests the ability of humanoid robot systems to respond to disasters. The team placed first in the Virtual Robotics Challenge, a computer simulation, and second in the DRC Trials at Homestead Miami Speedway using actual robots in a competition featuring 26 teams from around the globe.
Pratt is married to former Pensacola City Councilwoman Megan Benson Pratt. They have two children. The couple co-founded the Pensacola MESS Hall, a hands-on learning center where kids explore Math, Engineering, Science and Stuff. It is a spinoff of IHMC's Science Saturdays education outreach program.
The Florida Inventors Hall of Fame, begun in 2013, is based in Tampa and seeks to recognize the leading scientific and technological accomplishments in the state. Nominees, who must have at least one U.S. patent, are submitted through an open nomination process and are elected by a committee of distinguished leaders in research and innovation throughout Florida.
For more information on the Hall of Fame and the complete list of inductees, visit www.floridainvents.org.