IHMC Scientist featured at inaugural STEM Symposium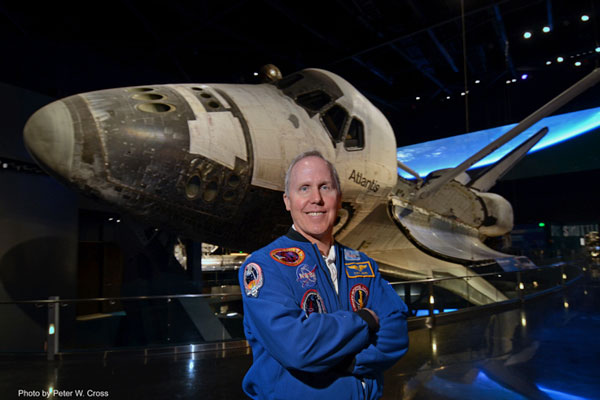 Veteran Shuttle astronaut Tom Jones, a senior research scientist at the Florida Institute for Human and Machine Cognition (IHMC), will be a featured speaker at the first-ever X-STEM: Extreme STEM Symposium in Washington, D.C., on April 24.
The symposium opens the third annual USA Science & Engineering Festival Expo and Book Fair, April 26-27, hosted by sponsor Lockheed Martin. Held at the Walter E. Washington Convention Center, X-STEM is a "TED-style" event for kids with talks by 50 of the nation's most noted science, technology, engineering and mathematics (STEM) professionals representing top universities, corporations, non-profits and governmental agencies.
"I'm honored to speak at X-STEM and get to meet some of our future explorers," Jones said. "Exciting our young people about science, technology, engineering and math — so they can write the next chapter in the history of space exploration — is crucial to America's future. I hope I can help energize tomorrow's explorers, scientists, inventors and entrepreneurs. They're the ones who will revitalize and maintain our competitive, vibrant economy."
Jones is a veteran NASA astronaut, planetary scientist, author and speaker. He flew on four space shuttle missions, and led three spacewalks at the International Space Station (ISS) to help install the U.S. science lab, Destiny.
The Wall Street Journal named Jones's book, "Sky Walking: An Astronaut's Memoir," one if its "Five Best" books on space. He writes frequently on space exploration and history, and offers regular on-air commentary about the United States' space exploration activities and plans.
An Air Force Academy graduate, he earned a Ph.D. in planetary sciences from the University of Arizona, conducting a telescopic search for water on asteroids. He flew B-52 bombers for the Air Force, studied solar system exploration concepts for NASA, engineered CIA intelligence-gathering systems, and served on the NASA Advisory Council. His current interests are asteroid exploration and resources, planetary defense, and extending human exploration to the Moon, asteroids and Mars.
Jones' current books include "Planetology: Unlocking the Secrets of the Solar System" (written with Ellen Stofan, Ph.D.; National Geographic), and "Hell Hawks!" (written with Robert F. Dorr; Zenith Press), a true story of an aerial band of brothers in World War II.
Founded by serial entrepreneur Larry Bock and Lockheed Martin CTO Ray O. Johnson to address the severe shortage in science and tech talent, the USA Science & Engineering Festival is the nation's largest science festival. More than 250,000 people are expected to attend.
Geared toward middle and high-school students, X-STEM features interactive presentations and workshops by top STEM role models and industry leaders to inspire students about STEM careers. Sessions will cover a wide array of subject areas, including space exploration, storm chasing, oceanography, the science of social networks, the physics of superheroes, mathematical puzzles and more.
For more information, visit www.USAScienceFestival.org.