IHMC CEO on Panel Awarding Brain Research Money for NFL Partnership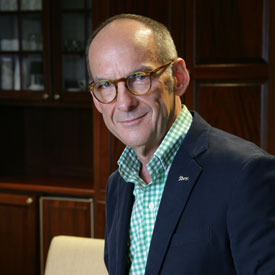 The NFL has announced seven winners of $500,000 brain research grants in Head Health Challenge II. Ken Ford, director/CEO of the Florida Institute for Human and Machine Cognition, serves on the six-person judging panel that selected the winners, who are eligible to receive up to $8.5 million to accelerate brain injury research, diagnosis and protection. The NFL's partners in Head Health Challenge II are Under Armour and General Electric.
The winners, which include researchers from the public and private sectors, were selected among nearly 500 proposals that were submitted between Sept. 2013 and Feb. 2014 from 19 countries.
"We had to pick the winners from a long list of smart, innovative proposals that represent some of the best new ideas on how to prevent, diagnose and treat traumatic brain injuries," Dr. Ford said. "It's very rewarding to be able to be part of the Head Health Challenge II program. The implications go well beyond football."
Concern about traumatic brain injuries has been sparked by the increased awareness of problems stemming from a variety of causes, including the use of powerful improvised explosive devices (IEDs) and the increased awareness of concussions in football and other sports.
Dr. Ford was named to the panel due to his significant expertise and experience in the development of technologies intended to enable cognitive orthotics and his broad background in science and technology R&D. An international leader in research on human cognition and artificial intelligence (AI), Ford holds a Ph.D. in computer science. He served as chairman of the NASA Advisory Council (Oct. 2008-Oct. 2011), received a presidential appointment in 2002 to the National Science Board, and recently completed a term on the Defense Science Board.
According to an NFL release, progress of the initiatives will be monitored over the next year. Each winner will receive $500,000 and have the opportunity to receive an additional $1 million to advance their research on brain injury.
"The disruptive ideas introduced by these seven entries are designed to increase brain safety for athletes, members of the armed forces and society at-large," the release stated. "The stories behind the winning entries and their pioneering efforts in this field are showcased in seven short online videos available to watch atwww.headhealthchallenge.com."
The effort is part of a multi-year collaboration among Under Armour, GE and the NFL called the Head Health Initiative. Launched in March 2013, it includes a four-year, $40 million research and development program from the NFL and GE to develop next-generation imaging technologies to improve diagnosis and allow for targeting treatment therapy for patients with mild traumatic brain injury.
The full NFL release can be found at NFL.com, or www.nflevolution.com/article/nfl,-under-armour,-ge-announce-head-health-challenge-ii-winners?ref=0ap3000000427468.