IHMC Board Member Cited for High Honor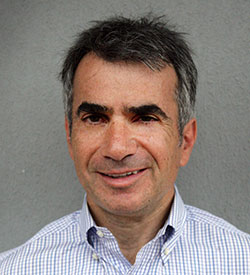 Dr. Alain T. Rappaport has been named a prestigious Fellow of the National Academy of Inventors (NAI). Dr. Rappaport is a member of the Florida Institute for Human and Machine Cognition (IHMC) Board of Directors and of its Science Advisory Council.
Dr. Rappaport was cited as having "demonstrated a highly prolific spirit of innovation in creating or facilitating outstanding inventions that have made a tangible impact on quality of life, economic development, and the welfare of society."
The Tampa-based NAI was founded in 2010 "to recognize investigators at universities and non-profit research institutes who translate their research findings into inventions that may benefit society," according to the group's website. "To join, an inventor must be affiliated with a Member Institution and be a named inventor on one or more patents issued by the United States Patent and Trademark Office."
Dr. Rappaport is an Internet and software entrepreneur, the co-founder and CEO of Nudgit, Inc., an Internet company focused on intelligent choice. He received his M.D. from the Necker Sick-Children School of Medicine, René Descartes University, and his Ph.D. in Molecular Pharmacology from the Pierre and Marie Curie University in Paris. Prior to Nudgit, Dr. Rappaport was general manager of health search in the Bing group at Microsoft Corporation until September 2010. He also served as general manager of health search for Microsoft's Health Solutions Group.
He has published in the areas of artificial intelligence, cognitive science and neurosciences in major journals and has been a speaker in leading technology and business workshops and conferences. Dr. Rappaport served as a NASA Advisory Council, Technology and Innovation Committee member in 2010-2012 and is a founding member of the Innovative Applications of Artificial Intelligence (IAAI) Conference. He holds over 10 patents.
The new class of 170 brings the total number of NAI Fellows to 414, who collectively hold nearly 14,000 patents and represent more than 150 top research institutes and universities around the world.
NAI Fellows now include 61 presidents and senior leadership of research universities and non-profit research institutes, 208 members of the other National Academies (NAS, NAE, IOM), 21 inductees of the National Inventors Hall of Fame, 16 recipients of the U.S. National Medal of Technology and Innovation, 10 recipients of the U.S. National Medal of Science, 21 Nobel Laureates, 11 Lemelson-MIT prize recipients, 107 AAAS Fellows, and 62 IEEE Fellows.
IHMC Director and CEO Dr. Ken Ford was named a Charter NAI Fellow in 2012, and IHMC Board Member Dr. William Dalton was named a Fellow in 2013.
Dr. Rappaport will be inducted during the 4th Annual Conference of the National Academy of Inventors on March 20, 2015, at the California Institute of Technology in Pasadena.