William M. Shepherd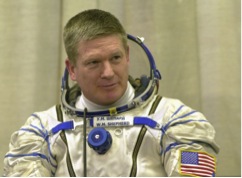 Senior Research Scientist
William Shepherd has had a diverse career as a Navy SEAL, NASA Astronaut, Program Manager, and Senior Government Official with NASA and DOD. He started his military service in 1971 as a Navy "frogman", with assignments to the Pacific, Atlantic, and European theaters of operation. In 1984, he was selected as one of 17 candidates in NASA's Astronaut Group 10. At NASA, "Shep" flew as a Mission Specialist on 3 Shuttle flights, carrying DOD and scientific payloads to space, including the deployment of the probe "Ulysses" into polar orbit of the Sun. He served as the first International Space Station (ISS) Program Manager, and helped to organize the 16 nation partnership to build a large orbital "gateway" to space. Capt. Shepherd was selected in 1996 to command the "First Expedition" to the new station. In 2000, Capt. Shepherd, with Russian Cosmonauts Yuri Gidzenko and Sergei Krikalev, launched from Kazakhstan aboard a Soyuz rocket, flew into Earth orbit, and docked with the ISS. Capt Shepherd's crew brought the station to "life" on their 141 day mission, starting many of the technical and operational capabilities of the new outpost. Now in its 14th year of continuous human operations, ISS is a robust 500 ton space complex, which has been home to 38 expeditions, hundreds of space explorers, and has provided thousands of hours of unique research opportunity. The ISS partnership, formed 20 years ago, remains a singular example of international cooperation.
Capt. Shepherd left NASA in 2001 to serve as a special advisor to the Navy's SEAL headquarters, and later as the Command Science Advisor at US Special Operations Command. Capt Shepherd is now in private industry, working on research and development projects in the aerospace and defense sectors.
Capt. Shepherd has a bachelors' degree in Aerospace Engineering from the Naval Academy, and graduate degrees in Mechanical Engineering and Ocean Engineering from MIT. He has received military and civilian awards including the Defense Distinguished Service Medal, the National Intelligence Medal of Merit, ASME's Spirit of St. Louis Medal, the Gagarin Gold Medal, the Robert H. Goddard Trophy, and the Congressional Space Medal of Honor. He is an "Honorary Naval Aviator", one of 30 individuals so designated in the 103 year history of Naval Aviation.
In 2009, NASA's International Space Station Team, which Capt. Shepherd led on the ground and in space, was awarded the Collier Trophy, which recognizes the Nation's greatest achievements in aviation and astronautics.