Timothy W. Wright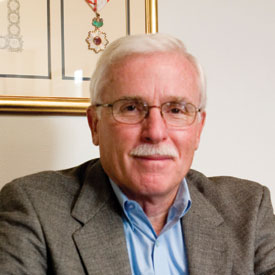 Deputy Director for Defense Research & Development Emeritus
VADM Wright completed 35 years of active naval service on 1 August 1996. He is a Naval Aviator who served primarily in fighter squadrons during his active flying career. Admiral Wright has commanded a fighter squadron, a carrier air wing, a fleet oiler, an aircraft carrier, a carrier battle group and the U.S. Seventh Fleet. His last assignment on active duty was as Chief of Naval Education and Training in Pensacola, Florida and, concurrently, as Director of Naval Training on the staff of Chief of Naval Operations in Washington, D.C.
VADM Wright served several other tours of duty in Washington with the Bureau of Naval Personnel and in the Office of the Secretary of Defense where he served as Director, East Asia/Pacific Region and briefly as the Deputy Assistant Secretary of Defense for East Asia.
Admiral Wright holds a BS in Engineering from the Naval Postgraduate School in Monterey, CA and an MS in Public Administration from George Washington University in Washington, D.C. Additionally, he is a graduate of the Industrial College of the Armed Forces at the National Defense University.
VADM Wright joined the staff of the Institute for Human and Machine Cognition in August of 1996 where he is now serving in the role of Deputy Director.