Roger Carff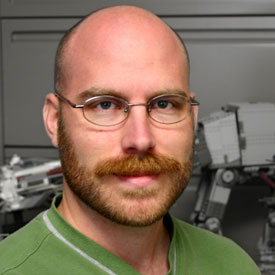 Research Associate
Mr. Roger Carff is a research associate at the Florida Institute for Human and Machine Cognition (IHMC). He received his B.S. and Masters in Computer Science from UWF.
Mr. Carff started working for the Institute as a research assistant in 1992 on Project Quorum. His involvement in the project included developing a distributed network of mail servers that could communicate over various mediums (Modem, TCP/IP, SNA) to each other and quorum school clients. Also, he developed LLCorreo an e-mail tool for children designed to run on very low end DOS machines.
After the Project Quorum ended Mr. Carff has worked on multiple projects for IHMC including: CmapTools, TSAS, and Software Agents
Mr. Carff's research interests include user interfaces, Java, 3D simulations, and distributed computing. His personal interests include his family, church, Crossfit, LEGOs, and computer games.