Kristy Hollingshead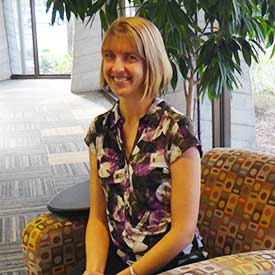 Research Scientist
Dr. Kristy Hollingshead is a Research Scientist at the Florida Institute for Human & Machine Cognition (IHMC), working on natural language processing.
In Ocala, Kristy's current research focuses on the analysis of everyday language — what we say and how we say it — as a signal of mental and neurological health. As an example, she has been working with the Tampa VA to analyze speech recordings from Veterans with amyotrophic lateral sclerosis (ALS), in order to create speech recognition technology that can adapt to speech impairments associated with disorders like ALS.  Kristy is also working to correlate speech impairments with other aspects of physiological degeneration associated with ALS, as well as other neurological disorders like Parkinson's, Alzheimer's, and traumatic brain injuries. Her previous work on building syntactic models to classify persons with mild cognitive impairment (MCI) established that language can be used as a quantifiable signal of neurological health. Her most recent work with colleagues at Johns Hopkins University, Microsoft, and Qntfy applied multi-modal linguistic features to social media to identify mental health conditions such as anxiety, bipolar disorder, depression, post-traumatic stress disorder (PTSD), schizophrenia, and eating disorders such as bulimia and anorexia. Kristy's research is centered on identifying quantifiable indicators of mental and neurological health that can be automatically obtained, analyzed, and potentially used to aid clinical diagnosticians in the assessment, monitoring, and treatment of patients with mental and neurological disorders to improve their quality of life.
Kristy joined IHMC from the Department of Defense, where she worked on analytics for deep understanding of large collections of text, to include combination of evidence, probabilistic knowledge bases, changepoint detection, and sentiment analysis. Prior to that position, she held a postdoc at the University of Maryland in College Park, working with Dr. Philip Resnik on machine translation pipelines. She received her Ph.D. and M.S. in Computer Science from Oregon Health & Science University (OHSU), and her B.A. in English-Creative Writing from the University of Colorado at Boulder. She was an NSF Graduate Research Fellow from 2004-2007.