June Skelly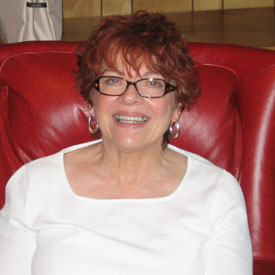 Visiting Senior Research Scientist
June J. Skelly, Ph.D., is a visiting senior research scientist at IHMC. Until 2008, Dr. Skelly was a Senior Research Psychologist with the Human Effectiveness Directorate of the Air Force Research Laboratory (AFRL), Wright-Patterson Air Force Base, Ohio.
While there, she enjoyed the challenges of directing and designing both basic and applied research. She initiated development of the Collaborative Research in Space and Temporal Interfaces Laboratory (CRISTIL) to pursue research exploring operational applications of her designed Temporal Interface concept; aid to collaborative decision making through specific rhythmic portrayal of dynamic information. This technique has been demonstrated as an effective perceptual aid in reducing confusion due to display clutter in a simulated collaborative Command and Control (C2) environment. More recently, Dr. Skelly's advanced concept of the "Intelligence Analyst's SANDBOX" was formally transitioned to the National Air and Space Intelligence Center's (NASIC) Advanced Program for the Analyst of Tomorrow.
Dr. Skelly received her Ph.D. in cognitive-experimental psychology from The Ohio State University, Columbus, Ohio, in 1992. Very early in her career with the Air Force and while a graduate student, June enjoyed the opportunity to design and conduct her first large applied research project (a two-year endeavor) on a special classified project for the Air Force's former Strategic Air Command (SAC). At completion, she and her engineer partner were recognized by the CINCSAC as providing SAC with data to support establishment of a SAC Tactics School at Nellis AFB, Nev., and subsequent mission changes. June and her colleague were then invited to be the first civilians to attend the Tactics School in 1987.  June credits her previous life experiences as a hapless runway model, a welder (electric & acetylene; good at this) and truck driver (18 wheelers – Kenworth and Peterbuilt favorites) as providing the survival strategies to finish the project.
Other studies for the Tactical Air Command (TAC) and Air Combat Command (ACC) followed (not as traumatic). More recently, Dr. Skelly was appointed by the Air Force Materiel Command (AFMC) Commander to a Global Hawk UAV Accident Investigation Board (AIB). The Air Force Air Combat Command recently informed Dr. Skelly that the Operations Analysis and Human Factors Investigation sections of the report have been designated as the Air Force model for all future AIBs and has suggested the FAA adopt the model as well.