In Memoriam: John "Row" Rogacki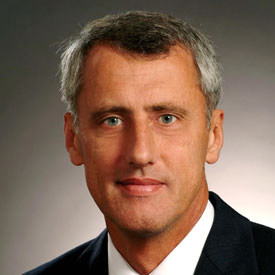 Associate Director (ret.)
Dr. John Rogacki served as associate director at IHMC's Ocala campus from 2010 to 2016. He brought to the Institute a wealth of experience in senior level administrative and research work with the U.S. Air Force, National Aeronautics and Space Administration, and the U.S Department of Defense.
Prior to joining IHMC, Dr. Rogacki served from 2004-2010 as director of the University of Florida's Research and Engineering Education Facility (REEF), a unique educational facility in Northwest Florida supporting U.S. Air Force research and education needs through graduate degree programs in mechanical, aerospace, electrical, computer, industrial, and systems engineering. Under Dr. Rogacki's leadership, the REEF grew into a highly capable and internationally respected research and education facility.
Among his past experiences, Dr. Rogacki served as: NASA's Deputy Associate Administrator for Space Transportation Technology (in charge of the Space Launch Initiative); program director for the Orbital Space Plane and Next Generation Launch Technology Programs; co-chair of the NASA/DoD Integrated High Payoff Rocket Propulsion Technology Program; Director of NASA's Marshall Space Flight Center's Space Transportation Directorate; Director of the Propulsion Directorate for the USAF Research Laboratory; director of the USAF Phillips Laboratory Propulsion Directorate; and deputy director of the Flight Dynamics Directorate of the USAF Wright Laboratory.
He was primary NASA liaison for the National Aerospace Initiative; Co-chair, DoD Future Propulsion Technology Advisory Group; Co-chair, DoD Ground and Sea Vehicles Technology Area Readiness Assessment Panel; Member of the National High Cycle Fatigue Coordinating Committee; and Senior NASA representative to the Joint Aeronautical Commanders Group.
He earned his Ph.D. and master's degree in mechanical engineering from the University of Washington, and his bachelor's degree in engineering mechanics from the U.S. Air Force Academy. Later, he became Associate Professor of Engineering Mechanics (and Chief of the Materials Division) at the USAF Academy. In 2005, he graduated from the Senior Executives Program in National and International Security at Harvard's John F. Kennedy School of Government. An accomplished pilot, he logged more than 3,300 flying hours as pilot, instructor pilot, and flight examiner in aircraft ranging from motorized gliders to heavy bombers.