James B. Golden III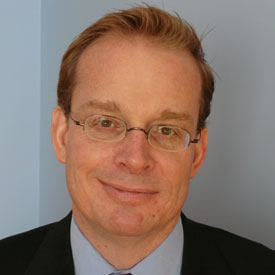 Visiting Research Scientist
Jim is a Senior Managing Director for PwC's Healthcare Advisory group, focused on technology, data and analytics strategy and development for payers, providers and life science companies. His work focuses on identifying and utilizing new data sources, technologies and analytics methods – including artificial intelligence and machine learning – for PwC's clients to help drive decision making and optimize their business practices. Jim works across the healthcare ecosystem, primarily focusing on strategy and advisory for organizations working in R&D and translational medicine including clinical trials and precision medicine, patient care delivery, and commercial programs such as physician targeting and digital marketing, patient segmentation and outcomes. He has a background in machine learning and artificial intelligence, engineering and computer science.
He has a B.S. in mathematics and computer science from Rhodes College, Memphis,TN; an M.S. in computer science from the University of Tennessee Space Institute in Tullahoma, TN; and a Ph.D. in mechanical engineering from Vanderbilt University (design and optimization of DNA sequencing devices).
Jim is interested in all areas of big data analytics including data integration from disparate healthcare data sources, data mining, modeling and simulation, tacit and explicit knowledge management, and computational epistemology, particularly applied to problems in healthcare and drug discovery, finance and security.
Dr. Golden is also an angel investor and advisor to a number of Healthcare IT startups including Kyruus, Enlitic, Truveris, Wellist and Propeller Health.