Austin Music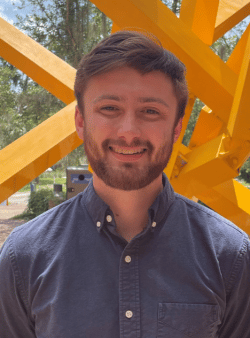 Research Associate
Austin joined IHMC in August 2022 to work with Dr. Matt Johnson and the workbench team. Austin is a University of Florida graduate, where he earned a master's degree in computer science and a bachelor's degree in digital arts and sciences.  
As an undergraduate and as a graduate research assistant at the Ruiz Human-Computer Interaction Lab, he worked on the Virtual Reality Unity application for prosthesis control configuration testing to include eye tracking and performance metric logging for determination of cognitive workload and to handle electromyography-based input.  
At UF, he was a Machen Florida Opportunity Scholars Peer Mentor, mentoring first-year scholarship recipients to ensure a smooth home-to-university transition for first generation college students. His research interests in using virtual and augmented reality to create immersive and effective digital tools made IHMC a great fit. Austin joined IHMC to get hands on experience with cutting edge research (particularly with VR) as well as learn from a highly diverse and experienced team.