Alan Ordway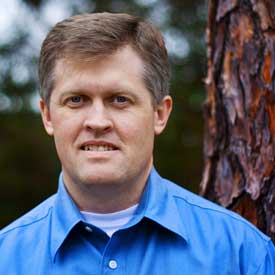 Director of Media & Technology
Alan is responsible for making sure all IT functions keep running smoothly at IHMC. That includes all Macintosh and Dell PCs and Sun workstations, our 100BaseT and wireless networks, our T3 internet connection (provided by WorldCom/uuNet), and our Nortel Merdian 1 Option 11c phone system. He is also responsible for maintaining and updating the e-mail and web servers.
Alan also works with Dr. Ford on IHMC overview presentations, managing the taping, editing, and publishing of all the IHMC evening lectures to YouTube.
Alan earned is MBA in May, 2010 from PCC.
Alan joined IHMC in 1999 in the role of computer support.
Alan received his B.S. in Computer Science from Pensacola Christian College in December of 1987. Alan began work for PCC as a Burroughs Linc programmer. Soon after that Alan spearheaded the implementation of electronic publishing for A Beka Book, a book publishing affiliate of PCC. At that time electronic publishing, or desktop publishing, was on the bleeding edge of technology. Alan also headed up the task force to replace the customer service / warehouse / accounting system for A Beka Book. Alan worked closely with the administration on the research, programming, and implementation of many other projects for the 11 years he was at PCC.